Connect your wireless Call Connect device to the antenna
Do you have a wireless Yealink phone? Then it must be connected to its antenna in order to work properly.
Stand close to the antenna with your Yealink wireless phone. Usually it's near your b-box modem. There are 2 different types of antennas (W52P or W60B):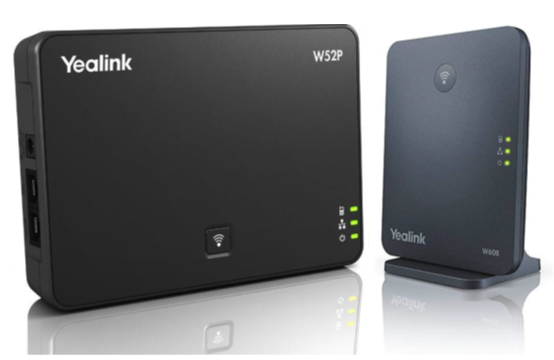 On your wireless Yealink phone, follow these steps:
Press the following keys successively: OK, 6, 6, OK and OK.
You will see a search bar on the screen.
Press and hold the button on the front of the antenna for 4 seconds until the 1st LED starts flashing.
If this works, your phone will find the antenna and display the name of the antenna on the screen. If not, restart from 1.
Press Valider. This is the key above the envelope on the dial.
Your phone will ask you to enter a PIN code. Press the 0 key 4 times (0000) and press again Valider.
Your wireless Yealink phone will now show a confirmation that the registration was successful.
After a few seconds, the time will be updated and the correct time displayed, meaning your phone is ready to use.