At Proximus Wholesale we believe in the value of personal support. That's why, as our customer, you will be supported by a team of motivated experts.
Your Account manager will be your main contact with Proximus. They will keep you updated on the evolution of Proximus's services and strive to help you select the right Proximus Wholesale solution for your customers. Your account manager is there to help make your projects a success.
Your Presales Solution Specialist is an expert on all Proximus's solutions and will help ensure a correct technical design and best fit solution for your needs.
Your Customer Support Officer will be your liaison during the ordering and provisioning process of any new installations once the specifics have been decided on. They know the ins and outs of the Proximus organization and are there to make sure that each order is treated swiftly and correctly.
Your Service Manager will make sure that once the solutions for your customers are provisioned, your Proximus Wholesale service is best-in-class and remains that way. They monitor the Proximus service performance and trigger continuous service improvement actions where needed. They will also support you in case of issues with the escalation process, or if a problem warrants a detailed Root Cause Analysis.
Your Financial Support Officer will be your main point of contact for all billing matters. They will be in constant contact with you to make sure all bills are correctly shared and booked.
All these roles are gathered in the Proximus Wholesale Account Team. Account Teams meets regularly to discuss ongoing business and proposed future solutions. Supported by state-of-the-art digital solutions, the Proximus Wholesale account team is your guarantee for a friction-less experience, from start to finish.
The account team is supported internally by two other important roles. The Proximus Wholesale product managers are the owners of the product portfolio. By keeping an eye on current and future market evolutions, they work to keep our products best-in-class and future-proof. The Proximus Wholesale Digital Experts are the owners of the digital tools and interfaces we offer to you. They develop new API's and tools to make your interactions with Proximus seamless and efficient.
Proximus provides you online services through the customer extranet (My Personal Page).
From pre-ordering up to repair, we provide you several digital solutions for your business transactions with us. From the personalized secured 'My Personal Page' access, you will easily be able to access our online services. The single-sign-on function allows you to access these e-services by using a login and password.
Benefit from these Digital tools by Registering to our e-Services
Pre-Ordering and Ordering tools
You can perform online pre-order checks to identify the best technology that you would like to offer to your end customers. You can use the Quotation Tool to obtain customised quotes and enter your order in the online tools for the selected product.
Your advantages:
Obtain real-time view on the Proximus network availability
Submit your orders online in a fast, safe and paperless environment
View and track your order status during the provisioning process.
Repair and Planned works
The repair tool offers you possibility to obtain an immediate diagnosis of your line or to report an incident on a line.
Your advantages:
Realtime follow-up on the progress and status for each repair ticket you have introduced, enabling you to provide immediate feedback to your customers.
An overview of the Planned Works on the Proximus Network that will impact your lines and services.
Billing services & Electronic invoices
Proximus My Bill online is an interactive service that helps you view and manage your telephone bills in a simple manner and in complete security. In addition we also offer the possibility to receive electronic invoices via our collaboration with BaswareNew window (to subscribe online this formNew window.)
Your advantages:
Overview of your transactions (bills, credit notes, payments)
Online consultation of your last bills and call details.
A downloadable copy of your bill in PDF format.
API Solutions
We offer API solutions for some of our digital tools that allow you to easily integrate your systems with Proximus to further automate the flow of information and business transactions.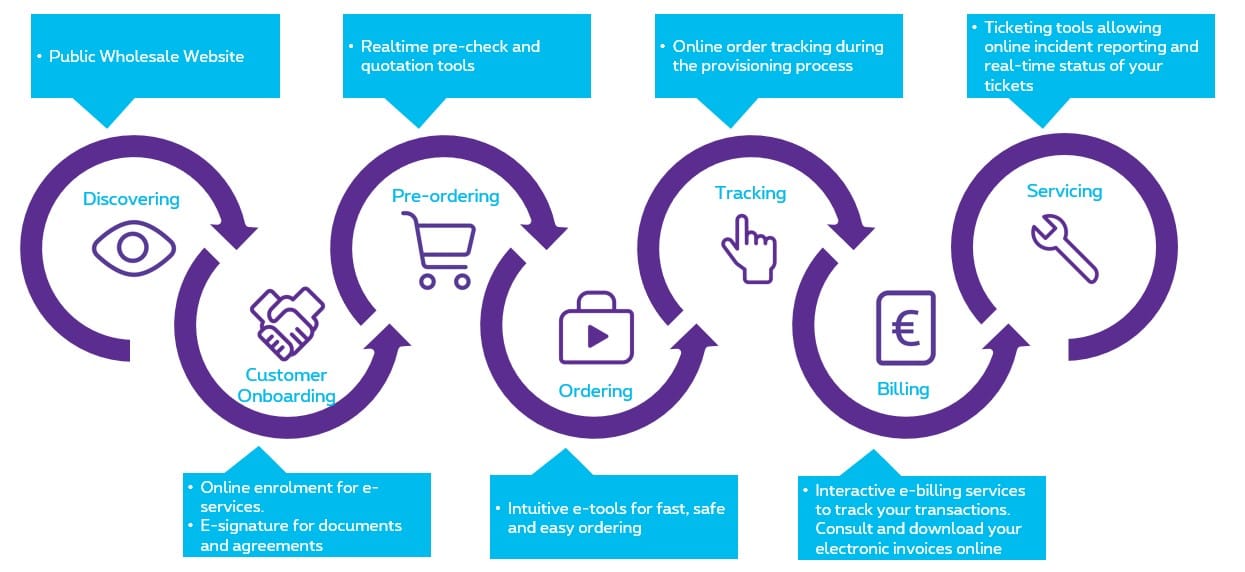 Your digital journey with us