5 reasons why you too should listen to web radio
Veröffentlicht am 13/02/2017 in Bits und Bytes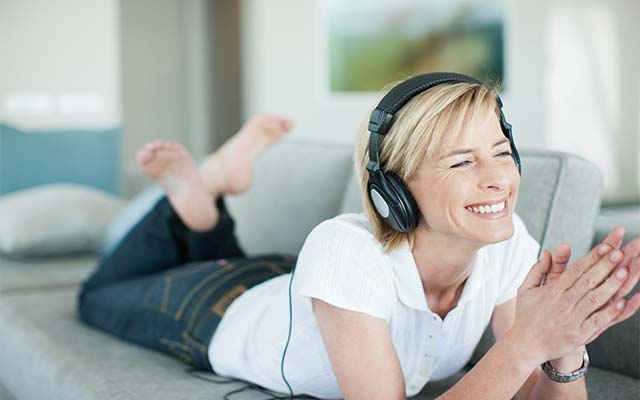 It's easy to listen to your favorite music, directly via your Proximus TV decoder!
Are you kind of fed up – or better yet: listened up – with the crackling, classic radio stations broadcasting on the FM airwaves? That doesn't surprise us one bit. Because, to be honest, there really isn't that much choice out there.
But hey, I just might have a great idea for you. We've been listening to internet radio for quite a while now. Logical really, because it's just so much better. And let me give you 5 reasons why:
Incredibly clear sound ...

While your classic FM radio stations often give you a crackling noise in the background and a sound quality that's, well, not always crystal clear, internet radio offers a whole new listening experience. The online sound quality can be compared with that on a CD. And usually even better ...

... without the hassle of radio frequencies

Super easy: all you do is select which station you want to hear by name or genre. Yep, without having to search for the frequency, which happens to also be different across the country.

Endless genres ...

Are you in a chill-out mood today? Put on some relaxed lounge music? Are you going on holidays and want to get into the local vibe? Or are you planning on painting the town red tonight?

Well, with web radio you can choose from a seemingly endless stream of theme stations that'll capture your mood of the moment. What's more, it's the place to discover new music or genres!

... without the endless ads or chatter

Of course you'll still hear it all on the digital versions of the commercial stations you know from FM. But you can also listen to countless internet stations that just play music all day long without the chatter, let alone the annoying commercial breaks in between.

And did you know there are even audio podcasts?

Many more than you would think. This variant of online radio is actually a series of radio shows you can listen to whenever it suits you. And the really great thing is: you can really get pulled into the storyline.

They are already hugely popular in Trumpland. But we also found quite a few podcasts we're sure you'll find interesting. You can listen to inspirational TED podcasts and learn more about the latest technological news, but also listen to more general and popular audio shows. Also, you can find shortened podcast versions of a wide range of popular radio broadcasts.
And the best thing of all? You can also just listen to internet radio through Proximus TV. For everyone with a decoder v5 or higher, there's the super-handy Radioline app with more than 60,000 radio stations and podcasts. And it's completely free.
Installing the app is as easy as 1-2-3: press the 'On Demand' button on your remote and go to 'Apps'.
Erik
Digital und Content Marketer. Gartenarbeit ist meine Leidenschaft, genau wie Essen. Aber gleich nach dem Spielen einiger Serien oder Filme, denn das ist mein Ding.
Andere Artikel von Erik