Here they are: the top 10 Netflix series of 2016
Veröffentlicht am 15/03/2017 in Showtime!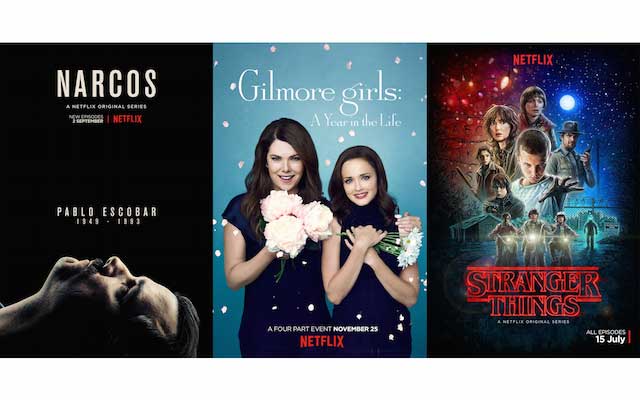 We just can't get enough.
Netflix really spoiled us this year with its Original Series. This means we're in for some great binge-watching! I made a list of my top 10 series, with something for everyone. The ideal way to while away the cold winter evenings!
The OA

At the last minute, Netflix surprised us with this mysterious science-fiction series. A blind girl, Prairie Johnson, resurfaces after having been missing for seven years. Reunited with her adoptive parents, her eyesight is restored. But she doesn't want to tell them where she's been. The only people she confides in are a group of outcasts she meets in an abandoned house every night…

Our verdict: A very spooky series, rather like Twin Peaks and 2001: A Space Odyssey. But don't expect more of the same because The OA has a spiritual layer. Recommended for people looking for something different to watch.

Narcos

This drama series is really something else. Based on true events, it follows the hunt for Pablo Escobar and his Colombian drug cartel. In season 2 everyone is closing in on him, as more and more enemies float to the surface and his empire begins to crumble…

Our verdict: This series keeps you on the edge of your seat, not least because you are constantly bombarded with violent scenes. Also, Narcos offers quite a realistic picture of how things must have gone down.

Black Mirror

Closer to home, a dark series from the UK. Although all the episodes stand alone, there's a common thread: technological innovations of the 21st century and the harmful effects they can have on society…

Our verdict: For fans of dark satires. At first, it seems like the series was written for techies, but it is actually quite accessible. The bizarre, unexpected, and sometimes even shocking twists are truly the icing on the cake.

Orange is the New Black

A classic among Netflix Originals, which went into its 4th season last year. Chaos strikes the women's prison of Litchfield, leading to a spike in tensions. In the middle of the ensuing anarchy, the protagonist Piper fears for her life…

Our verdict: This season is quite different from the others. The humor is still there, but there is also a darker, more serious undercurrent running through the episodes. And that makes this season really worth watching.

Gilmore Girls

An older series which was successfully revived last year. It follows the lives of Rory Gilmore, her single mother Lorelai, and her grandmother Emily. Picking up a decade from the last season, we follow their modern, open-minded relationships during four seasons of the year, full of upheavals…

Our verdict: This revival with 4 new episodes made us very nostalgic. The ideal feel-good mini-series to liven up those long winter evenings.

House of Cards

Another Netflix heavyweight. Last year, we were glued to our screens as the country went to the polls during the fourth season. Who will become the next President of the United States? Will it be Frank Underwood? Or will the intrigues of his wife Claire throw a spanner in the works? Let's find out …

Our verdict: We can never get tired of this series. What is striking about this season is the fresh new style of House of Cards. You are sucked into the story, as Underwood directly addresses his audience.

The Crown

Another surprising new series of the autumn. In this pseudo-autobiographical series, we follow the first years of the reign of Queen Elizabeth II. And it's hardly smooth sailing, especially for someone who didn't want be Queen in the first place…

Our verdict: Don't expect the same old story. This series goes surprisingly deep into the life of the Queen. And in top of that, it's truly a feast for the eyes, with beautiful decors and costumes. Not to mention the great dialogues and intrigue.

Stranger Things

Are you into science fiction and horror? Then you'll love this series. We are catapulted back to the early 80s, where 12-year-old Will mysteriously disappears. His three best friends start to investigate his disappearance and encounter a lost girl with psycho-kinetic powers. Soon, even more mysterious forces enter the fray, and a government lab harboring dark secrets…

Our verdict: Despite the futuristic story, the series is actually quite credible. You empathize with the characters, especially thanks to top performances by the child actors. Plus, you get your '80s nostalgia fix.

Marvel's Luke Cage

Netflix can be credited with bringing back the Marvel superheroes to the screen. Marvel's Luke Cage is the latest of the bunch. After a failed experiment, Luke Cage acquires super powers and unbreakable skin. As an ex-detainee, he tries to start a new life in Harlem, New York. But the people there need a hero in their fight against the criminals…

Our verdict: The series is true to the original comics from the 70s, but in 2016, the makers have added a layer of history, politics and culture. It's that extra layer, combined with the action scenes, that make it a must-see series.

The Get Down

Another series set in New York. It's the late 70s, in the underground clubs and alleys of the Bronx. Disco music is hot, but a new subculture is emerging, destined to become a mega business: hip-hop…

Our verdict: A dynamic series with some truly bombastic moments. You love it or you hate it, but it will certainly appeal to a lot of viewers, probably because music has such a central role in the series. Not recommended viewing if you want to wind down after a long day at the office…
Have you got Tuttimus or Familus and ready to opt for Netflix? In that case, we happily explain here how to choose Netflix as included TV bonus with your pack.
Or don't you have our all-in pack yet? Then take a quick look now at what is possible with Tuttimus.
Erik
Digital und Content Marketer. Gartenarbeit ist meine Leidenschaft, genau wie Essen. Aber gleich nach dem Spielen einiger Serien oder Filme, denn das ist mein Ding.
Andere Artikel von Erik