Stefaan Temmerman: mobile starter
Veröffentlicht am 27/10/2015 in Ihre Geschichten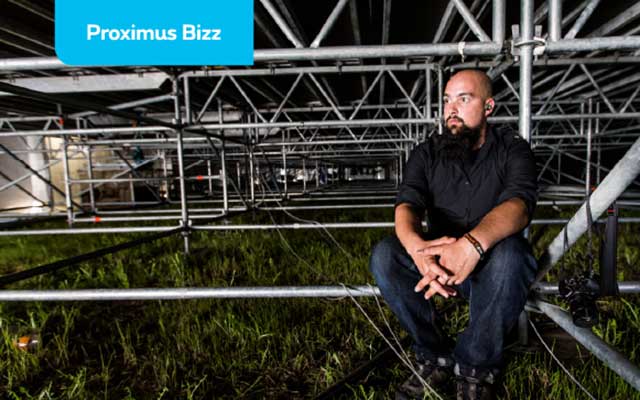 Few things are as important to entrepreneurs as communication, especially when you are racing from job to job. Customers must be able to get in touch with you. Projects, files and appointments need to end up with the right people. So a mobile office is a must-have for mobile workers. But how do you pull that of in daily life? Stefaan Temmerman, freelance photographer at De Morgen shares his experiences.
Freelance photographers often work on location and hardly ever know when their next assignment is coming.
"I'm almost fused with my smartphone," says Stefaan. "Chances are that, come Monday morning, I still don't know what my day is going to be like. Around about ten in the morning, I'll get the first call or mail from the newspaper with assignments for that day and sometimes for the rest of the week. As the week progresses, my agenda will start filling up quite quickly."
Stay in touch
"I'm always reachable through my smartphone and email," Stefaan explains. "Mobile data is one of the most important things in my life at this time. If there is no wi-fi available and the editors are waiting for my images, I'll often use my smartphone to create a personal hot spot. That way, I always manage to get my photos in on time."
"Photographs are also quite big in file size, which makes for a big volume in data used," says the photographer. "Especially during the summer music festivals, I'm often way over my limit."
Get a fast connection
"Because there was so much press at Tomorrowland, the organisation's internet connection often slowed to a crawl. So I switched to 4G to get my photos back to the editors. Otherwise I would've missed my deadline."
A fast data connection and mobile data have other advantages, remarks Stefaan: "The Google Maps app comes in quite handy as a GPS solution. I use it in combination with traffic reports, which means I'm never late for my appointments."
Synchronise
"My agenda is synchronised with the newspaper," the photographer adds as extra tip, "so the editors can always check, in real time, whether I'm available."
Proximus Bizz team
A team of more than 40 experts bringing independent entrepreneurs and small companies the best ideas and solutions for their needs.
Andere Artikel von Proximus Bizz team
Questions about our offers?
An advisor is at your service