Running a business without a smartphone? Impossible!
Veröffentlicht am 11/06/2018 in Ihre Geschichten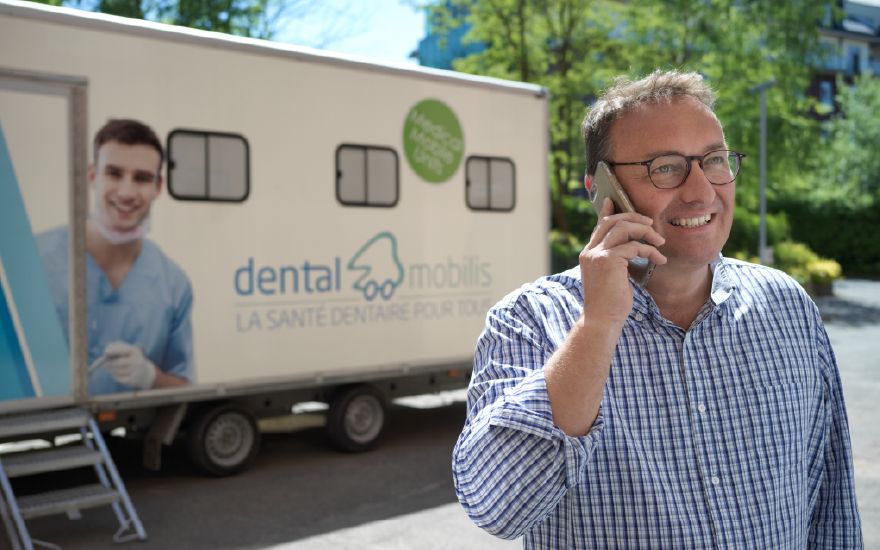 In 2017, Vincent Ghislain left the financial sector for good and founded the mobile dentist's clinic, Dentalmobilis. Thanks to its innovative service, patients no longer need to find their way to a dentist, it is the dentist that comes to them. How did Vincent come up with the idea? What drives him to give his all every day?
Name: Vincent Ghislain
Role: Business owner
Business: Mobile dentist clinic, Dentalmobilis
Our thing: We are the dentist that comes to you, not the other way around
Always mobile
A lot of technology is required to make a mobile dental practice work. Unfortunately, this technology can sometimes fail … Vincent Ghislain, business owner of Dentalmobilis: 'Our equipment is mobile and so are our means of communication. What if something goes wrong? It needs to be resolved as quickly as possible. If not, it's impossible for us to do our job, it's that simple.'

I don't understand how people can live without a smartphone.
Mine is just about fused to my hand!

Vincent Ghislain, business owner Dentalmobilis
Access to databases
Vincent continues: 'There may be an issue with our dental equipment, but we might also have communication issues. In the medical sector, you need access to government and health fund databases to view patient files. And when we don't have that access? We don't know what sort of treatment we can and cannot give to our patients. I have a project manager whose job it is to deal with these problems immediately. She is a vital cog in our wheel!'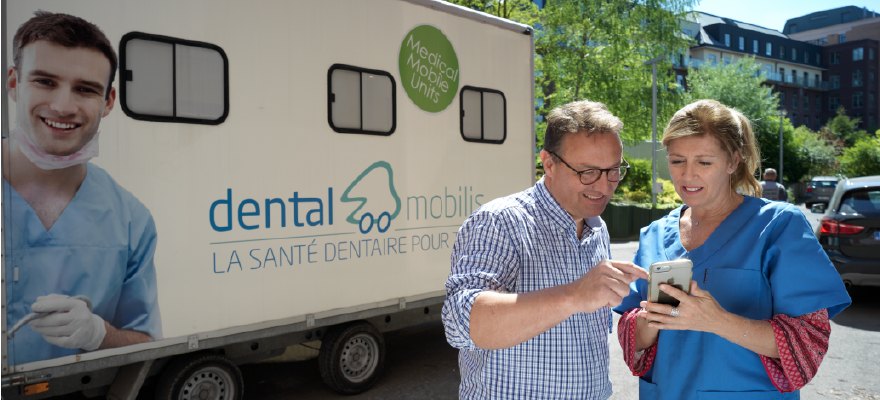 Lost without a smartphone
How does a business owner keep in touch with such a diverse and flexible team as that employed by Dentalmobilis? With their smartphone, naturally. 'I don't understand how people can live without a smartphone. Mine is pretty much fused to my hand, and the same is true for much of my team. We use them all the time, for social media and the cloud. They are an intricate part of the equipment we need to be able to do our jobs.'
Dentalmobilis would be lost without smartphones, Vincent continues: 'I find it very frustrating when I cannot carry on working because of some technical malfunction. It feels like being without a car: you just can't get anywhere you want to go. I need to stay connected to my team, project manager, the dentists and with management teams at retirement homes and care centres. Without it, I am shut off from the rest of the world.
Tailor-made solutions for your business
Vincent is very happy with his telecom solution: 'It is totally adapted to what we need as a business. The Bizz Expert asked us a multitude of questions, understood our problem and presented us with the right solution before implementing it. I hope our business grows quickly and that Bizz Expert will adapt to meet any new requirements we may have.' What would he most like to ask the Bizz Expert? Vincent: 'Please ensure nothing happens to my team. And more specifically: that they keep their smartphones safe!' (laughs).
Are you out of business when you're out of a smartphone?
With a replacement smartphone, you can stay in touch with your co-workers and customers, even if your device is broken or stolen.
Never out of touch with a replacement smartphone
Questions about our offers?
An advisor is at your service