UNIZO Online startersdag 27th October livestream
Veröffentlicht am 12/10/2020 in Veranstaltungen & Aktivitäten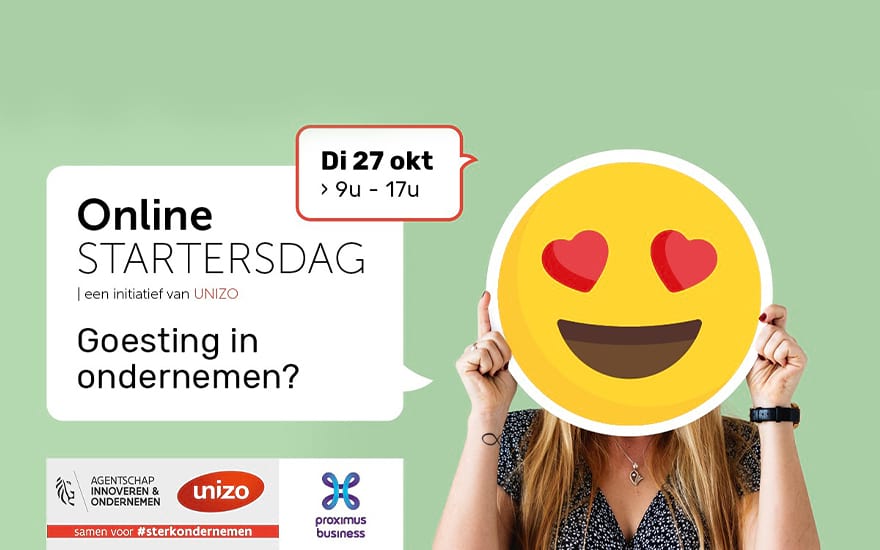 On the programme: continuously ask your questions via chat, follow round table discussions, Facebook Live sessions, start networking via digital coffee breaks,.
On 27th October, UNIZO, in collaboration with its partners such as Proximus, is organising an Online Starter Day via streaming.
Thinking about setting up your own business? Or have you just started? Then this is the ideal moment to ask all your questions.
On the programme
Lots of experts are available throughout the day to answer your questions via chat.
You can follow round table conversations on various themes.
Facebook Live sessions bring a lot of clarity on topics that are top of mind for you. Have you thought about your online presence? What does it all involve? How do you best deal with this? Sign up quickly!
There are also Coffee Break sessions, where you can network digitally with other starters. Exchange ideas and make interesting contacts.
Sign up quickly and prepare your entrepreneurial adventure even better!
Questions about our offers?
An advisor is at your service