Manage Explore Next Generation Firewall
Want to set up your own personalized firewall protection? We'll explain you the basics to set up your Explore Next Generation Firewall.
Explore Next Generation Firewall uses Palo Alto Networks' firewall, application control, advanced threat protection, IPS, URL filtering and SSL teleworking. Download the PDF manual(PDF, 4 MB) .
---
We'll explain you how to log in and give an overview of the most important features.
Contextual help is also available in the interface of your firewall by pressing

.
---
Policies, objects & security profiles
Policies
Policies are controls that enable you to allow, restrict, and track traffic based on the application, user, user group or service (port and protocol). You can define your security rules, but also NAT, application override and authentication policies here.
Your firewall uses packet inspection and an application signature library to distinguish applications (by protocol or port) and to identify malicious applications using nonstandard ports.
For maximum safety, use security policies for specific applications or application groups rather than, for example, a single policy for all port 80 connections. For each application, you can block or allow traffic based on source and destination zones and addresses (IPv4 and IPv6). Each policy can also have security profiles against viruses, spyware, etc.
Objects
Objects are elements you can use in your policies or security profiles:
Object types
Addresses & address groups: IP subnets, ranges or FQDN to use in policies.
Applications, applications groups & filters: list of all applications and their details provided and maintained by Palo Alto, to use in policies.
Services & Service groups: TCP and/or UDP ports that can be configured to limit an application to certain ports or standalone to use in policies.
Tags: a feature that applies to your entire firewall which you can use to refer to specific keywords (tags) instead of objects. E.g. you can define a list of IP addresses that your teleworkers use and name the tag 'teleworking'. This way you can easily refer to 'teleworking' in your policy and know this policy applies to your teleworkers.
External dynamic list: import a list of IP addresses, URLs or domain names to use in policies. If you have a Proximus Advanced Security pack, 2 dynamic IP lists are offered: high risk and known malicious IP addresses, which are updated daily.
Custom objects: advanced security features configured by Proximus, except for URL categories.
Security profiles
Security profiles are objects we can add on top of the standard firewall inspection. They allow more control and additional security checks to be performed on network traffic.
As best practices, it is recommended to implement the predefined default security profiles. These default security profiles are applied to the standard initial configuration and follow this naming convention 'Sec_Prof_xx_PM' (where 'xx' is replace by the profile type: AV for antivirus, VP for vulnerability protection, etc.). Those profiles can be applied in the Objects tab under Security Profiles, either individually or as a group profile. Your firewall offers several types of security profiles:
---
If you have subscribed to this service, you can provide remote access to the users on your network using the GlobalProtect software.
This service is proposed in 2 flavours:
Local users: your teleworking users and passwords are stored locally on the Explore Next Generation Firewall platform, per pack of 5 simultaneous teleworkers.
LDAP/AD: your teleworking users and passwords are defined on an Active Directory. An additional configuration between the firewall and your Active Directory server is required. If you have any questions about this, contact us .
If you have the 1st flavour, you will find all the information to manage your teleworking users and passwords below.
Manage users and passwords
You can add, delete or change users and passwords:
Click on the Device tab and on Local user DataBase. Click Users.
You now have several options:

Add a user: click Add. You can also Clone a user and adapt it to your needs. Choose a name for your user, a password and confirm your password. The password must be at least 8 characters long, include at least 1 uppercase, 1 lowercase, 1 numeric and 1 special character and should not include the username of the user (including reversed). Click OK.
Change a user: click on the user you want to change. You can now choose a new name and password following the password requirements above. Click OK.
Delete a user: check the user you want to delete and click Delete.

Please note: the number of users that can connect simultaneously depends on your teleworking subscription. If you need to add more users, contact usOpens a new window .

If you have added a user, you must add it to group of teleworkers afterwards. To do this, click on User Groups on the left side of the screen.
Click on UserGrp_Local_TWK. Click Add and add the users you just created.
Click OK and commit your changes.
Download the teleworking software
Proximus will provide a link to your teleworking portal and your login credentials. Follow these steps to download the GlobalProtect software:
On mobile
Once the download is completed, install the app onto your device.
On PC or Mac
Surf to your teleworking portal on yourportal.teleworking.proximus.com/ and replace 'yourportal' by your company's portal.
Enter the "Teleworker" username and password and click LOG IN.

Click on the link to download the GlobalProtect software for Windows or Mac.

To install the GlobalProtect software afterwards, you must have administrator privileges on the computer you're installing it to. Double-click the file you just downloaded and follow the steps in the installation wizard.
Connect to the gateway
After you've installed the software, you can connect to the gateway:
Double-click the GlobalProtect icon.
Enter your settings in the GlobalProtect application:
Portal: enter the link to your teleworking portal (e.g. yourportal.teleworking.proximus.com/ where 'yourportal' is replaced by your company's portal) as provided by Proximus.

Click Connect.
Enter login credentials:

Username: enter the Teleworker username.
Password: enter the Teleworker password.


Click Sign In.
Once you are connected, your connection status is visible when you double-click on the GlobalProtect icon on the bottom right of the computer's task bar.


Click on the Settings icon on the top right to see more details.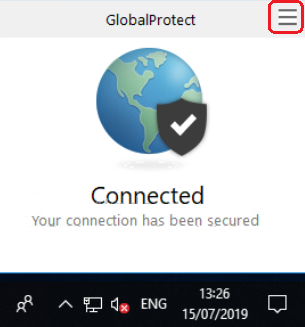 In the General tab, you will see username that is connected, the portal's IP address or host name and the connection status.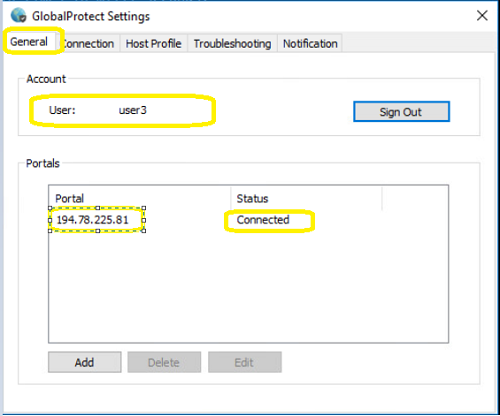 In the Connection tab, you can see the assigned IP address to the Teleworker.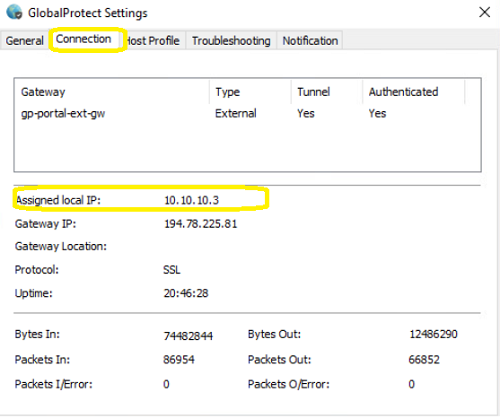 If you encounter issues, verify the firewall policies between the teleworking, inside and outside zones if all required accesses are allowed.
---
Change or reset your firewall password
Your password can only be changed if you are already logged in. If you can't log in, contact usOpens a new window to reset your password.
To change your password, follow these steps:
Click on customer at the bottom of the page.

You will have to choose a new password:

In the field Old Password, enter current password.
In the field New Password, choose a password of min. 8 characters containing at least 1 uppercase, 1 lowercase, 1 special and 1 numeric character.
In the field Confirm New Password, repeat your chosen password and click on OK.

Click on Commit on top of the page to confirm your changes.

Click on Commit again in the pop-up window that appears.
Your login and password can only be used by you. Proximus has seperate credentials to access the Firewall. If you lose your password, you must contact the Service Desk to request a reset of your password.
---
Your access rights to features on the firewall
---
Customers such as you can benefit from our consulting services and training:
Consulting services
As a customer you can rely on our consulting services. Theses services contain a migration and a continious improvement:
Please note, in order to be able to do the migration your existing firewall brand must be on the list of supported vendors: Check Point, Cisco (ASA and Firepower in ASA syntax), Fortinet, Juniper, Forcepoint, ...
Migration:

We start with a basic migration from your current firewall rule base to the Proximus NGFW Explore solution.
We use automated tools and qualified engineers to achieve the migration.
We move from a port-based security policy to an application-based security policy.
Don't worry, the security risks of sticking with a port-based policy outweigh the effort required to implement an application-based policy.

Continious improvement:

After the migration to an application-based security policy it is time for some improvements. Palo Alto has several tools that enable continually optimizing your security rules, a necessity in the ever-changing threat landscape. These improvements are carried out by us:

"Policy optimizer": helps improve individual rules.
BPA report: gives an overall view of adherence to Palo Alto's best practices. The security engineer will run this report after a migration, after a first set of optimizations and after each successive improvement. It gives a great traceability on the improving security posture.
Customer training
As a customer you can follow a 4 hour training which consists of 3 hours class and 1 hour preparation and follow-up. You can contact your sales contactOpens a new window in case you would like to follow the training.
After the training you will be able to:
Create your own security policies via self management.
Know how to use the Palo Alto NGFW user interface.
Implement changes and new applications and know how to get them configured on your Explore NGFW.
The training is:
Customizable based on your needs.
Hands-on, no certification needed.
Available on your Firewall or online demo portal.
Remote by default (Microsoft Teams) but also possible to follow on-site.
---
As a client you can count on us for help via:
The Palo Alto website
Please note: Proximus offers a customized version of Palo Alto's firewall, so certain features may not be available or looks the same way as described.