Android TV Box - Need help?
Have you received your new Android TV Box?
Follow our tips to install and use it easily.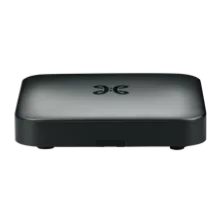 Installation: a problem to install your Android TV Box? Consult our online guide. The default PIN code is 1234.
Your line number (NA) will be asked during the installation process. You can find it on your payment statement > Details of the payment statements > Tv section > column « Number ». It is also indicated in MyProximus > Products > Number indicated under TV.
Remote control: you have received a new remote control. Normally it is already universal, i.e. you can use it to control your Android TV Box and TV. With Bluetooth, you also no longer have to point your remote at your TV. You can press simultaneously and for 3 seconds to pair your remote.You need more info? We explain how to make it universal and enable bluetooth.
New interface: your Android TV Box has a new interface. We will explain how to use it.
Live TV: if you are in any section of the menu press press or to go to live TV. To restart a live stream, press to show the playback screen and then select the restart button.
Press to access the TV guide: use the buttons to see programs of the selected channel up to 2 days in the past and 5 days in the future. You can also use and to jump to the following day in the future or in the past.
TV channels and order: you can access your favourite channels by creating bookmarks.
TV options: press , and then Subscriptions. Press to see the channels included in each TV option. The Adult pass is not yet available on the Android TV Box. Please be patient.
Bonusfilms for Tuttimus clients are not supported on V7. You can still access them on your older TV Box.
Reminders for Tv programs and 'Add to favourites' for Proximus VOD are not available yet on the Android TV Box.
Subtitles: if they exist, you can display subtitles for the current program by pressing on the remote control or by pressing to show the playback screen and then the subtitles button. More info about subtitling.
Record a program: you can record a program, but with some limitations for the moment: you cannot extend the records beyond 60 days yet.
Radio: quickly access the radios of your Android TV decoder.
Vocal assistant: talk to your decoder and find easier what you are looking for.
Apps: connect to the Play Store and install apps. Proximus is not responsible for the content in the Android TV Google Play Store. It is up to the app developer to decide on which device and markets/countries they will open their app. If you are interested in having a particular application on the Android TV Box, you can spontaneously ask to the developer of the application to make it available for Android TV in Belgium.
Live TV: if you are in any section of the menu press press or to go to live TV. To restart a live stream, press to show the playback screen and then select the restart button.
Your TV on demand content is accessible from the Home page > TV on demand section.
Energy consumption: you can reduce the consumption of your TV Box.
Screen resolution: you can change the screen resolution in Settings > Device settings > Display > Resolution (you will need to restart your TV Box).
The image becomes black or an error code appears? Try to change the channel. It doesn't work? Restart your TV Box.
The image on your TV is blocked? Restart your TV Box. Press the button on the back of the TV Box to turn it off. Wait about ten seconds and then turn it back on.
Chromecast does not work as expected? Remove the cache in the chromecast app and restart your TV Box.
Error code 888/889 appears. You must turn off subtitles on the program you are watching:

Press the OK button on your remote control;
Select the Subtitles icon on your screen;
Turn off the subtitles on your screen.

Your remote control no longer works? There may be no connection between your remote control and TV Box.

Remove the batteries from your remote control and put them back in place.
In the TV menu, go on Settings > Device settings > Remotes & accessories > Select your remote control > Pair
Now press the and keys simultaneously for some seconds. It doesn't work? Reboot the TV Box.

Your TV turns on without explanation? In some cases, it is possible that the Android TV Box box may automatically exit standby mode and turn on the TV. To avoid this, turn off the TV or disable the CEC function. Go to Settings/ Device Settings/ Device Preferences / HDMI / HDMI CEC. Turn off HDMI CEC.