Manage your domain or hosting
Termination of shared hosting
Where can you manage your domain and website, and what exactly can you manage? Log in to the control panel of your domain and hosting for an overview of all the features.
Logging in to the control panel
Surf to https://cp.belgacomhosting.be/.
In the Username field, enter your username. Your username usually begins with HO and can be found in the e-mail you received from us after you registered your domain name or hosting.
In the Password field, enter your password. Forgot your password? Set a new password for your domain or hosting.
In the Language field, choose English.
You are now logged in to the control panel of your domain and hosting.
First steps
Via the control panel, you can manage your domain and hosting. Below is an overview of the main features.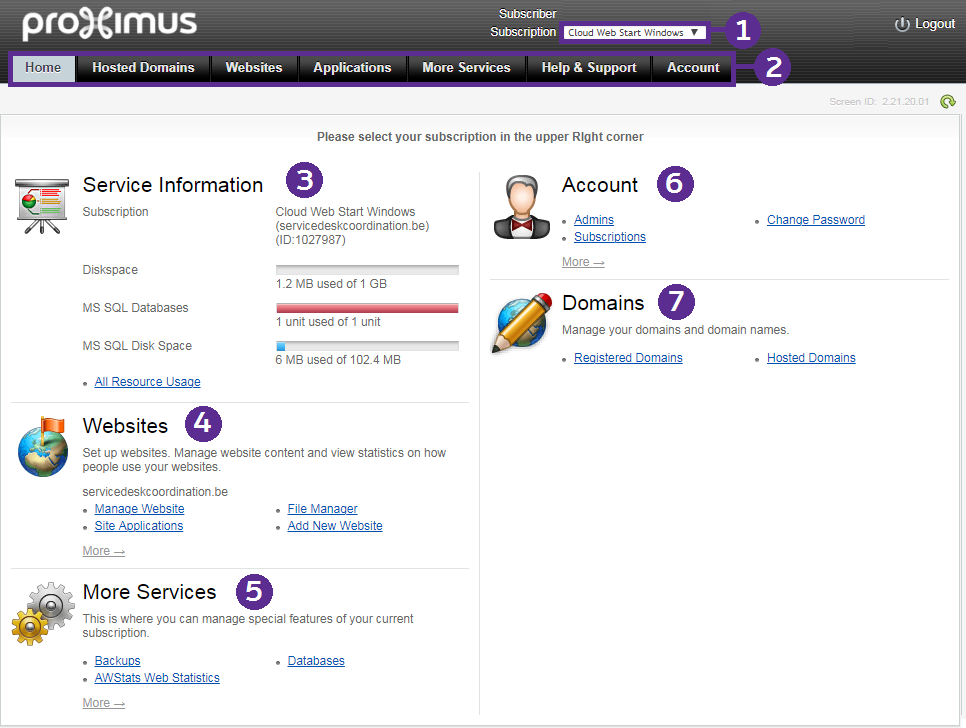 If you have several products, select the subscription you want to manage. The content of the control panel is adapted automatically, according to your product. Here, you can also see whether you have Windows or Linux hosting.
In the menu, using the shortcut keys, you can consult the main functions of your hosting.
Service Information: gives information about the use of your hosting, e.g. used storage space or number of available IP addresses.
Websites: gives an overview of your websites and the main shortcuts for managing your website(s), such as your FTP access, the creation of new FTP users, or the direct management of your files.
More Services: some subscriptions have services such as a database or web statistics which you can manage here. Here, you can also create a back-up of your files.
Account: gives an overview of your subscriptions and general options for managing your subscription, e.g. setting a password, administrator rights, language choice, etc.
Domains: manages your domain(s). Here you can set DNS records (e.g. A, MX, CNAME or TXT) or create subdomains. Your website will only be visible if there is a DNS record which links your domain name to your website.
Each part has a More link, which allows you to consult all the functions.