Installation of the Mobile Coverage Extender (PRO)
Mobile Coverage Extender (Pro): service and support ends on June 13, 2022
If you are having difficulties to call or surf indoors with your smartphone, you can use the Mobile Coverage Extender (Pro) to increase the range.
Some tips before you install your Mobile Coverage Extender (Pro):
Install your device in an open, central room in your home. Avoid installing it next to a window, door or in the garage. If necessary, use an Ethernet adapter (Devolo or PLC).
No free Ethernet port on your modem? Remove a cable that is not being used or install a LAN switch between your Mobile Coverage Extender (Pro) and your modem. More info in one of our points-of-sale.
You can only install one Mobile Coverage Extender per Internet line. This does not apply for the Mobile Coverage Extender Pro. Ask for advice in a point of sale or ask your account manager.
You cannot install it at another address and it's best not to move it indoors.
Please note: the Mobile Coverage Extender supports 3G coverage, not 4G or 5G coverage.
Two different devices can be provided for the delivery of the Mobile Coverage Extender. Choose your device to consult or download

the guide:
---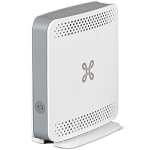 ---
Mobile Coverage Extender Pro