"Cybercrime most common (65%) economic crime in Belgium"
Global Economic Crime Survey - PwC
Cybercrime is no longer merely an IT issue, it's a business.
Strive for the most secure digital working environment possible by increasing the involvement of ALL your employees. Only then can you reduce the risk of becoming the target of cyber-crime.
Together with you, we develop your comprehensive "Security Awareness Action Plan" based on two pillars:
1. A communication plan to stimulate awareness
We help you set up a unique communication plan for the coordination and support of your training, of the various messages and the pre and post assessment measurements. This by using appropriate channels which have proved their effectiveness (posters, intranet banners, quizzes...).
Most common topics:
Tailored e-messages
Intranet banners
Posters
Mediascreen messages
@noon training sessions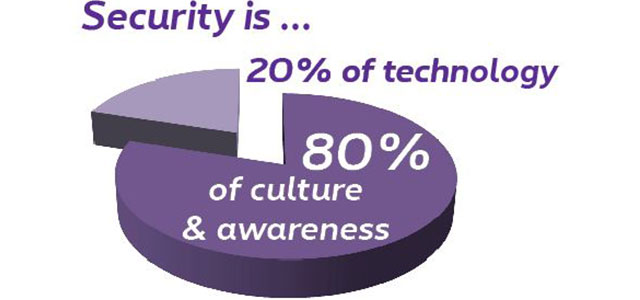 2. Workshops, digital learning & phishing tests
Using demos during the workshops/ training sessions/@noon sessions we engage your audience into a personal experience
Interactive video module, tailored to your organisation, stimulate your users to become more vigilant
Phishing tests