Fluidshopping by Proximus
We help you to be more efficient and to enrich the customer experience online and in-stores
Today, consumers are buying more online than ever. Mobile and connected, they search for information everywhere and at all times.
It's up to you to control costs and control your margins by working smarter and remaining innovative.
Our infographic offers you a new perspective on the customer's buying behaviour.
Find out how they shop, online as well as in stores, a unique experience that will allow you to grasp the full potential.
Enjoy your visit to your future store!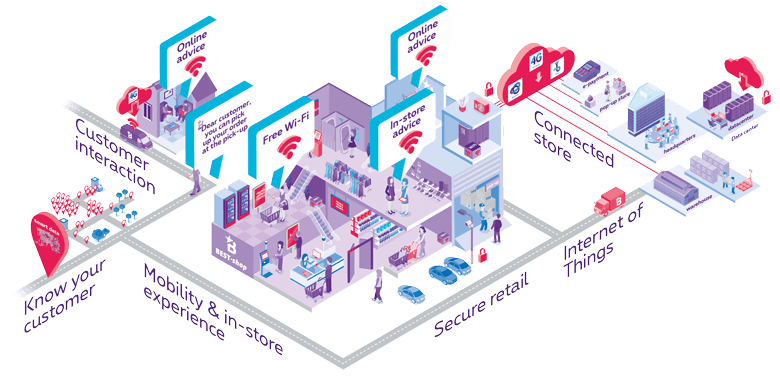 Interact with your customers, wherever they are
Inform, advise and offer, in-store or remotely, all your expertise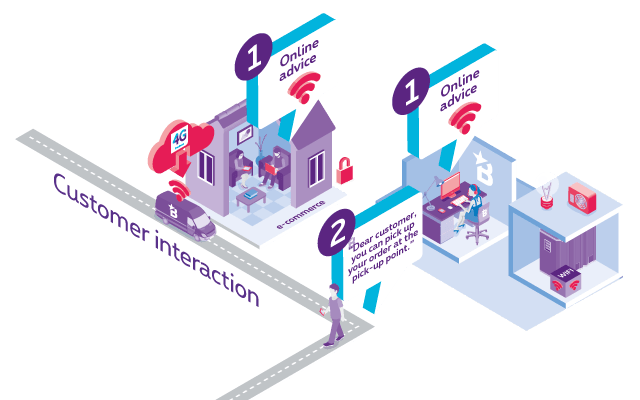 Inform and advice your clients immediately by interacting with them via audio, video or chat.

Send text messages with special offers or information on current orders or repairs.
Increase the conversion rate by following the movements of your customers
Know the travel and purchasing behavior in and outside the store and valorize those

Decide on the location for your new store using anonymous mobile location data.

Measure and analyse visitor numbers that come in and out of your store and calculate the conversion rate.

Get insight into customer movement patterns in your store. Send relevant information and special offers to their smartphones based on their location and interests.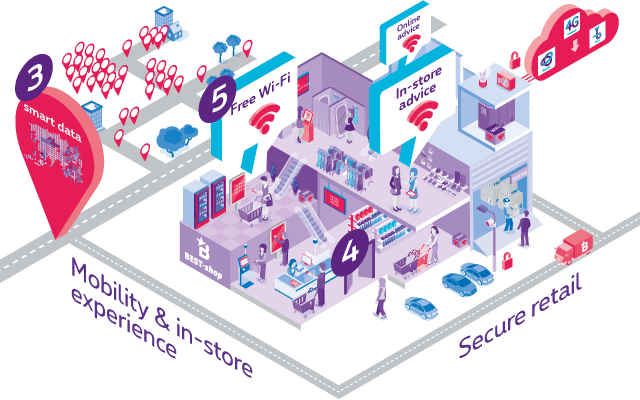 Optimize the customer experience in your store
The employees of the store help customers everywhere and all the time and customers enjoy a unique experience

Communicate in your store thanks to touchscreens and info kiosks to search information and order products online.

Make your store even more attractive and give the customer free access to a secure Wi-Fi network.

Provide your employees with mobile devices with which they can quickly and easily help customers and access their data wherever they are in the store.
​
Did you know?
The purchase amount rises by an average of 29,5 % in-stores equipped with digital displays.
​
Did you know?
25 % of Belgian smartphone users take pictures of products they plan to buy in the store.
Secure your store, your data and those of your clients

Protect your data, your customer data, your devices, network and infrastructure against external attracks.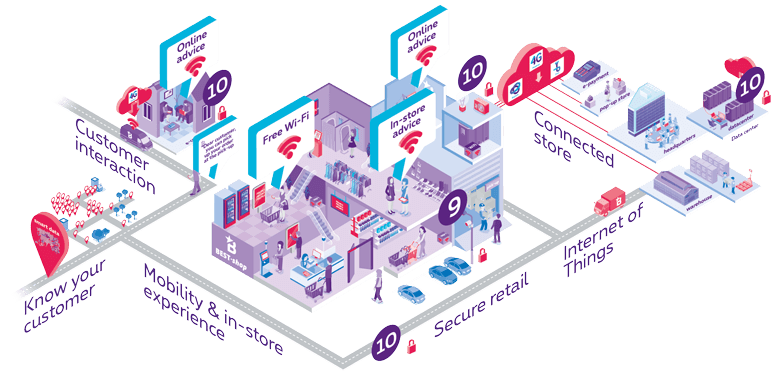 ​
Did you know?
Massive DOS attacks (Denial of Service) represent 33 % of threats to the retail sector.
Keep an eye on your point-of-sale in all circumstances!
A fast, reliable and secure network to ensure the connection with suppliers, warenhouses, shops and critical applications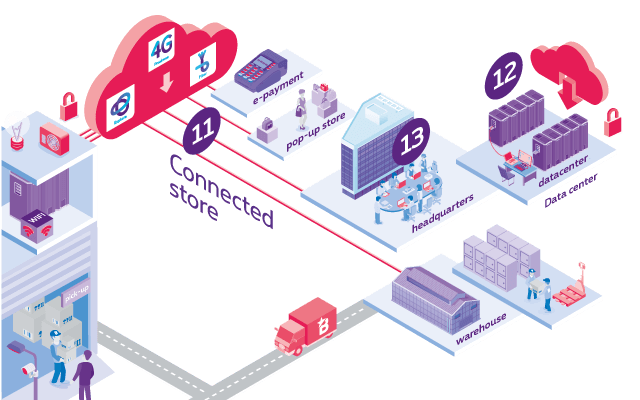 Ensure a secured connection between your stores, head office, suppliers, etc. Support mobile and electronic payment, dynamic pricing and digital media.

Access your applications, e-mails and data, etc., whenever and wherever you wish, from any device in all your stores.

Ensure easy communication between headquarters, stores, suppliers, etc.
Internet of Things for an efficient logistical management
Intelligence at the service of stock management, caddies, fridges, energy consumption … easy to locate, check and test in real-time and on the move

Optimize your supply chain using real-time information on location, stock management, etc.

Monitor the temperature in refrigerators, refrigerated units and during refrigerated transport from a distance to guarantee product quality.

Monitor energy use in all your stores. Adjust lighting, heating and air conditioning remotely and in real time.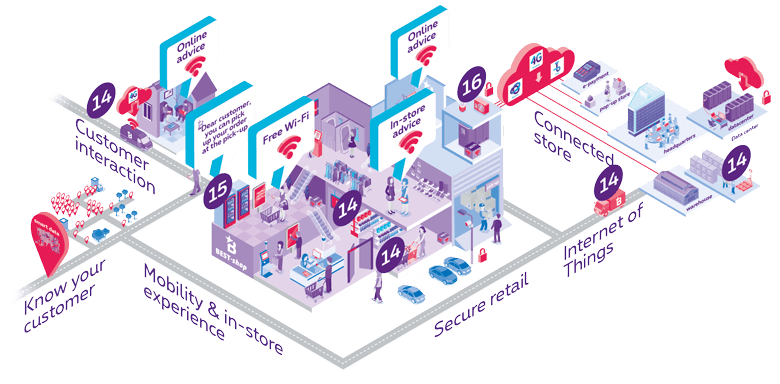 ​
Did you know?
Air conditioning represents 40 % of energy costs. Make smart energy savings thanks to IoT.