You have received a message from us about switching to Cloud Mail Security. A summary of the advantages of our platform can be found in the Contractual Service Description

.
The migration period has been extended. We plan to close the old platform on 01/02/2019. Please take the following steps before this date.
We will explain how the switch can be done, since a number of things must also be changed at your end. In practice, the following changes will be made to your e-mail flow: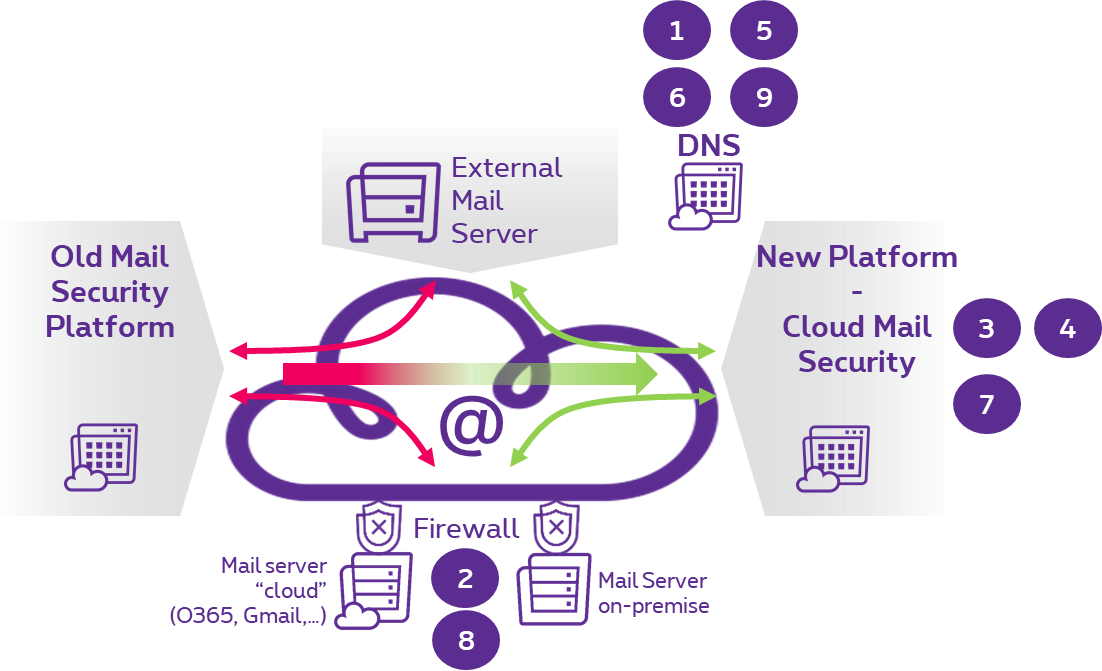 E-mails will no longer be analysed for spam and malware by the existing platform, but rather by a new and improved platform. This applies to both incoming mail (from the external mail server to your mail server) and outgoing mail (from your mail server to an external mail server).
To ensure a smooth migration, please follow the steps in the table below in the stated order. You can also follow the steps in the above diagram.
Questions and contact
The following sources also contain a lot of interesting information to configure Cloud Mail Security to your needs:
If you have any further questions, please contact our Service Desk via MyProximus or 0800/14888.
Intervention by a Proximus Security Engineer
If you would like to leave the complete configuration of your new Cloud Mail Security account to one of our Security Engineers, this is also possible. If you do not have an existing Managed Services contract, you can create a Service Request via MyProximus. The rates are (excl. VAT):
Start-up fee (one-off fee per intervention):
From Monday to Friday from 8 am to 6 pm: € 150
From Monday to Friday from 6 pm to 8 am: € 300
During weekends and holidays: € 600
Intervention fee (per started hour):
From Monday to Friday from 8 am to 6 pm: € 100
From Monday to Friday from 6 pm to 8 am: € 200
During weekends and holidays: € 400