Prime: 1 question, 1 expert, 1 solution
Included in Business Flex
Your business can't wait
As an entrepreneur, you don't have time to repeat the same question over and over again. With the new Prime service you'll enjoy a smooth, personal and professional service: ask your question only once, an expert will follow up for you.
The Prime guarantees:
A Business Expert follows your question from A to Z
Easy, via the MyProximus app
Stay up to date on the status of your question at all times
Prime is included in the Business Flex packs!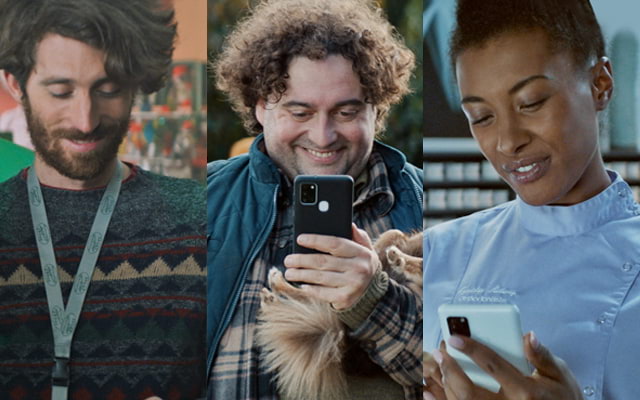 1 Business Expert for your question
You only want to ask your question once. One of the Business Experts is your contact and will take care of your request for you, from A to Z. That way, you can spend your time with your customers.
Easily accessible
Waiting on the phone, that's a waste of time for you. Ask your question in the MyProximus app! Get the appropriate advice via the app or get in touch with a Business Expert, via a conversation or via chat. He/she can also call you back.
Follow the status of your question
You can check at any time what has already been done for your question, via the MyProximus app. If needed, you can contact your Business Expert in 1 click.
Choose for Business Flex, too
And enjoy the Prime service
Choose only what you really need. Put together your own pack, tailored to your business. You will always stay optimally connected without worrying about your consumption. And you will enjoy Prime. Peace of mind and time savings, that's what we aim for.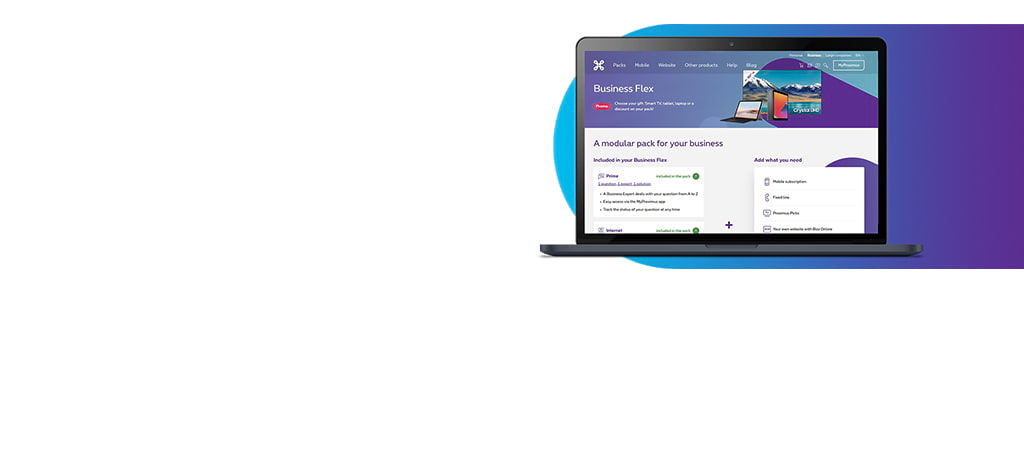 I want Prime for my business!
This is how you do it, in 3 steps
Download the app, register as an administratorNew window on your account and start Prime. With your MyProximus account, you can check your usage, view and pay your bills or payment statements and also manage options and services. Handy, right?

Already downloaded the MyProximus app? Go to step 3.
There's even more service in Business Flex
With Prime in your Business Flex pack, you'll get a professional service from a Business Expert. But that's not the only service you will get to keep your business running!
Same day repair
Your internet, TV or landline has let you down? We repair it the same day!
Noticed a problem with your internet, TV or landline? Count on us, until 8 p.m. on weekdays and until 4:30 p.m. on Saturdays. Call before 5 p.m. on weekdays or before 1 p.m. on Saturdays. If the repair cannot be arranged within the specified period, we will temporarily repair it via the 3G/4G network.
24/7 technical support
Our Business Experts are there for you.
Our Business Experts with special expertise are at your service at any time of the day (and night) with the necessary assistance. Contact them via 0800 55 500.
Free replacement smartphone
You can be reached back by your customers in no time, your business continues.
Mobile phone broken, lost or stolen? Your free replacement smartphone is waiting for you in your Proximus Shop. You're available again for your customers in no time and you can have your current phone repaired. Or choose a new one, if you like.
Ask your replacement smartphone
Conditions
This service is only available for Business Flex (Fiber) customers via the MyProximus application. Companies with more than 10 employees are not entitled to access Prime but can call on an account manager.
Prime service will be available from Monday to Saturday from 8:00 to 18:30.
Guaranteed repair of the internet, telephone line and TV on the same day if you call before 5 p.m. on working days or before 1 p.m. on Saturdays. If this cannot be carried out within the communicated deadlines, temporary restoration via the 3G/4G network. Guaranteed repair of the telephone line: valid only for the telephone line, ISDN-2 Standard or TWIN. Call forwarding: except for marketing or special numbers. Billing according to the customer's tariff plan.
Questions about our offers?
An advisor is at your service