Don't say Belgacom any more, because #weareproximus
Published on 22/06/2015 in Be the first to know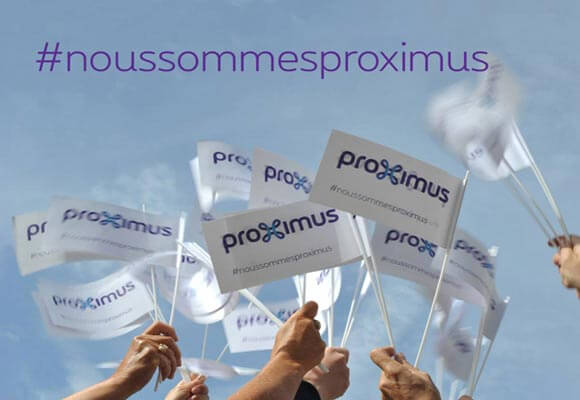 Proximus is now the company name for customers, suppliers and employees, and no longer Belgacom. And on the stock exchange the share will be listed as "PROX" instead of "BELG".
"By now, this name change comes as no real surprise to the public at large. It is the final piece of our rebranding and ties in with our ambition to get back to sustainable growth by 2016," says CEO Dominique Leroy.
Name change
In September 2014 Belgacom grouped all products and services under one commercial brand, "Proximus", with the promise to always bring customers close to what is important to them through an attractive offer of innovative products and services. This was an important step for the future of a changing company, on its way to growth. In the days and weeks following the commercial rebranding, the response from customers, suppliers, stakeholders, investors and employees was unanimously positive. The change of name of the company was a logical next step. At the proposal of the Board of Directors, the Extraordinary General Meeting of 15 April 2015 decided to change the company name (BELGACOM SA under public law) to Proximus SA under Belgian Public Law. After almost 23 years, the Belgacom name now belongs to the history books. With this, the company is shifting to a higher gear in the change process while simplifying its communication.
Opening bell on the stock exchange
Since today, the stock exchange listing has changed: the share is now listed as "PROX" instead of "BELG". This morning CEO Dominique Leroy symbolically sounded the opening bell on Euronext Brussels, in the presence of Deputy Prime Minister and Minister for Development, Digital Business, Telecommunications and Post Alexander De Croo.
The flag raised high on the Proximus towers
Also this morning, the Proximus flag was raised on the Proximus towers. Not just any flag: this specimen of six by four meters was signed on 15 April by Chairman Stefaan De Clerck and CEO Dominique Leroy along with the directors and shareholders present. It subsequently travelled two months through the various company buildings around the country to give the company's 14,000 employees the opportunity to also sign the flag. This flag - flying high on the towers - is a symbol of a changing company and a commitment by Proximus and its employees to be always close to the customer.
New website
The name change for customers, suppliers and employees will enter into effect on 22 June. From then on, all company information can be found on the new corporate website www.proximus.com (instead of www.belgacom.com). For products and services, customers can consult www.proximus.be.
Peter
I have a passion for the Internet & communication and I'm a huge fan of our brand.