More sport on Proximus TV in March and April!
Published on 02/03/2017 in Showtime!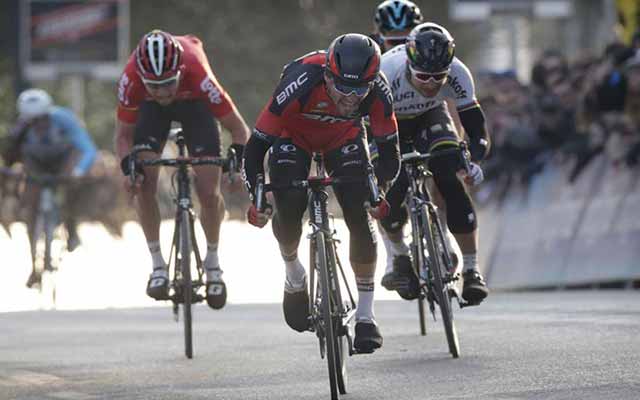 Football or cycling: take your pick
With the coldest days behind us (we hope!), the Belgian sports world seems to be waking up from its winter sleep. And for fans, March is an important month in the calendar. This is why:
The conclusion of the regular Jupiler Pro League
In March, you can watch the battle for Play-off 1, which will be fiercely fought in the last two match days of the regular competition. Will Standard get to Play-off 2 for the second year in a row? Will Charleroi hold onto its position in the top six? Can Genk stand up to Club Brugge? And on the last match day, who will come out unscathed in the duel between AA Gent and KV Mechelen?
To enjoy all the action of this thrilling conclusion of the regular season, tune in to our Multi Live channel on Saturday 4 March and Sunday 12 March. It's totally free! In an exciting broadcast, you can follow all eight matches being played at that moment. By continuously switching between matches, you won't miss any of the action.
So tune in to channel 600 (with Dutch commentary) or channel 700 (with French commentary). Be there!
Or do you prefer to focus on your favourite club? No worries: for you, we have the TV option Belgian football. You'll get to see all the matches of First Division A, but also those of First Division B!
Road cycling kicks off
After the exciting duel between Wout van Aert and Mathieu van der Poel (remember the four flat tires that cost van der Poel the world title?), the kings of the road are back.
On our soil, we're looking forward to the top race of the spring, the Tour of Flanders, which takes place on Sunday 2 April. This classic cycling race has been revamped this year and will start in Antwerp. And, of course, as a bonus, The Wall is back with a vengeance this year.
Another competition we're looking forward to is the Scheldeprijs, on Wednesday 5 April. This year, the classic cycling race will exceptionally start in Mol, as a tribute to Tom Boonen who was born and bred in this region and will be participating in his last Belgian race.
Because we want you to enjoy the spectacle, we're giving away free tickets for our exclusive Sky Box for both races. You'll be able to experience the action close by, directly from the track. Keep an eye on our Facebook page where we will soon be posting all the information about the competition!
But maybe you're more into ball sports? In that case, our TV option International Sports is cut out for you.
Erik
Digital and content marketer. Gardening is my passion just like eating. But right after playing some series or films, because that's my thing.