Check out the new homepage of Skynet.be
Published on 23/05/2016 in Showtime!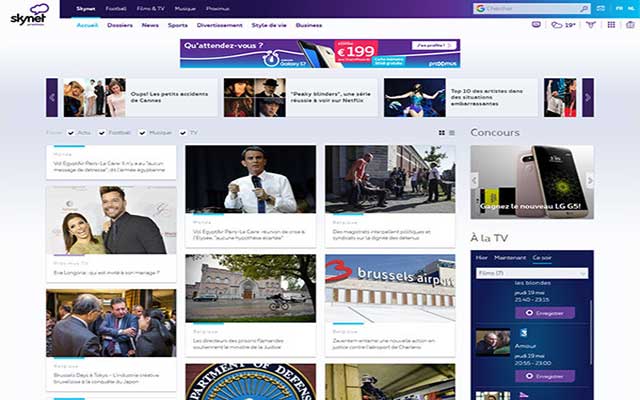 It had a facelift: more visual, more compact and intuitive!
It meets the demands expressed by our visitors due to a large survey that we organized. The content is logically segmented into different blocks, giving the page a new look. The new home page is fully adaptive and well designed for PC, tablet or smartphone.
Webmail, TV, weather, horoscope and other services
At the top of the page, you find our convenient services such as webmail, live television, weather, horoscopes and 1307, blogging, Lotto, travel and route planner. The weather and horoscopes are provided with a convenient drop-down menu to go directly to what interests you.
Interesting files created by our editorial team
Skynet offers daily articles and dossiers on television, film, series, people, soccer, music, high-tech, cars, trips, and general news. In the carousel on the top of the page you can see a rich and convenient selection of available content.
A newswall and filtering information
With the current wall you find information more quickly that interest you. But the big news is that you can now filter the information on the following topics: News & Sport, Football, Music and TV.
Contests, TV Guide and soccer
The right column includes a contests block containing all the contests currently running on Skynet.be, Proximustv.be and Proximus11.be. A Mini TV Guide helps you plan your TV evening and you'll find the upcoming soccer games to watch on Proximus 11.