Best avoid doing this on public Wi-Fi hotspots
Published on 20/01/2017 in Tips & tricks from…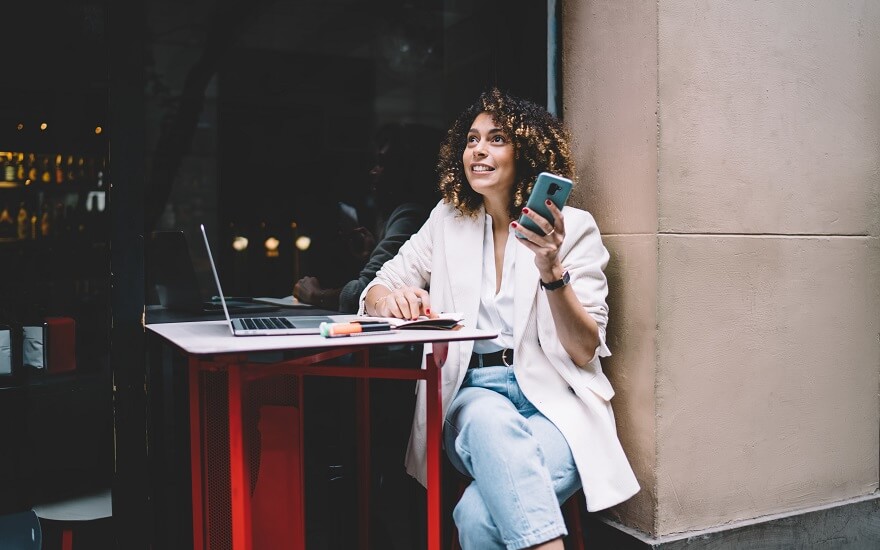 Indeed, hackers can steal your data there really easily.
And yet it's oh so tempting and useful to surf on the Wi-Fi network of a restaurant or train station from time to time. Especially if it's not even password-protected. That's not a problem as such, as long as you're aware that there are security risks associated with this.
Why? Well, first of all, you often don't know who's behind these hotspots or what happens with your data. Moreover, these networks are often easy to crack for hackers, with all the consequences this entails. You see, the data traffic is often not encrypted, which means that anyone with some programming skills can see which sites you visit and sniff around in the data on your smartphone, laptop or tablet.
With that in mind, it's best not to do the following four things when surfing on a standard, public Wi-Fi hotspot.
Don't do online banking or credit card payments

In other words, avoid doing bank transfers or even checking your balance. Because although the connection with your bank is protected, hackers can still analyze your surfing behavior and thus find out a thing or two.

For the same reason, it's best that you don't use your credit card number. After all, you don't want it to fall into the hands of cyber-thieves, do you?

Don't share sensitive information

Keep in mind the golden rule: don't type anything you wouldn't say publicly. Even if it's an online survey or a dating site that asks for your age or address. Because the more you give out, the more data thieves have at their disposal to steal your identity.

By the way, be extra careful with sites which start with "http://" instead of "https://". With the former, the data you send are never encrypted, whereas with the latter they are.

Don't share files or printers

At home you probably share documents with other members of your household now and again. Or you share the same printer.

But on a public Wi-Fi network it's better that you don't do this. Because here, too, you open up all doors to crooks on the worldwide web.

Avoid apps

These are not as well protected as traditional websites. Moreover, they often have access to your contacts, camera and location.

So preferably use the website version of your favourite news website, instead of the app. This way you don't sacrifice the contents of your smartphone.
The safe alternative for on the go? Our Wi-Fi Hotspots.
These FON hotspots encrypt all data. This gives hackers no opportunities at all. You can recognize these hotspots by the name "PROXIMUS_FON", whenever you search for Wi-Fi networks in your vicinity.
And with more than 1 million hotspots in Belgium and over 20 million worldwide, there's nearly always one in your area. For details on how to log in to such a network, please read our explanation here.
Have you got a Pack with fixed Internet, such as Tuttimus, our all-in? In that case, it's even simpler, thanks to Public Wi-Fi. With this you switch automatically between mobile Internet and the available Proximus hotspots around you. So you no longer have to do anything manually in order to log in to our hotspots! What's more, you save on roaming costs when you're abroad.
Peter
I have a passion for the Internet & communication and I'm a huge fan of our brand.