Stranger Things: mysterious and intriguing masterpiece on Netflix
Published on 13/09/2016 in Showtime!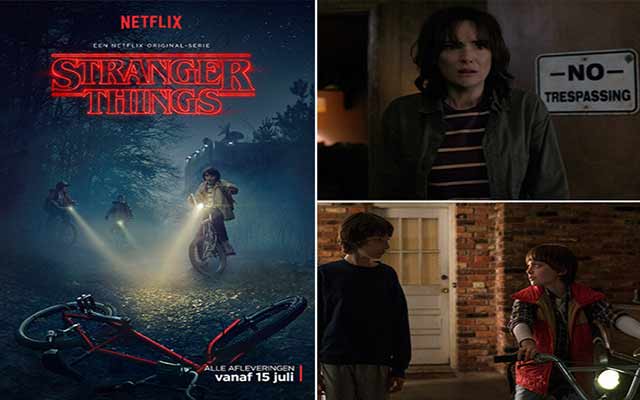 Netflix spoils us with a new Netflix Original Series, and it's one not to be missed. Bing Watch material!
Stranger Things is a must-see for anyone who grew up in the 80s, a tribute to the classics of the time. The story is set in Indiana, 1983. A twelve year old boy disappears without a trace. While his friends, family and local police are trying to find answers, they are drawn into an intriguing mystery, secret government experiments, supernatural powers and a very strange girl.
Loving tribute to classics from the 80s
The creators of this series, Matt and Ross Duffer, grew up in the 90s, but learned the art of storytelling through books and movies from the 80s. For this series they were inspired by filmmakers and authors such as Steven Spielberg, Stephen King and John Carpenter. Once the series begins, you sense films like E. T., Stand By Me, The Thing influences, etc.
Eighties rule!
Who grew up in the 80s or just like the music, atmosphere, trends and clothing (ahem) of that time, will find many interesting and nice details in Stranger Things. Beyers will disappear after an intense game of dungeons and dragons with his friends. The boys are fond of comics of X-Men and their toys and posters in their rooms are quite in the right atmosphere. Even the cross bikes of the party. And the music is wonderful too: The Clash, Toto, The Bangles, Peter Gabriel...
Strong performers
Stranger Things have major roles played by children, and those children are excellent. The Duffer brothers and their casting director, Carmen Cuba, have clearly worked hard to find children who are strong acting and 'just' look nice. Make no mistake. The fact that there is an important role for children, does not mean that this series is suitable for the whole family. There are quite scary fragments!
We are fans! Stephen King saw the series and is also a fan. He tweeted: "STRANGER THINGS is pure fun. A +. Do not miss it. "
All eight episodes of Stranger Things are available on Netflix
Start Netflix on Proximus TV via the menu "on demand"> series or via the channel 204!
To really let yourself go on Netflix, there's now Tuttimus: the strongest all-in. Everyone gets loads of mobile data and free unlimited use of their favorite app, as well as unlimited fast Internet at home and unlimited fixed and mobile calls within the family. And as icing on the cake, we've thrown in some extras for digital TV and 3 months of free Netflix!
So pick and compose your own Tuttimus Pack here.