Netflix's first Christmas special: A Very Murray Christmas!
Published on 22/12/2015 in Showtime!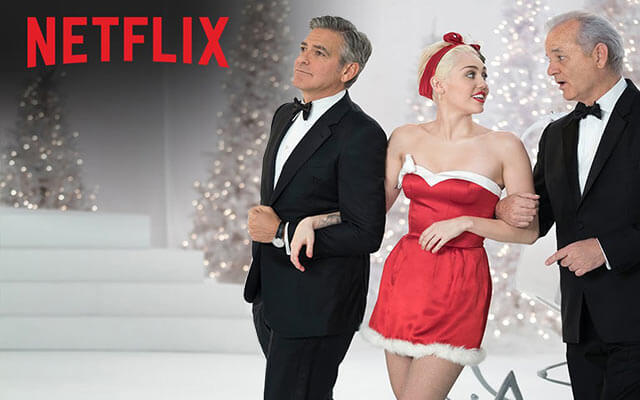 December is here. Splendid! Time to unabashedly watch lots of Christmas movies. This year, Bill Murray generates a special yuletide spirit, exclusively on Netflix.
Have you had enough of those traditional Christmas movies with sugar-sweet storylines, and evening-long music specials of Michael Bubblé or Christoff? Fancy something completely different for a change? If so, "A Very Murray Christmas" might be something for you. Don't expect to see a traditional Christmas movie because in that case you'll be disappointed. Instead, it's a rather idiosyncratic version of a Christmas special. A bit special, just like Mr. Murray himself.
The story is penned by Bill Murray, Mitch Glazer (who also wrote the screenplay of Scrooged in 1988) and Sofia Coppola (Lost in Translation), who also directed. We see Bill Murray, who is ready to present a Christmas show live from the iconic Carlyle hotel in New York. However, the city is brought to a complete standstill by a blizzard and the whole show risks turning into a fiasco. But after a difficult patch at the beginning, Bill makes the best of the situation. In the company of friends, staff and guests of the hotel.
Impromptu parties are always fun, especially if you get along swimmingly with your attending friends. And there's certainly nothing wrong with the guest list of Bill's Christmas special. One star after another makes his or her appearance (whether "by chance" and whether as themselves or not): George Clooney, Miley Cyrus, Chris Rock, Amy Poehler, Maya Rudolph, Rashida Jones, etc.
There's drinking, singing and dancing. The musical accompaniment is good, with Paul Schaffer on the piano. Bill Murray – wearing a reindeer diadem on his head – sings "The Christmas Blues". Maya Rudolph, wrapped in fur, delivers a wonderfully soulful version of "Christmas (Baby Please Come Home)". At a certain point they all band together and sing a version of "Fairytale of New York" by the Pogues. Instant Christmas feeling guaranteed.
A high point in the show is the part that follows when Bill – after downing one shot too many – keels over. A fabulous Christmas show, with stars, glitter and glamour. We hear Murray, George Clooney and Miley Cyrus sing "Sleigh Ride" and "Santa Claus Wants Some Lovin". And when Miley Cyrus sings "Silent Night", everyone falls silent. It's so unexpectedly beautiful! A small present from Netflix, to put under the Christmas tree.
"A Very Murray Christmas" is a brief affair, lasting just under an hour. And it's perfectly fine like that. There are many worse ways to spend a December's evening than an hour with Bill Murray and his glamorous friends. And those who want, can always watch a real Christmas movie afterwards.
Bill Murray's special but cool Christmas special can be watched exclusively on Netflix!
Murray Christmas!
Start Netflix on Proximus TV via the "on demand" menu > series or via channel 204!
For more information, also take a look on our Netflix page!
Julie
Responsible for the site www.proximustv.be which corresponds for the full 100% with my passion for film and television.