Mobile data consumption on the rise
Published on 17/12/2021 in Tips & tricks from…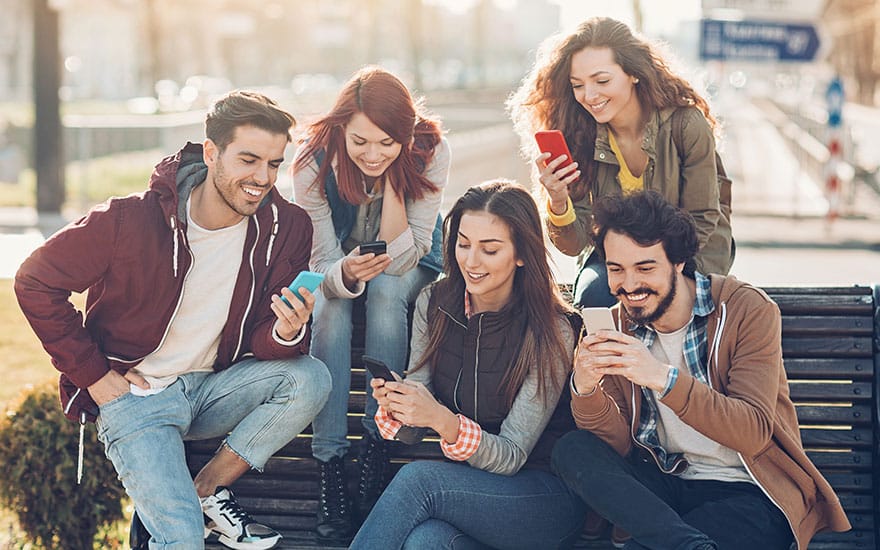 Recent research shows that we are using more and more mobile data. By 2021, mobile data usage will be 300 times higher than it was 10 years ago. But which applications consume the most data?
Here is all tat you can do with 1Go of mobile data:
1,000
photos to share on Instagram
Share your most pleasing selfies with your crew. And also the most cringeworthy.
1.5
hours of live stream on Facebook
Let everyone else enjoy that sublime song with you.1
300
hours of live stream on Facebook
Let everyone else enjoy that sublime song with you.1
30
hours of streaming music
Play all your favorite tracks one after the other on the camping.
5
hours of watching videos
Take a breather with funny YouTube videos or Netflix.1
3.5
hours of video calling home
Ideal for letting the home front know you're still alive, via WhatsApp.
What about you?
Do you know how much mobile data you use? It's easy to find out:
On your smartphone you can check how much mobile data each of the applications installed on your device consume

For iPhone: Settings > Cellular network
For Android: Settings > Wireless & Networks > Data Usage

You can also easily and quickly monitor your data consumption in MyProximus, both in the application and online. MyProximus shows you at a glance how much mobile data you have used and how much you have left.
---
Some tips to reduce your data consumption
Activate the "save data" function in your apps, which will automatically reduce data consumption when you use this app via your mobile network.
Avoid watching videos in HD or streaming music at 160 Kbps
Download large files (such as movies, documents, etc.) via Wi-Fi
Take advantage of mum and dad's mobile connection with the 'mobile hotspot' feature
You don't want to worry about your phone bill anymore? Discover all our unlimited smartphone subscriptions! So you can listen to your playlists and watch streaming videos without worrying.
Katleen
Being efficient, that's my 'thing'. Expect concrete tips, apps and services that will make it easy for you!
Other articles of Katleen