Tablet use by your kids: some useful tips
Published on 23/08/2017 in Tips & tricks from…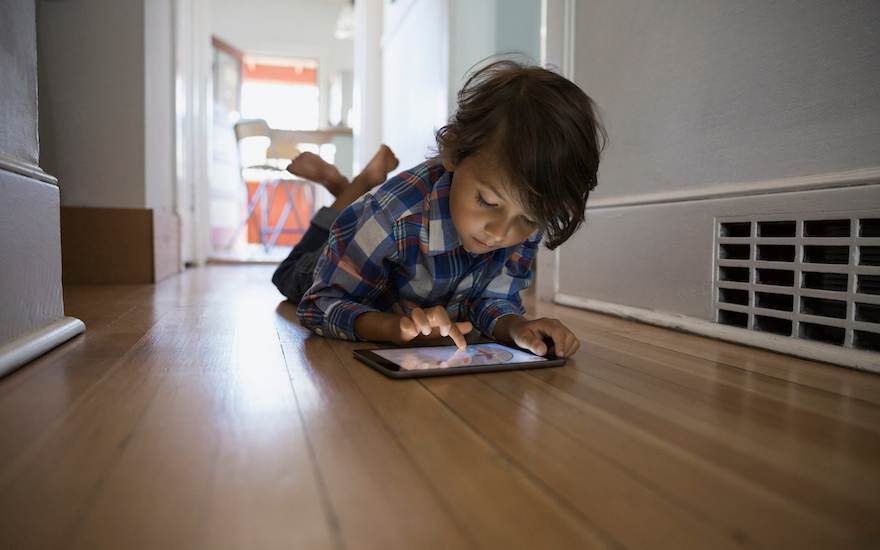 Which games are ideal for which age? And for how long should your child be allowed to use the tablet per day?
Because if you were to leave your little rascal to it, he or she would play with it all day long. That's only logical, as it gives access to the social media and the Internet. But also to lots of fun games and other apps; nowadays there are even some for the tiniest tots. But the question, then, is: are these always good for your son's or daughter's development?
But let's first take a look at what would be the ideal amount of time to spend tapping away on the tablet.
How long should they be allowed to use the tablet?
That depends on the child's age. Experts are clear about this: too much is not good. This is because it disrupts children's sleeping rhythm, especially if they also use it in bed just before turning in for the night.
It's important to look at the "screen time" per day. That's the time your child spends watching TV, using the tablet and playing on the computer or smartphone.
In terms of minutes per day, experts give the following guidelines:
Up to the age of 2 it's better not to let your child loose on a tablet, computer or TV on his/her own. However, by all means play, surf or watch together for about five minutes a week.
Between the age of 2 and 4: 5 to 10 minutes at a time, up to half an hour per day.
Between the age of 4 and 6: 10 to 15 minutes at a time, up to one hour per day.
Between the age of 6 and 8: 30 minutes at a time, up to one hour per day.
Between the age of 8 and 10: up to 1.5 hours per day.
Between the age of 10 and 12: up to 2 hours per day.
From the age of 12: up to 3 hours per day.
At some point, it's important to give your son or daughter the freedom to choose how to spend that time: for example, spend all of it watching TV or rather spend it on gaming instead.
Good quality games and stories for children of every age.
At least as important as the time spent on the tablet, is what exactly your son or daughter plays on it. First and foremost for the child's development, where things must be sufficiently challenging.
In addition it's important that everything is easy to follow. Games which go too fast or stories which are interrupted, for example, are not the best choices for your child. The same goes for violent apps, but that should be obvious.
One app I can really recommend is Wanagogo. This features hours and hours of games, video clips, books, drawings for colouring in and other fun stuff. There's something for every age.
If your child is still too young, he or she can start with things that stimulate awareness and creativity. Take animal noises and recognition of colors, for example.
After some time your son or daughter can switch to interactive books in the app. But also fun educational games, which, above all, are also playful.
From the age of 9, you can then go one step further in the Wanagogo app, with word games and puzzles.
And the cherry on the cake? It also works perfectly well without an Internet connection.
With our strong all-in Tuttimus pack you can now opt for the inclusive All Kids TV option, including Wanagogo. A comprehensive package for your offspring, which also gives access to five fun children's channels and all on-demand Disney films.
Erik
Digital and content marketer. Gardening is my passion just like eating. But right after playing some series or films, because that's my thing.