Graspop Metal Meeting, Rock Werchter and Pukkelpop live!
Published on 17/06/2016 in Showtime!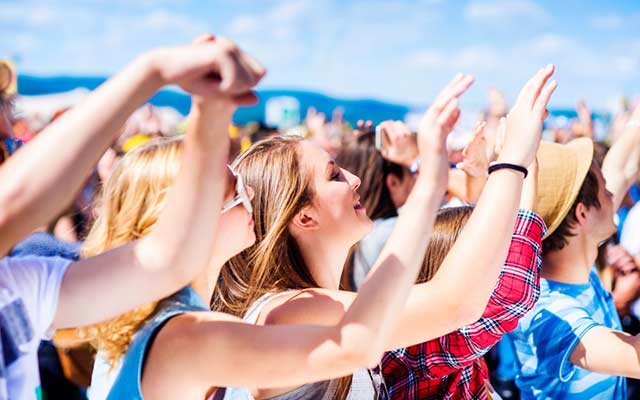 Couldn't get tickets? Don't despair, thanks to Proximus Skynet!
Via the live stream of these festivals provided by Proximus and Skynet, you can watch many of the concerts live. And don't miss our interviews and reports from the festival grounds!
Graspop Metal Meeting
The festival season kicks off on 17, 18 and 19 June with a strong dose of metal and hard rock on the fields of Graspop Metal Meeting in Dessel.
The lineup includes Black Sabbath, Megadeth, Slayer, Volbeat, Iron Maiden, Twisted Sister and more of the world's best metal bands.
Rock Werchter
On Thursday 23 June, the otherwise sleepy town of Werchter will once again fill up for the local rock festival, featuring the crème de la crème of the music world. Not many festivals can boast having so many top bands performing.
The lineup of this four-day festival includes Paul McCartney, Red Hot Chili Peppers, Editors, Rammstein, Florence + The Machine, The Offspring, Iggy Pop, PJ Harvey, Robert Plant, and many more!
Pukkelpop
We round off the festival season on 18, 19 and 20 August in the green fields of Limburg with a live stream of the largest Belgian alternative music festival: Pukkelpop. This festival always has a surprising lineup, with established bands and up-and-coming talent strutting their best stuff.
This year, the headliners include Eagles of Death Metal, Bloc Party, The Chemical Brothers, Rihanna, Woodie Smalls, Tom Odell, Roisin Murphy, and many more.

Win festival tickets!
Can't wait to hit the festivals? Don't wait any longer and try your luck at winning free tickets! Take part in our "most impatient" game and test your nerves!
We're giving away free tickets to Graspop Metal Meeting, Dour, Rock Werchter, Les Ardentes, TW Classic, Francofolies and Pukkelpop!