These connected objects take care of your health
Published on 07/09/2020 in Tips & tricks from…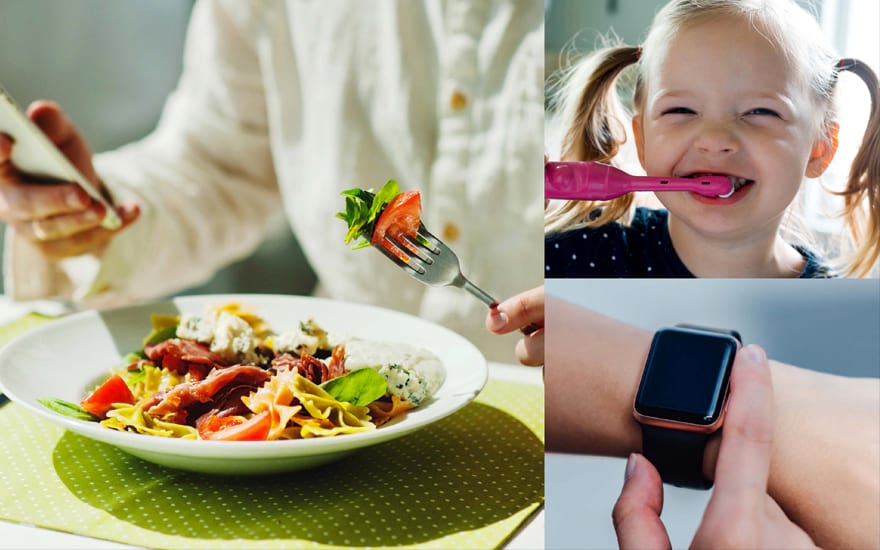 More than just gadgets, connected objects have a real use today. The information sent by their sensors to a mobile application or web service can prevent, among other things, possible problems related to your health.
Here is an overview of what already exists today in terms of connected objects that improve your well-being and health monitoring:
The connected bathroom
The connected mirror: measures the blood volume according to variations in the color of your skin;
The connected carpet: evaluates your heart rate;
The connected toilet seat: able to measure your blood pressure;
The connected bathtub: analyzes your blood pressure and internal tissues;
The connected scales: follows your body weight curve, sets goals to reach your ideal weight and measures your progress;
The connected toothbrush: improves your oral hygiene, tells you how long you should brush each time, which areas have been less well cleaned and how much tartar remains
All the data collected is analyzed and then transmitted to your smartphone, which in turn sends you personalized advice on how to improve it.
The big trend in bracelets
Their great autonomy allows you to wear them all the time. There are all kinds of bracelets. Some measure your level of physical activity: number of steps, kilometers covered, calories burned, speed and type of travel, heart activity, etc. They also tell you what you want to achieve and how to get there. Others tell you your level of sun exposure and the sunscreen factor appropriate for your skin type.
The Apple company is reportedly designing a watch that "listens" to the sound emitted by blood in order to detect the first signs of a myocardial infarction. That being the case, if a patient is treated more quickly, their chances of survival would be considerably increased.
Sensors that improve your sleep
These slide under the mattress and are designed to capture your movements during the night. They analyze your habits, your sleep cycles (it makes getting up less painful by waking you up gently at the biologically ideal time), your heart rate and even your body temperature (the thermostat is automatically lowered when you lie down in bed).
In this way, they make it possible to observe your waking phases, your breathing and any ambient noise. The ideal solution, therefore, to identify a possible sleep disorder (restless nights, apnea, insufficient rest, etc.).
And the smart mattress can also communicate with other devices in your home. If your bed moves in the morning, it sends a signal to turn up the heat and make a cup of coffee.
The slimming fork
This fork has been developed to help you reduce the speed at which you eat, thus limiting calorie intake (this is set to one bite every 10 seconds).
The pillbox that manages the taking of your medication
It tells you the right dosage and when to take your medication and alerts you if you take it incorrectly.
A connected blood pressure monitor
This small object, worn on the arm or wrist, continuously monitors your blood pressure. Each time you clasp it, a cardiovascular check-up appears on the screen. So you can easily track your blood pressure over time and share these results with your doctor.
Fiber: the most suitable technology
The growing number of these devices, often used at the same time by several people around you, accompanied by a growing need for bandwidth for teleworking, studying, downloading movies or playing games online, means that in the near future you will necessarily need a faster and more stable Internet connection.
Today, optical fiber is the technology best suited to this evolution! This is why copper Internet connections are destined to disappear and will gradually be replaced by optical fiber.
Are you among the lucky ones who can already take advantage of optical fiber?
Check it here!
Katleen
Being efficient, that's my 'thing'. Expect concrete tips, apps and services that will make it easy for you!
Other articles of Katleen