Broken smartphone screen? Two main questions to ask yourself!
Published on 18/07/2016 in Tips & tricks from…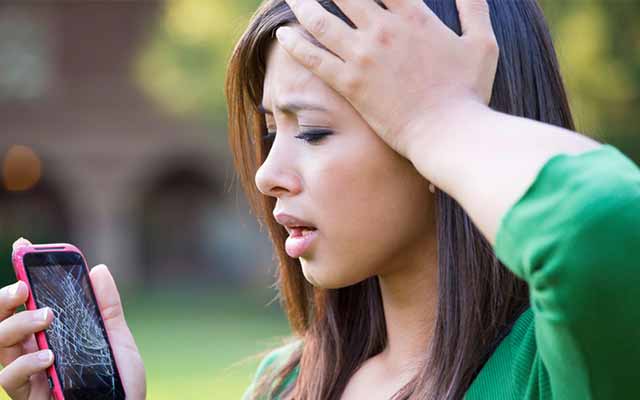 Whichever way you look at it, a smartphone is still something fragile.
Granted, touchscreens are becoming more and more sturdy, and you could even hit them with a hammer. But still, I have to confess: I too have had a broken screen before. Here are two questions everyone should ask themselves in this situation.
To repair or to throw away?

The first question I asked myself instantly was whether it made any sense to try to save the device. Wasn't it just better to throw it in the trash and buy a new one? Because I've heard many times that repair costs are too high for what the device is still worth. And yet, repairs have become increasingly popular lately. But how repairable are those smartphones, when they keep getting smaller and thinner?

The answer is that it's indeed becoming more and more difficult. Many items are compacted into one complex part. Take the glass of your iPhone screen: if that's broken, suddenly the home button, camera, sensor and speaker also have to be replaced.

In short: it's a consideration you have to make yourself. Depending on your situation. But before you start the repair, make sure you have a picture of the total cost.

Did you decide that the life of your smartphone has come to an end? We'll be happy to help you choose a new device in our web shop.

To replace the parts yourself or to have them replaced?

This brings me straight to the next question: are you going to try your own hand at the repair, or will you go to a specialist to do the handiwork for you? These days you can find DIY kits on eBay, allowing you to get to work yourself. At least, that's what they say.

Well, this is actually a simple question to answer. Just don't try replacing the broken glass yourself, unless you really know how to. If you make a mistake, you'll only cause more damage. And there is a real chance that you will.

Are you going to visit a repairer to repair your screen? Always ask in advance what the full price will be, in order to avoid any surprises afterwards.
It's game over for your mobile after all? In that case we'll be happy to help you with a free replacement smartphone if yours breaks or is lost or stolen. And it's yours to use for a whole month. This way you're reachable again for all and sundry in no time at all.
Erik
Digital and content marketer. Gardening is my passion just like eating. But right after playing some series or films, because that's my thing.