Do you want to live in a smart city? 5G makes it possible
Published on 14/07/2020 in Bits & Bytes 
Today, 55% of the world population is living in a city. The UN predicts that by 2050 this number will rise to 68%. To make this massive turnaround possible and efficiently manage the resources and the daily operations in cities of the future, our infrastructure needs to be ready for 5G. Self-driving cars, smart trash bins, smart streetlights for pedestrians and cyclists… Discover the city of the future.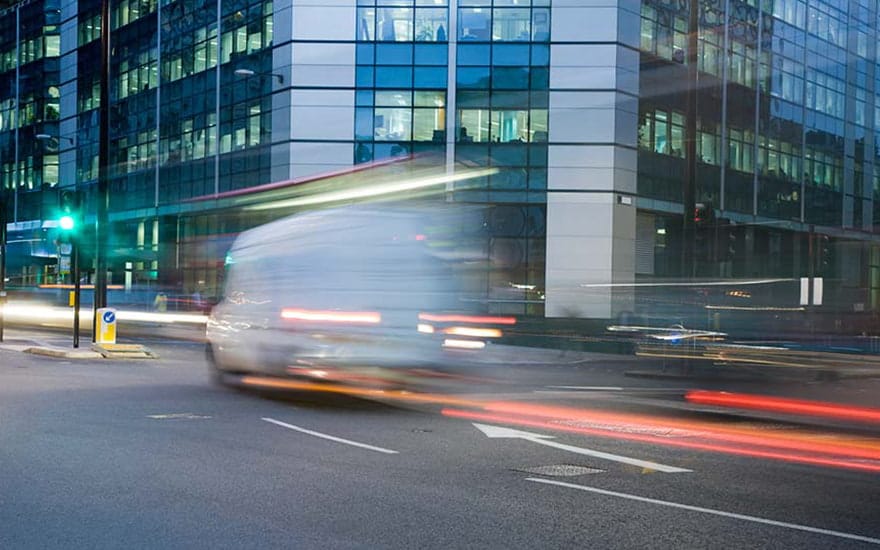 A powerful 5G network for the Internet of Things (IoT)
We need an efficient 5G network to make cities smarter. New digital technology is consuming massive amounts of data and the new mobile communication standard is one of the few technologies capable of processing them in vast volumes.
A well-operating 5G network is necessary for the Internet of Things (IoT). This is technology that allows for communication between objects, and between man and objects, using internet or a mobile data network. Urban infrastructure can communicate with us and provide us with very detailed and exact information.
Less stress in traffic: self-driving cars and smart traffic lights
You don't like driving in the city? Perhaps you'll think differently with 5G. In the future, the data of your vehicle will be connected to smart traffic lights. Thanks to 5G, a driver knows exactly when the light jumps to green, allowing him to adjust his speed or route.
Self-driving cars will create a more comfortable driving experience. It's no longer necessary to drive or park yourself, smart sensors tell you whether there are cyclists or pedestrians in close range of your car. If you encounter a traffic jam or an accident, your route is adjusted automatically. This improves the entire traffic flow for all road users.
Efficient Public Transport
5G makes public transport much more comfortable. Subways, trains and busses can be localized in real time, routes will be adjusted in the light of traffic conditions and your smartphone will have far better connection in the subway. Public transportation companies will come up with tailor made solutions for large scale events like football matches or concerts. This will largely keep cars out of cities.
Improved quality of life
Thanks to 5G, livable cities are no farfetched dream, but a reality. Imagine that air quality gets monitored real time to take quick measures against pollution. Street lights that are used far more intelligent, with efficient lighting conditions in pedestrian zones, for example. The energy consumption of buildings is monitored to recycle energy. All this will be the normal course of things in the city of the future.
Clean cities thanks to 5G
Keeping cities clean is important. 5G allows for more efficient waste management by city councils. Busy places will feature smart trash bins that indicate when they need to be emptied. Which, in turn, creates a more dynamic waste collection.
Zen will be so much easier
Finding peace of mind can be a daunting task in a busy city. But thanks to 5G, that will also change: localization apps can easily point out places with less people. Perfect for a quiet jogging session or a peaceful hike with the family.
All these innovations predict a promising future for smart cities. But the vast use of (personal) data requires a deep reflection on safety- and privacy issues. To handle those, the cities of the future need to come up with strict deontological rules. But cities that adopt 5G and digital technology will greatly improve the quality of life of its inhabitants. Economically, financially and socially.
The first 5G network in Belgium
An important step towards a hyper-connected future.
Check the advantages
Katleen
Being efficient, that's my 'thing'. Expect concrete tips, apps and services that will make it easy for you!
Other articles of Katleen