Life-saving drones with 5G
Published on 14/07/2020 in Bits & Bytes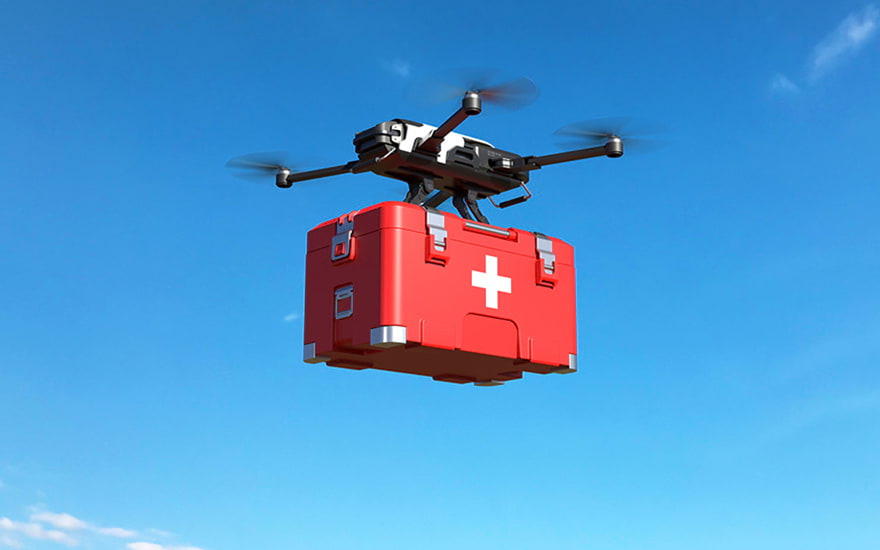 New technology is often early adopted by the medical world and today we might be on the brink of a new revolution. Several pilot projects are testing the use of drones and 5G, the mobile network of a new generation that is also rolled out in Belgium. Unmanned flights are on the increase. It's only a matter of time before drones transport medication or samples safer and faster. They can save lives.
Unmanned Air Mobility, the full name of drone technology, is on the brink of a breakthrough. Data technology combined with 4G and 5G connectivity are necessary conditions for a safe installment of drones. Safety is essential, as there will be flying 'Beyond Visual Line of Sight', without a pilot or an operator. At the same time drones need to fulfill very different functions. They'll make a significant impact in the medical world.
Experiments
In Belgium, hospitals UZ Antwerpen and campus Sint-Augustinus are involved in test projects. Hospitals deploy drones for a safe transport of pharmaceuticals, blood-, urine- or tissue-samples. Drones can deliver life-saving drugs ultra-fast. Doctors and surgeons will be able to work at a much higher pace, giving more patients proper treatment. A drone never has to deal with traffic jams, deviations or road works. It can travel faster through the air than on the ground. It took a test drone about 3 minutes to travel the 2,17 km between UZA and Sint-Augustinus.
In Limburg and de Noorderkempen we also see things moving. The Jessa-hospitals around Hasselt are looking into drone technology, the same goes for AZ Turnhout. As hospitals are getting more specialized, with an increased demand for collaboration, specialists expect a significant rise of this method of transport. Drones are an excellent way of annihilating long waiting times. They are an efficient resource to bring samples from one hospital lab to another.
European and professional collaboration
Most test programs are a part of extensive collaboration between corporations or get support of the European Union.
The project in Turnhout is a part of an EU Smart-City project for 'Urban Air Mobility' that involves 42 European cities. The project in Antwerp involves the SAFIR-consortium which consists of airplane manufacturer SABCA, the port of Antwerp, air control center Skeyes, drone operator Helicus, e-commerce giant Amazon and Proximus. SAFIR is based at the DronePort near Sint-Truiden.
5G keeps it safe
Proximus is involved in drone testing because the devices are currently operating with 4G technology. In the future that will be, of course, 5G. The network allows for fast data and flight detail transfers to control center. Flights will be operating fully automatic, but in case of emergencies, human pilots can take over from a distance. 5G offers low latency which is crucial for drones, the drone can react almost instantly to the command of human pilots. Transferring hi-resolution, 4K video is another application of 5G, which is perfect for surveillance.
In China, which has better 5G coverage than us, drones have been used in the recent Coronavirus-crisis. They did not only transport medicine and samples, they also safely disinfected large areas. Consumer goods were easily transported to remote or difficult to reach areas. One thing is certain: drones have a bright future in the medical sector.
Helicus is a start-up for drone-flights commissioned by hospitals. In the Antwerp headquarters much testing is being done for a fast, efficient and above all else safe method of transportation.
The first 5G network in Belgium
An important step towards a hyper-connected future.
Check the advantages
Katleen
Being efficient, that's my 'thing'. Expect concrete tips, apps and services that will make it easy for you!
Other articles of Katleen