Non-profit organization Eight supports poor families in Congo
Published on 13/10/2020 in Customer Stories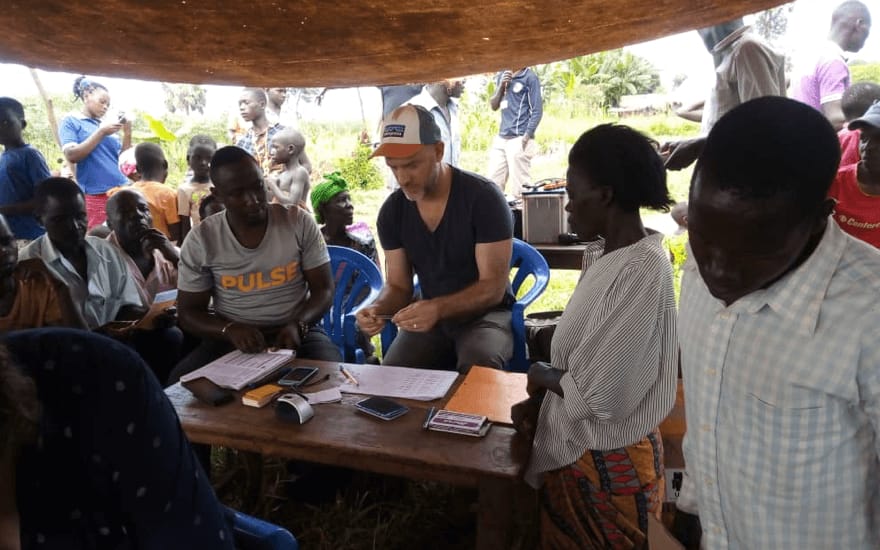 What if people were allowed to decide for themselves? That is Eight's starting point. The development project helps communities get started by providing them with a basic income. Mobile data traffic ensures that the support reaches the right people.
Maarten Goethals, co-founder of non-profit organization Eight: "Eight is a development project based on a simple principle: we give people the confidence to do something themselves, with financial support, but without conditions. Everyone decides themselves what happens with the money."
Where did you get this idea from?
Maarten: "I have been involved in various NGOs since 2003. One of the things I have done was research the impact of microfinance. That type of project proved successful in only five percent of the cases, not everyone is an entrepreneur.
Where does the money that Eight uses come from?
Maarten: "Both from companies and from individuals. We have developed a professional framework for fundraising."
What has the impact of Eight's approach been so far?
Maarten: "Having money triggers a psychological mechanism. We often still don't understand exactly what poverty is. In fact, poverty is best described as a form of scarcity. Those who are poor have no resources. That's why you're in survival mode, which does not leave enough room for good decisions. If you take poverty away, you create the space needed to be able to do business. Our program focuses on that transformation."
With money, you take away poverty and create space to do business.
Maarten Goethals, co-founder of Eight
How does that work in practice?
Maarten: "We started in Busibi, a village in western Uganda with 150 inhabitants. They were all given a bank account in which we deposited 16 euros for an adult and 8 euros for a child every month - hence the name of our organization. People can use the money through their mobile phones. One of the residents started a chicken farm, later added pigs and built a real business. Sometimes, he has work for villagers.
Shops started up in the village and a new dynamism arose. For example, the village started lobbying the local government to improve the only road to the village. In short: the people save and invest, send their children to school, and so on. People handle the money in a responsible way. The fear that the money would go to alcohol and drugs turned out to be unfounded".
In the meantime, you have started a second project in Uganda and one is underway in Congo, alongside Proximus and Umicore. What is the goal there?
Maarten: "That project is linked to 'Don't Miss the Call', an initiative by Proximus that focuses on urban mining. The aim this year is to collect 100,000 old mobile phones from individuals and companies in Belgium and to recycle the materials and precious metals, things like silver, gold, cobalt and tantalum. The link with Congo is obvious, as many of these raw materials originate from there.
Umicore is involved because, in Congo, the company only cooperates with official entrepreneurs. Eight focuses on families working in the Congo in artisanal mining of cobalt, among other things. This is often done in a very unsafe way, sometimes even with children. These people do not choose to do this but do it because they are in survival mode. With Eight, we want to break that trap. By providing a basic income, people there can make better choices."
How important is technology?
Maarten: "Technology is essential. We do not work with intermediaries or other organizations. We send the money straight to the people themselves, safely. Mobile banking makes this possible. This also reduces the digital divide and indirectly supports many other things. That was not an objective in itself, but we can now see the effect that the use of mobile phones has."
We send the money straight to the people themselves, safely. Mobile banking makes this possible.
Maarten Goethals, co-founder of Eight
Eight is a development project by Maarten Goethals and filmmaker Steven Janssens. The idea: fighting poverty with free money. Based on the successful pilot project in Uganda, Janssens made the documentary 'Crazy money', which will premiere at the Docville festival in Leuven in September. The project received the iChoose Award 2018 of 'Digital for Development', presented by the Africa Museum and the Ministry of Development Cooperation.
Maarten Goethals studied sociology at Ghent University. He has worked as a strategic and R&D advisor for the international development organization Trias. Since 2014, he has been working as an independent consultant with Alter.Today. In 2015 he and filmmaker Steven Janssens set up Eight.
One
One magazine is the Proximus B2B magazine for CIOs and IT professionals in large and medium-sized organisations.
Other articles of One