Six managers discuss 5G: "We can't miss this opportunity!"
Published on 27/10/2020 in Innovate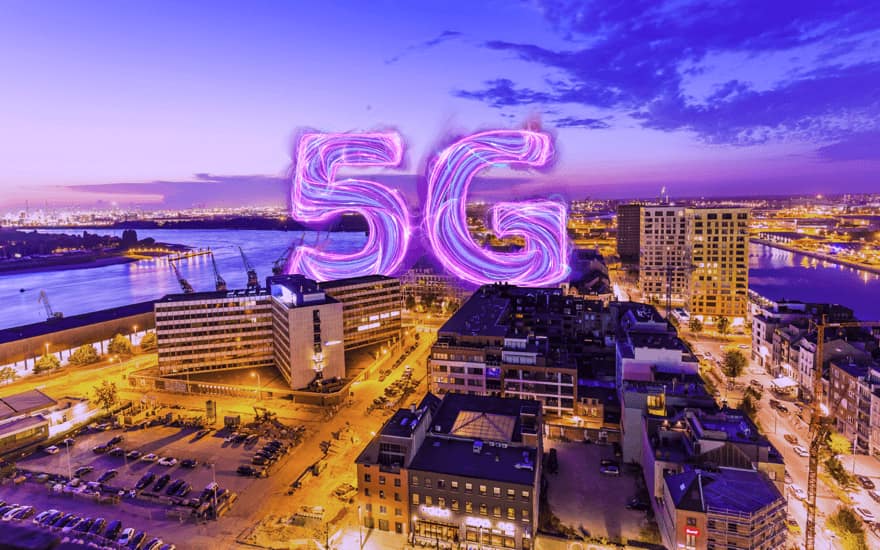 The results of the first 5G pilot projects are very promising, and the first 5G smartphones have hit the shelves. The business world cannot wait to dive into 5G. Voka invited six managers to discuss 5G.
People's high expectations were impossible to miss given the huge interest in Voka's recent interactive event, which took place via video conferencing due to the pandemic. "The launch of 5G is crucial as support for industry and logistics in Antwerp, as a metropolis with an international port," says Luc Luwel, Voka CEO – Antwerp Waasland Chamber of Commerce. "The unrelenting political deadlock has impeded a resolution on 5G for far too long. The result is that our country is making itself a laughingstock at the headquarters of the many multinationals operating in Belgium."
In Voka's opinion, there is a danger of the e-commerce disaster repeating itself as a result. The lack of resolution on night work led to a flood of e-commerce companies defecting to the Netherlands. "Now, instead of reaping the rewards of e-commerce, we only bear the burden, due to the increase in traffic on our roads, among others," Luc Luwel shared. "We really can't afford to miss the boat again with 5G. And time is running out."
Guaranteed bandwidth
"5G isn't just another development, but a genuine revolution," says Anne-Sophie Lotgering, Proximus Chief Enterprise Market Officer. "The technology facilitates completely new applications, in the fields of IoT and data analytics, for instance, where mobile infrastructure is crucial." What is more, 5G is not just about more capacity and higher speed, but greater reliability too, as well as virtually no latency.
In all likelihood, the biggest difference between 5G and current mobile technology is that the network can be split up on 5G. Network slicing ensures that all services, whether a drone, a driverless car, or an IoT application, benefit from guaranteed bandwidth. "Among others, 5G will accelerate cloud application use," says Stijn Degrieck, CEO of Codit, a company that develops cloud-native applications. "In terms of IoT, today's major challenge is connectivity. 5G resolves that issue."
Even better – 5G takes the power of the cloud to the edge. Put another way, 5G makes applications with heavy data streams infinitely more accessible to the user. More than ever, it ensures that all the possibilities of the cloud – including Microsoft, Amazon, and Google services – are just a click away for SMEs.
Ultra-reliable
Meanwhile, in the Antwerp region, BASF is already gaining loads of experience with 5G. "We're in the thick of a digital transformation – destination smart factory," says Philip Buskens, Vice President Verbund Site Development and Optimization at BASF. "Data transfer is essential there, which means the connectivity that facilitates it is too." For instance, at BASF, 5G's huge capacity and high speed are paramount. "However, applications have also got to be ultra-reliable," he says, "with as little latency as possible. 5G makes that possible."
The transformation destination smart factory is moving forward full throttle. Data transfer, which means the connectivity that facilitates it too, is essential for that.
Philip Buskens, Vice President Verbund Site Development & Optimization at BASF
On Antwerp's BASF site, a six-hundred-hectare territory with fifty large chemical plants, 5G is paving the way for a multitude of new applications. "For example, autonomous tank containers spring to mind," Philip Buskens explained. "Real-time video allows operators in the control room to keep an eye on things." 5G network traffic includes surveillance camera images, fire alarms, and numerous data streams sent by industrial IoT applications.
BASF has currently replaced classic walkie-talkies with smartphones in Antwerp. "Communications reach the control room via 5G and are integrated with the Tetra network for emergency services." Eventually, every employee will only have a single mobile device in their pocket, one supported by 5G. "Wi-Fi isn't cut out for the things we aim to do, and it's not affordable," Philip Buskens added. 5G effortlessly puts all those applications into practice.
A fresh outlook for air traffic
The advent of 5G is shaking up a lot of sectors, and that includes aviation. For example, a fast, rock-solid reliable connection is indispensable for remote operation of drones across long distances. "Drones are going to claim their slice of airspace," says Hendrik-Jan Van Der Gucht, SkyeDrone Managing Director. The company is a subsidiary of Skeyes, the autonomous state-owned enterprise responsible for air traffic control. "The advent of drones generates demands for a new kind of traffic control. And we want to be ahead of the game there."
The expectation is that in time, there will be ten times more drones in the air than piloted aircraft. There are already currently a whole host of drones in use, e.g. for the visual inspection of high-voltage lines and wind turbines. 5G enables real-time streaming of drone-captured data and images. "Regulation of air traffic is going to be a significant challenge," Henk-Jan Van Der Gucht added, "– to distinguish drones from human piloted flights and curb risks on the ground. 5G will help with that."
The Willemen Groep construction group uses drones on their sites. See how 5G is revolutionizing the construction industry.
Pilot projects in the port
Several test rigs have currently earned the Port of Antwerp its stripes in the area of 5G. "To that end, parameters like bandwidth, speed, and reliability are absolutely crucial," says Wouter Faes, Antwerp Port Authority Digital & Innovation Infrastructure Manager. "We have to carefully consider exactly what we need for every application. Incidentally, connectivity is just one aspect at play here. You need to have enough processing power and storage capacity too."
When a tugboat is towing a ship, there is no visual contact. 5G makes image sharing in real time possible.
Wouter Faes, Antwerp Port Authority Digital & Innovation Infrastructure Manager
One of the pilot projects involved a tugboat video application. "When two tugboats tow a ship, the ship is between them, and they don't have any visual contact," Wouter Faes explained. "5G allows the tugboats to share images in real time." The Port of Antwerp is also considering the use of self-propelled vessels, supported from a control room across a 5G network. Another advantage to 5G is the facility to slice the network into multiple slices. "A slice like that could guarantee emergency services network communications in the port," Wouter Faes concluded.
One
One magazine is the Proximus B2B magazine for CIOs and IT professionals in large and medium-sized organisations.
Other articles of One