New players prompt EVS to reinvent itself
Published on 08/07/2017 in Inspire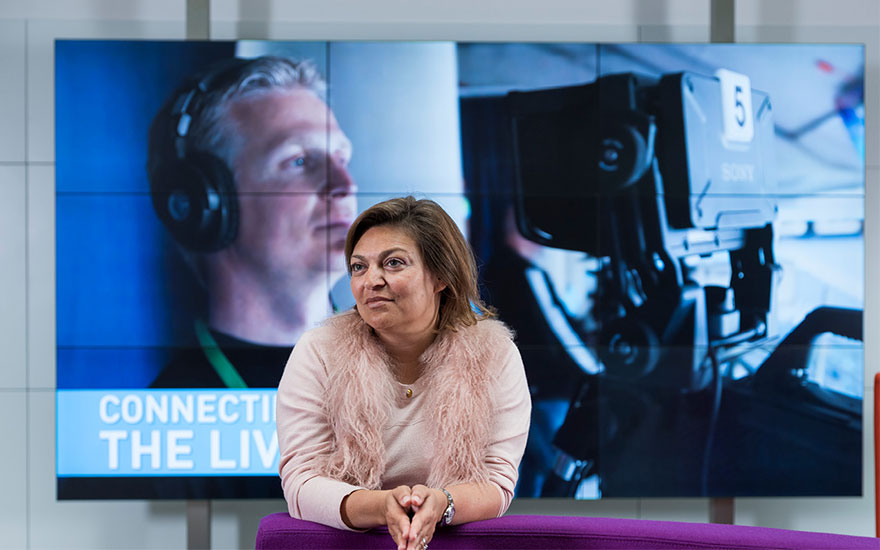 One of the areas affected by the digital transformation which is impossible to ignore is the television industry. Research, development and innovation are the driving forces behind a sort of technological marathon where the finishing line is never in sight. At EVS, the 'athletes' excel day after day, keeping pace with CEO Muriel De Lathouwer.
The emergence of IP in telecoms is well remembered. It opened up oceans of opportunities for this sector. "Our industry is surfing exactly the same wave today. For me, there was nothing more logical than to apply my telecoms experience in the fast-changing landscape of broadcasting," Muriel De Lathouwer says. "Our products are sophisticated, but they have to be easy for operators to use given the responsiveness required by live broadcasting," De Lathouwer explains. One thing is clear, EVS aims to facilitate the digital transformation that's currently in progress in its industry and its ecosystem.
One size doesn't fit all
New technologies mean new skills but, above all, new business models. We no longer think in terms of point-to-point connections, but rather the cloud and virtualization. IP is bringing with it unprecedented operating methods and new players. "The provision of video content on various platforms such as mobiles or tablets to complement television offers an opportunity to supply personalized content. The 'one size fits all' age is over."
"In my view, every occasion is a pretext to arouse my intellectual curiosity and identify ways of learning lessons to apply to our activity."
Disruptive revolution
As market leader, EVS is well placed. De Lathouwer points out that now is the time to stay alert. The arrival of new players prompts the company to constantly reinvent itself. "Things may be very different tomorrow; you have to be able to anticipate in order to create new opportunities." According to De Lathouwer, EVS's partners and clients are facing the same challenges. You have to be ever more efficient, more responsive, more productive, more innovative. So the products are partly the reflection of the clients, but also a proactive response to every challenge. "We have a reputation as pragmatic innovators and we know that our clients have to achieve more and more with less and less. This is the challenge behind our approach day in, day out," De Lathouwer reveals.
Collaborative management
In terms of HR, the challenges should not be underestimated. In a sphere of influence which has led her to focus more on hardware, EVS is now adopting a software approach, with an agile methodology and process adjustments. This is the reality of the 500 staff members De Lathouwer leads on a daily basis: "I firmly believe in teamwork. Nothing can replace the wealth of ideas, the variety of cultures and backgrounds among staff. This enables us to face challenges with confidence and align decisions collectively." As for the management committee, De Lathouwer grants it a major role. Decisions are taken based on facts and relevant performance indicators. "I don't take reporting lightly. I've introduced rigor and a more analytical approach, free of taboos."
"The 'one size fits all' age is over. Offering personalized content is the new standard."
A meaningful award
De Lathouwer was named ICT Woman of the Year 2017 for having succeeded in guiding EVS to become an organization oriented more towards software and business. She is, of course, honored and pleasantly surprised by this recognition but, to her mind, the award mainly bears something that is dear to her heart: women, technology and leadership. "From my point of view, there are still too few women in the IT sector. And even fewer with their sights set on a leadership role. And yet I don't see any rational reason for this, and it is high time we shattered the stereotypes and changed attitudes."
2 tips for the CIO
Analyse market players

"Stay alert to the competitors of tomorrow. Never be content simply to analyze your traditional competitors, but detect the disruptive players on your market."

Think tomorrow

"Being a leading company means remaining humble, listening to clients and earning the right to retain this position. Reinvent yourself every day because nothing can ever be taken for granted."
Having studied engineering and nuclear physics and then obtaining an MBA from Insead, Muriel De Lathouwer began her professional life as an IT consultant at Accenture before going on to join McKinsey as a partner. She also held the position of CMO at Base. A member of the EVS Board of Directors since 2013, De Lathouwer has been the company's CEO and led its workforce of 500 since the end of 2014.
EVS Broadcast Equipment holds a market share of no less than 94% in OB units at the global level. Although the technological development and hardware assembly take place in Liège, EVS is also present in major cities in Europe, the Middle East, Asia-Pacific and North America.
One
One magazine is the Proximus B2B magazine for CIOs and IT professionals in large and medium-sized organisations.