Videoconferencing breaks isolation of nursing home residents
Published on 01/06/2020 in Customer Stories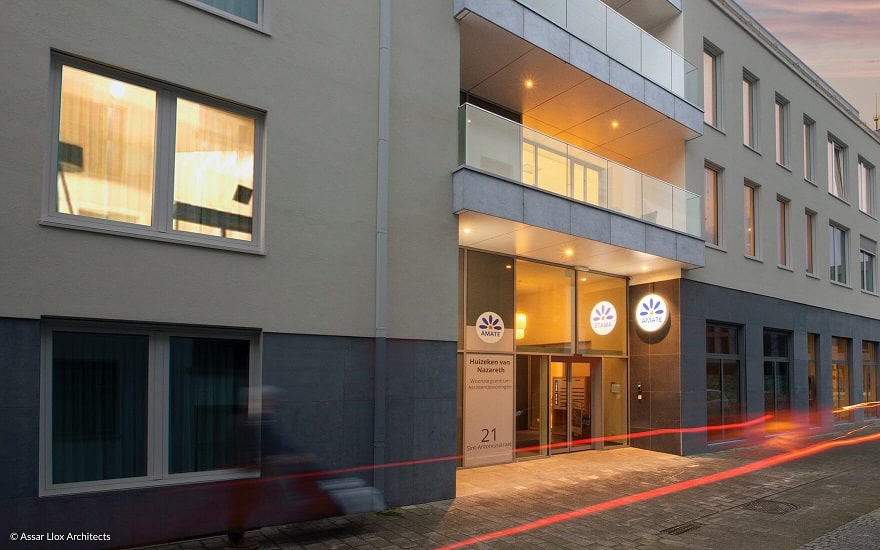 At the assisted-living center Huizeken van Nazareth, SpearIT installed videoconferencing as an alternative to family visits, which are no longer possible. Within 24 hours virtual visits were enabled for residents and family members.
Two big screens, one in a separate room and one that can be placed in a resident's room, make it possible for residents to communicate with their families. "By enabling our residents to remain in contact with their families, we try to lift their spirits in these unusual times", explains Rudy De Win, manager of the assisted-living center.
Video as the number one alternative
"Everyone was excited from the start", said Rudy. "We can all agree that nothing can replace direct physical contact. Nevertheless, offering video to our residents and their loved ones is the best alternative we have in the circumstances.
Taking turns
"Every weekday we reserve three hours for videoconferencing, between 2 and 5 pm. Within this timeframe we work with 15-minute slots. Each day a different floor and/or wing takes its turn. The screens are transported from room to room, accompanied by one of our employees. Eventually it takes three people during these hours to guarantee an efficient functioning, with special attention to hygiene. Every set is properly cleaned before it is passed on to the next in line, this to avoid the risk of contagion."
Thanks to a clear schedule and guidance, every resident is able to use videoconferencing successfully.
Rudy De Win, manager of nursing home, Huizeken van Nazareth
Operational within 24 hours
The idea came up when visits at nursing homes were no longer allowed. Manager Rudy De Win took the initiative, enabling a quick rollout with a few of Proximus's Accelerators. "I called SpearIT", he explained. "Not by chance, as they have been the providers of our IT infrastructure for years. In the end, everything went very quickly. Proximus Enterprise was included in the project as well. They provided input based on their expertise in digital video. This resulted in a fully operational system within 24 hours, an impressive feat one might say."
SpearIT is one of the Proximus Accelerators, which gives them access to the group's extensive knowledge and allows for fast rollouts of tailor-made solutions for your company.
Who are the Accelerators?
Video for internal communication
This system of videoconferencing was the direct answer to the preventive measures against corona. But what to do with it afterwards? "On a smaller scale, I can imagine the further use of this system", De Win maintained. "Several of our residents have family members who live abroad. Why not keep using this system to remain in contact with them? It is the same way as anywhere else, using skype or similar applications. Or why not use it internally? It can be useful in communicating with the other assisted-living centers that form part of our group."
Huizeken van Nazareth is one of six assisted-living centers located in the Province of Antwerp, that form part of VZW Amate. SpearIT, a Proximus branch and Accelerator, is a medium-sized IT integrator for medium-sized companies.
A digital working environment that supports employees working from home, can make a real difference to your company and the economy.
Support digital collaboration