Test-Achat: "Proximus has the best mobile network"
Published on 06/04/2021 in Tech, tips & tricks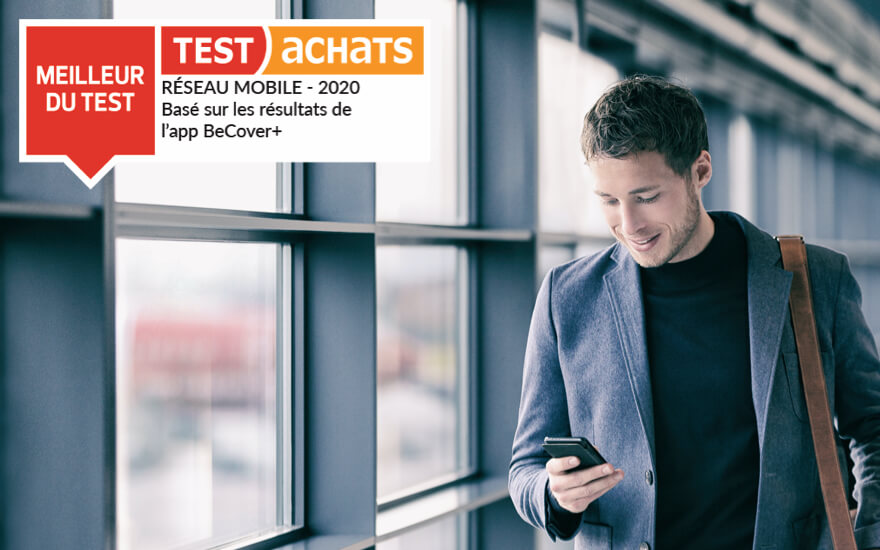 An independent survey by the consumer organization Test-Achat has shown that Proximus has the best mobile network in Belgium. For this study, over 10,000 samples were taken from the users of the app BeCover+.
BeCover+ is an app that Test-Achat uses to collect data about the network quality of the three Belgian operators. To this end, the organization cooperates with 4Gmark, a leading company specializing in this type of research. Anyone can participate by downloading the accompanying app for Android or iOSOpens a new window . The results from the last 12 months have been loaded into a handy, interactive mapOpens a new window . This map also makes it possible to immediately check which operator has the best performing network for each location.
Speed and coverage
Compared to the classic tests, BeCover+ gives a more realistic picture of both network coverage and, for example, mobile Internet speed. In fact, the app bases a full test on real user experience and gives a score for four key aspects:
the download speed
the upload speed
the time (in seconds) before a YouTube video starts playing
the average time (in seconds) for a webpage to load
This score is then compared to the average coverage in your neighborhood, based on other BeCover+ users. All these tests together determine the Test-Achats' final score for the three operators.
10,000 samples of the users of the app BeCover+ show that Proximus has the best mobile network in Belgium.
Highest up- and downloader speed
For Proximus, BeCover+ recorded an average download speed of 28.2 Mbps in 2020. The upload speed was 9.1 Mbps. What does that mean in concrete terms? Whether you just want to surf, check your e-mails or work on your smartphone while on the road, no other network offers better speeds or user comfort.
Offer your employees the mobile phone subscription that best fits their profile.
Combine smartphone and subscription
Choose the latest smartphone with the mobile subscription that suits you!
As from €57.02
Stay connected through the best network
Choose a mobile subscription that fits your business' needs.
Unlimited calls and access to 5G from €24
One
One magazine is the Proximus B2B magazine for CIOs and IT professionals in large and medium-sized organisations.
Other articles of One