Stefan Van Gansbeke, Corporate Information Security Officer at CM
Published on 19/04/2017 in Inspire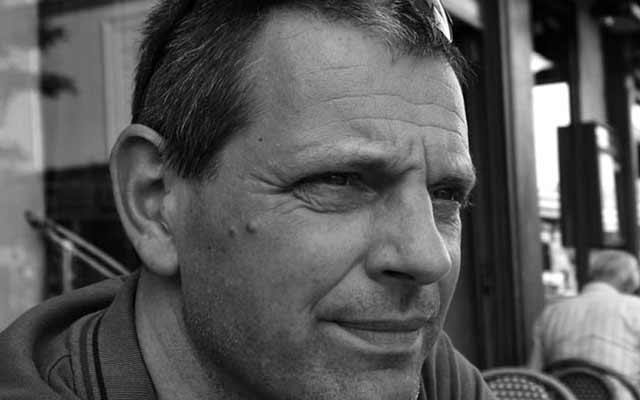 Stefan Van Gansbeke's enthusiasm is infectious. He enjoys visiting exhibitions with his partner and 15-year-old daughter and going mountain-biking with his friends.
Career
In 1986 Stefan graduated with a master's degree in computer science (VUB). Then he went to work as a software developer at Scorpio Network Services (a startup before the term even existed). In 1995 he became project manager at Kind & Gezin and moved on to LeasePlan Belgium two years later. In 1999 he became familiar with the international financial sector as a consultant at Capco. He has worked for CM since 2004.
Company
CM is committed to accessible and high-quality health care and promotes the cooperation required to deliver this. A total of about 6,500 people are employed at CM. They are spread over the national administration, the various regional health insurance companies and the local CM branches. The national administration coordinates health care and supports colleagues across the whole country with IT, HR, finance and security.
What is your greatest professional achievement?

The most recent is the development of the security risk strategy, including the expansion of the security team within CM. We also present this risk strategy abroad from time to time. The team consists of people who are passionate about security, but also employees from every part of the business, partners and even a security startup. Together we ensure that everyone within the organization learns how to deal with privacy, cyber and safety risks. We do still have a long way to go, but we'll definitely get there with this team.

Who would you like to sit next to on an airplane and what would you like to ask him or her?

Elon Musk, CEO of SpaceX and Tesla. To me, Musk is Steve Jobs squared: a visionary who is able to find solutions for problems on a world scale and put them into effect with an eye for the smallest detail. Sustainable energy, his battery Gigafactory, migration to Mars and other planets, evolution of humans into cyborgs – these are all interesting things I'd like to exchange views on with him.

You can't go a day without …?

I can't survive without optimism. It gives me the energy to do things, to help colleagues and to learn and discover more.

What would you do if you weren't doing this job?

I've always had a soft spot for designing software and making 'things.' If I was a student now, I'd study robotics.

What is your favorite app right now?

I use Google Maps every workday morning to find a congestion-free route to work. Very handy. My favorite note app is iThoughts for making mindmaps on my iPad. And Slack makes communicating professionally so easy. Regrettably we don't yet use it within CM.

Which book would you recommend to everyone?

'Gödel, Escher, Bach: an Eternal Golden Braid' by Douglas Hofstadter (1979). The writer goes on a quest to discover the possibilities of artificial intelligence. By interweaving the mathematical hypotheses of Kurt Gödel with the pictures of M.C. Escher and the fugues of Bach, he exposes unexpected connections. Every chapter also begins with a funny dialogue between Achilles and the tortoise to explain paradoxes. You do need to take time to read this highly accomplished book; it's not a book-before-bedtime kind of read.

What would you like to invent to make daily life easier?

If I could, I would prefer to invent something to cure cancer.
One
One magazine is the Proximus B2B magazine for CIOs and IT professionals in large and medium-sized organisations.
Other articles of One