Software Defined Network (SDx)
Published on 07/02/2019 in Solutions & services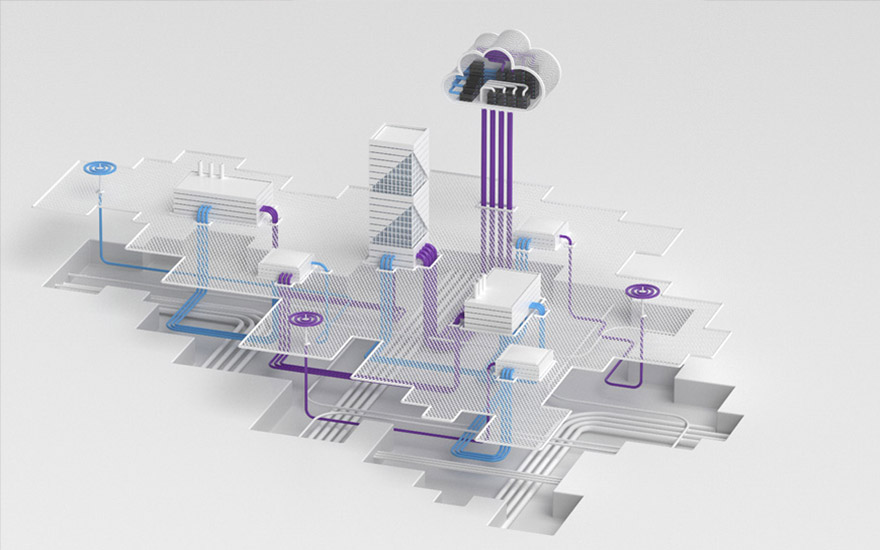 Companies that want to innovate need a flexible network to manage their applications well. More and more organizations are switching to a Software Defined Network (SDx). Tom Vanfleteren, Head of After Sales Support at Proximus, explains.
"Many companies have configured their network manually with fixed settings. Aside from the time this takes and the configuration errors that inevitably slip in, a manually configured network like this is often very complex and the troubleshooting is difficult. Segmenting – fundamental to any good network security - is no easy matter."
"Now that people and things are increasingly connected and users expect the same excellent experience, regardless of where and how they use applications, there is a growing need for networks that support the user's flexibility and networks that are more flexible themselves to be able to set up new services quickly. The digital transformation is clearly increasing the demand for SDx."
New generation of network infrastructure is based on software.
Essential advantages
An SDx infrastructure consists of a dataplane that transports the data and a control plane that guides the network logically - the central brain of the network, as it were. We are currently seeing a lot of companies set up SDx in data centers (SD-N), Campus LAN networks (SD-LAN) and networks that connect data centers with the Campus LAN (SD-WAN). This offers them a lot of advantages:
Thanks to centralized intelligence, the network can be set up and configured automatically, which speeds things up.
The central brain ensures that the network 'learns' and adapts when incidents occur. Adjustments to the network can also be carried out faster and more efficiently.
An SDx infrastructure is far easier to segment, which means that security can be integrated into your network much better.
Standardizing and streamlining an SDx guarantees greater availability of the infrastructure and a lower total cost of ownership.
Via SDWAN, the network can be connected easily and securely to public clouds (public, private and hybrid).
An SDx network can be made application aware via tooling - native or built on. It allows companies to monitor their applications and gain insights into data analyses. Users can work smoothly with the applications at all times.
An SDx infrastructure has a lot of advantages, but setting up this infrastructure is complex and requires good preparation and support.
Tom Vanfleteren, Head of After Sales Support at Proximus
Setting up SDx is complex
What is the best way to set up a good SDx network? "It's like building a house: the preparation is as important as the implementation. Once SDx has been set up, you can configure it fairly easily. The resulting advantages will not take long to reveal themselves. But the set-up process itself is complex and I notice that companies often underestimate this procedure."
"My experience also indicates that companies do best to call in an external expert as soon as possible. Like an architect, this expert helps to focus on the requirements and advises on the various technologies. It's well worth investing in that expertise and in setting up the structure properly from the outset. That way you'll end up with much less adjustments to be made as the project continues."
Plan - technology - design - automation
As has already been said, like with a house, it all starts with a good plan. How is your organization arranged? What do you expect from a network? And what services do you want to be able to offer your end users? "Your company's specific requirements largely determine what technology you need. Companies have to be aware that there is no SDx technology that offers every advantage. All the more reason to choose the technology that best responds to the needs of the organization. Be sure to take account of the openness of the solution."
"Many companies do not set up SDx in their data center, Campus LAN and WAN at the same time, but ultimately want to be able to orchestrate these three subfields centrally. In that case, you need the proper solutions. The next step is to combine your technological building bricks into a good design. You will automate processes, such as setting up servers end-to-end. Unfortunately, I often see companies automate the inefficiency of their existing processes as well. Whereas in fact this is the perfect opportunity to analyze and improve existing operating processes. In any event, it's worth thinking about spending time and resources on this."
SDx offers companies efficiency and speed when rolling out new projects and thus supports innovation within the organization.
Tom Vanfleteren, Head of After Sales Support at Proximus
Pay particular attention to the network engineer
"Something I would like to stress in particular when implementing an SDx infrastructure is that the job of the Network Engineer changes radically. Rather than being a Network Engineer who carries out CLI commands, he becomes a Network Engineer who automates processes and guides the central controller. Because this controller directs the network, the engineer loses certain insights into its working mechanisms and that may present him with a big challenge when issues arise."
"As a company, you have to anticipate this problem when setting up your SDx infrastructure by providing the appropriate monitoring and troubleshooting tools. In any case, the engineer will have to work far more closely with the suppliers to resolve issues quickly and efficiently. So his relations with suppliers change as well. Companies need to pay attention to this and have to support network engineers using training courses and change management."
New generation of network infrastructure is based on software.
Proximus use case
Proximus has introduced the three SDx components in its own organization. "We have made most progress with SDN in our data centers, where we set up a completely new network infrastructure last year, based on Cisco ACI, with an automation layer as well (Cumulus project). As of Q2, we will be bringing all new projects on board and we will start migrating over two thousand applications to the new network. Key drivers here are increased resilience, renewal of outdated infrastructure and the end-to-end automation of our IT infrastructure processes."
"We also decided to connect our Proximus shops with the data center via SD-WAN. Finally, as regards SD-LAN, we will carry out a POC when inaugurating a new building, mainly to find out how we can optimize our added value for our customers. In any case, the whole implementation process is an extremely instructive and fascinating procedure that not only supports our organization with its innovation, but also provides additional expertise which we can use for our customers.
Tom Vanfleteren has been Head of After Sales Support at Proximus since 1 February 2019. From 1993, he was successively Director Network Integration & Unified Communication, Head of Cloud & Industrialized ICT and Head of Enterprise Networks & Services.