Five reasons why you should invest in mobile device management
Published on 01/12/2021 in Inspire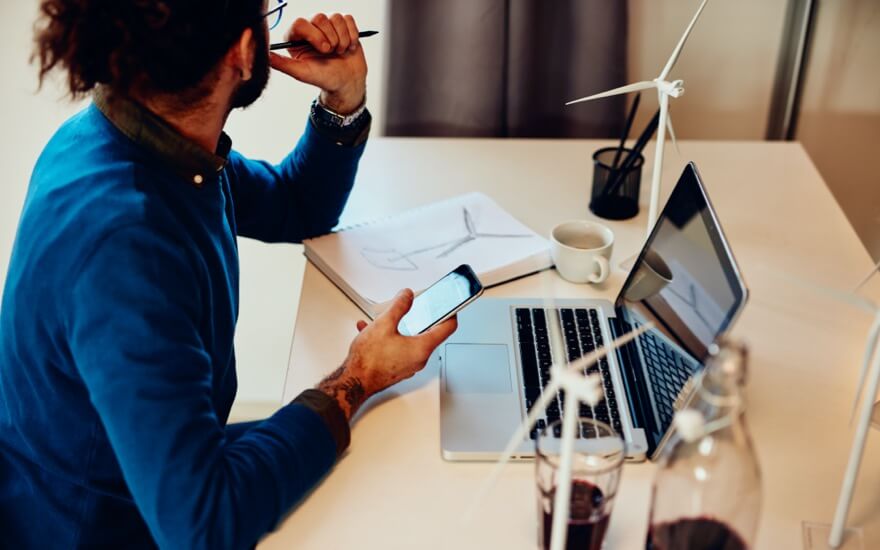 Today, around 70% of workers work hybrid. That means that companies better get to work on smart mobile device management. Why is that?
Think about a company car. When your people get a company car, you do not just walk into a dealer and pick up the keys. You have to lease, insure and register the car. You need to set up a car policy. You need to order fuel cards. And so on.
It is the same with mobile devices. You need to do more than just hand over a smartphone or tablet. Certainly if your people continue to work from home in the long term.
1) Down with the Disposable Economy
Today, every company - rightly so - wants to do business in a socially responsible way. Especially when it comes to IT equipment, we want to recycle more and throw away less. The disposable economy is making way for circular business models that use raw materials and waste flows much more efficiently. The switch from owning to using devices plays an important role here.
For the leasing of mobile devices Proximus is working with its partner CHG. For a small extra contribution, thanks to the carbonZERO project, you offset all the CO2 emissions generated during the manufacture, transport and use of your IT equipment.
2) Better Data Security
People are working more from home and on the road. That also means that there is more sensitive info on their tablet or smartphone. With well thought-out mobile device management, it is possible to split the applications on the device in two: those for the company and those for private use. For example, if the device is stolen, certain applications can be blocked remotely.
3) Avoid Unnecessary Costs
Whoever manages the finances has to take two things into account: buy as cheaply as possible and know what the total cost of ownership of a device will be. You probably like to know such costs in advance, something which you can do with good management of your mobile fleet.
4) Focus on Core Tasks
The task of continuously configuring smartphones or tablets often falls to a company's IT department. With a dedicated partner taking over these matters, the IT department can focus more on the proper performance of its core tasks.
5) Happy Employees Assured
Mental well-being is more important today than ever, certainly at work. Good mobile device management allows employees to choose how they want to configure their device. Because what is a useful app for one person, is not necessarily useful to someone else. But if employees are given a good device with which they can work from anywhere as well as at their desk, they get more pleasure from their work.
Are you interested in renting a phone or tablet for your employees? With Engage Packs from Proximus you know all the costs in advance so that you can manage your mobile fleet optimally.
With Proximus Mobile Managed Services (MMS) you can outsource the complete management of your mobile fleet to one of our experts.
One
One magazine is the Proximus B2B magazine for CIOs and IT professionals in large and medium-sized organisations.
Other articles of One