Smart electronic labels enhance shoppers' experience at Bierhalle
Published on 27/07/2022 in Customer Stories 
With hundreds of different drinks on its shelves, Bierhalle in Melle is the largest drinks superstore in Belgium. The company plans to use its digitization project to serve its customers better, collect more sales data and enhance the shopping experience.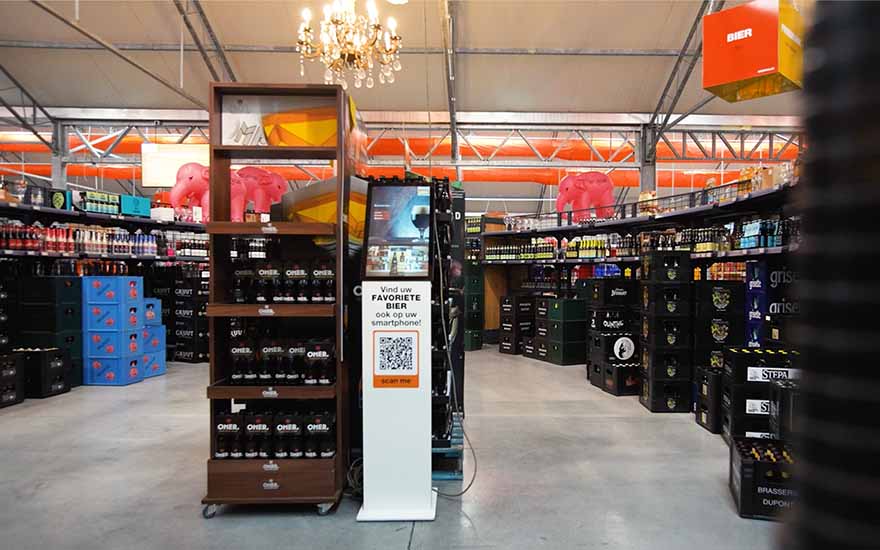 Large selection
Bierhalle's selection of drinks is so extensive that customers sometimes have to track down the one they're after. To help customers find what they need, general manager Nicolas De Groote partnered with the well-known app Beerhive. Now customers can use the app on their smartphone or tablet to find the exact location of their favorite beer.
Electronic labels
Proximus partner Spear-IT took this technology one step further by introducing electronic labels and LED lights on Bierhalle's shelves. Once the customer has picked out their beer in the store, the light on the shelf comes on, making it a cinch to locate. In time, SpearIT and Bierhalle want to extend the system to other drinks and integrate it with an automated payment system.
Data analytics
The data that Bierhalle collects in this way provides a deep insight into its sales: What are the bestsellers? What products need a push? Planned future developments include using the Beerhive app for other drinks, so more customers benefit and a greater volume of data is collected too.
Do you also want to offer your customers the best shopping experience?
One
One magazine is the Proximus B2B magazine for CIOs and IT professionals in large and medium-sized organisations.
Other articles of One