Working together using digital tools
Published on 10/09/2018 in Inspire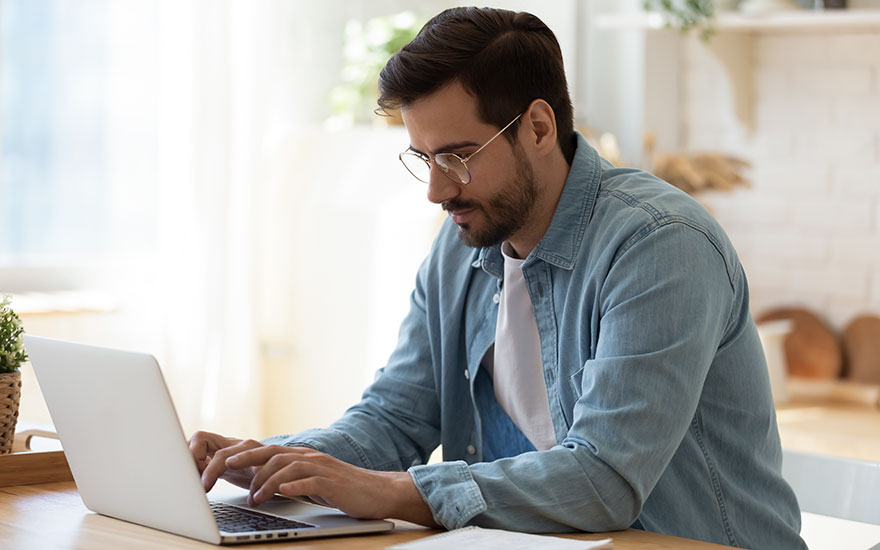 Smart digital collaboration tools are on the rise. Tele or home working is often more efficient than working at the office. Is this music to your ears? These tips will help you on your way.
Everything you need to know about digital workplaces?
More productive collaboration? Think digital!
What is quicker: meeting through video-conferencing or physically meeting at another location? There is no doubt that working digitally enhances productivity. On top of that, your co-workers will make better decisions if they are able to exchange knowledge and information more smoothly. This is what the digital workplace does.

Productivity in information sectors can increase by as much as 25% just through more efficient communication and information gathering.

Source: McKinsey Global Institute, 2017
How do you create a digital workplace? Choose the right digital tools and adapt your business processes. It's the only way to truly collaborate digitally. Your colleagues, clients and external partners will rapidly understand the advantages it offers.

Collaboration with people outside of the organisation increases innovation and creativity by 35%.

Source: PGi Global Telework Survey, 2015
Start working with digital tools
Working together more efficiently? These are the basic tools of your digital workplace:
digital tools that combine chat, video-conferencing and business telephony
platforms like SharePoint, where you can collaborate on documents
cloud environments that let you securely store and access data wherever you are
applications for digitizing your mail and documents
Choosing which digital tools are right for your business depends on your sector and organisational structure. Most businesses already take a huge step forward by introducing a simple Office 365 package.
For more information on programmes that increase your company's efficiency, download the e-book "The digital workplace" !
Navitrans: digitalize for better collaboration
Navitrans develops software for logistics companies. In order to better collaborate internally and offer a "Digital workplace" to the employees, they decided to equip the new head office with a digital communication infrastructure.
Tips for a smooth digital transformation
Are you moving towards a digital workplace? Great idea! Use these tips to get started:
Choose one digital platform. Mails, chat messages, video-conferencing: all possible media channels will be easy to access when needed.
With your new digital tools, it is easier to involve your suppliers, customers and other partners in your projects.
Digital tools and processes only increase productivity when your co-workers know how to use them. Through training programmes, manuals, FAQs and tutorial videos, you'll achieve faster results.
With this technology, tele and home working is possible. Ensure however that you have clear agreements in place with your colleagues.

By 2020, 9 out of 10 organisations will use apps for home working.

Source: Proximus
Everything you need to know about the digital workplace
Perspective
Magazine and online blog for business leaders, brimming with new insights for a fresh look at their company.
Other articles of Perspective