Smart building based on an ecosystem of partners
Published on 26/04/2019 in Customer Stories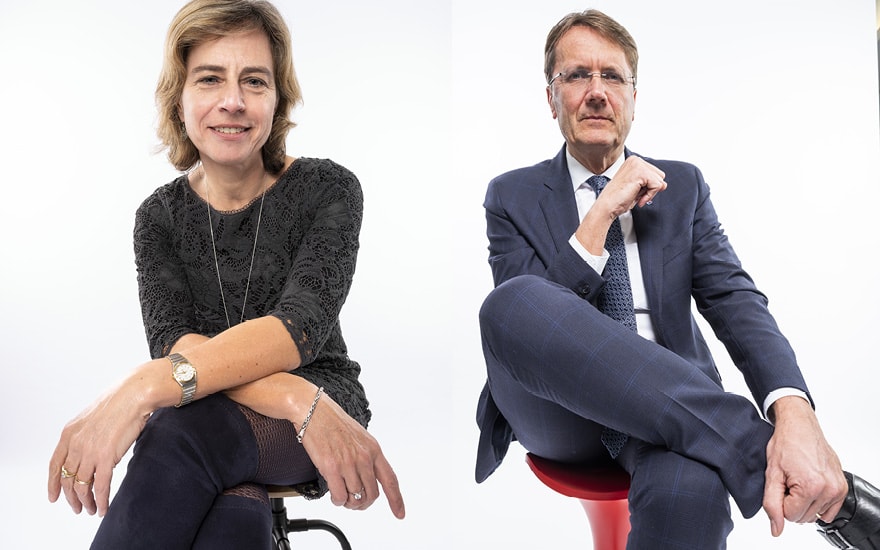 In their respective areas of expertise, both BESIX and Proximus act as leading players in the country: BESIX as a construction group and Proximus as an IT service provider and teleoperator. The two companies are joining forces to create smart buildings – a partnership in which co-creation and open innovation are key ingredients.
Last summer, Proximus and BESIX entered into a strategic partnership, shaking hands on a collaboration aimed at jointly offering an innovative solution for smart buildings. Optimal user experience occupies center stage in the four areas that Proximus and BESIX are involved in: hospitality, workplace, efficiency in management and energy, and safety.
The cooperation is based on the complementary character of the two companies. BESIX is experienced in the implementation and management of complex building projects, while Proximus boasts wide-ranging expertise in the kind of innovative technology that finds its way into smart buildings, such as IoT applications, the digital workplace, security solutions, and so on. The aim of the partnership is to combine the strengths of each company with the purpose of putting smart-building solutions into practice in specific projects.
A smart building is more than just bricks and butes. It's also about behavior and business: a change in behavior on the part of those who live and work in the bulding.
Rik Vandenberghe, CEO of BESIX
The new head office of AXA Belgium in the heart of Brussels enables a new way of working.
How did the partnership come into being?
Dominique Leroy, CEO at Proximus: "We've already acquired a great deal of experience with solutions for smart buildings, but we have constantly found that applying the concept within an existing environment is often a complex business. To make the most of a smart building's potential, you had better take its purpose into account from the very start of the building project, even before the first plans are drawn up."
"We were looking for a partner with whom we could share that vision, while at the same time being able to bring our expertise to the fore. We rely heavily upon our own experience as a real estate owner and we try to commercialize relevant innovations. BESIX is the ideal partner because of their years long experience in the construction industry and their excellent insight into the needs of the customer."
Rik Vandenberghe, CEO at BESIX: "We had been playing with the idea of doing more in the field of smart buildings for some time. That was how we came to knock on Proximus' door. Look, we're two robust companies with a solid Belgian grounding. There's no question that establishing a collaborative partnership focusing on the subject of smart buildings is a good idea. We are both extremely committed to innovation, and we both value open innovation. That shared mindset saw to it that we arrived at a partnership quite quickly."
How do you see the concept of smart building developing from here on in?
Rik: "Although it's a fairly recent concept, the trend is now clearly there for all to see. Actually the idea is quite simple: you add intelligence to a building. It has everything to do with the general evolution in the use of technology."
"Everyone has by now become familiar with the advantages and user-friendliness of technology, and these days that's what users also expect of a building. At the same time there is the issue of a building's carbon footprint. A building causes substantial CO2 emissions, but by using new technology we can reduce those emissions. That's another important part of the story."
Dominique: "We observe a growing complexity in the needs of real estate investors, operators and users. We believe that technology can be a vital enabler to meet those demands. Genuinely creating value for the customer is crucial in managing a digital ecosystem where different partners cooperate and provide integrated solutions. The partnership with BESIX is a fitting example."
Flagship building
How are Proximus and BESIX jointly going to respond to these expectations?
Dominique: "The first project in our cooperation is the building of the new headquarters of BESIX Nederland in Dordrecht. There we will show how we incorporate the concept of smart building in the plans from the design phase and how BESIX's employees and visitors will derive benefit from that."
Rik: "It was an obvious course of action to work out a proof of concept in a building that we will be using ourselves. We are turning it into a genuine flagship building, which will act as a European reference for what we can carry through in conjunction with Proximus in the field of sustainability, energy-efficiency and safety."
Is it easier to create a smart building in a new-build or can it also be done in the context of a renovation?
Rik: "It obviously works much more efficiently if you can have the concept incorporated into the design from the get-go. But you can just as effectively turn a building into a smart building through renovation. In fact, you can often achieve a host of good results even with minor renovations."
Complementary expertise
How does your specific project approach work? Who does what?
Dominique: "Connectivity is our greatest strength. We provide for glass fiber, not just up to the building but also in the building, seeing to it that there is network connection throughout the building. A modern building is full of steel, concrete and insulation."
"So we have to ensure connectivity everywhere in the building, both 4G and Wi-Fi. Then we trace out the whole IoT map. We equip the building with sensors, which supply the data that serve as raw material for the actual smart-building applications. We also offer solutions for staff and visitor access control and security, applications for the monitoring and control of energy consumption, and so forth."
Rik: "In this way, the complementary nature of our cooperation clearly comes to the fore. Through our projects we want to contribute to a better world, with buildings that offer functionality, comfort and energy-efficiency. The solutions supplied by Proximus help us to fulfill those objectives."
"We actively strive for buildings with lower energy consumption; clients are asking for support and guidance in the transition to renewable energy, in gaining greater flexibility in their own energy production, and so on. That's a challenging development for construction. We're convinced that the best way forward is to join forces so as to adopt an end-to-end approach to these issues."
Technology is moving very fast, and the field of smart buildings is no exception. By using an ecosystem of partners we succeed in bringing together the right expertise.
Dominique Leroy, CEO of Proximus
New concepts
In what way is new technology having an effect on smart building?
Rik: "It's about more than just bricks and bytes. The user also has a major impact on the success of the smart building."
Dominique: "That's right. A smart building is only really a success when there is also added value for the people living in it or the companies operating in it. New technology – we can think of artificial intelligence and machine learning – will clearly help make the difference in that respect. Take the electric cars that employees use to get to the office."
"Smart technology will determine what the best time is for the battery to be charged. But these cars likewise constitute an extra source of energy and at a particular time the building can draw power from these batteries. Smart applications will thus constantly keep the building's energy consumption in balance."
Rik: "In the new headquarters of BESIX Nederland we are now providing a solution with batteries in which surplus energy is stored and subsequently made accessible through the network whenever it is needed. The end result is a building with as low an energy consumption as possible, in which an application based on artificial intelligence closely monitors the balance between energy production, consumption and storage."
This example clearly illustrates how the smart building relies on data collection and analysis, whereupon the right measures are taken in response to those data.
Dominique: "That's right. It also shows that in the context of the smart building we have to handle those data very carefully. In that respect we espouse the same values as BESIX. When we receive data in the context of smart-building applications, we always do so anonymously, using encryption and so forth."
The good example
Do you expect more regulations to be introduced in this field?
Rik: "First and foremost we want to lead the way and we want to keep that position in the field of open innovation. If future rules or standards are put in place, we'll be prepared for them. By being at the forefront we're also helping to give shape to things. We're creating the future."
Dominique: "Just like BESIX, we at Proximus are also putting forward a number of best practices. It is an approach that enables you to be perfectly in sync with reality, but at the same time remain dynamic enough too. However, a legislative framework is rather static in nature and as a result can sometimes be a restraining factor. By supplying the good examples ourselves, we at Proximus will undoubtedly be able to provide some leverage.
The digital workplace, employees are more efficient, creative and more engaged.
BESIX is the largest construction group in Belgium. The company has a history stretching back more than 100 years, and has grown into a world player. BESIX's projects include the European Parliament in Brussels, Burj Khalifa in Dubai (the highest tower in the world) and the Al Wakrah Stadium for the 2022 Football World Cup in Qatar. BESIX has 15,000 employees.
Rik Vandenberghe studied commercial engineering in Leuven. He pursued a career in banking and rose through the ranks to become CEO of ING Belgium. He has been CEO of BESIX since 2017.
Domnique Leroy studied commercial engineering at the Solvay Business School. She worked at Unilever Belgium for 20 years, four years of which were as managing director. In 2012 she moved to Proximus, where she has held the post of CEO since 2014.
One
One magazine is the Proximus B2B magazine for CIOs and IT professionals in large and medium-sized organisations.
Other articles of One