"No digitisation without people."
Published on 23/06/2021 in Inspire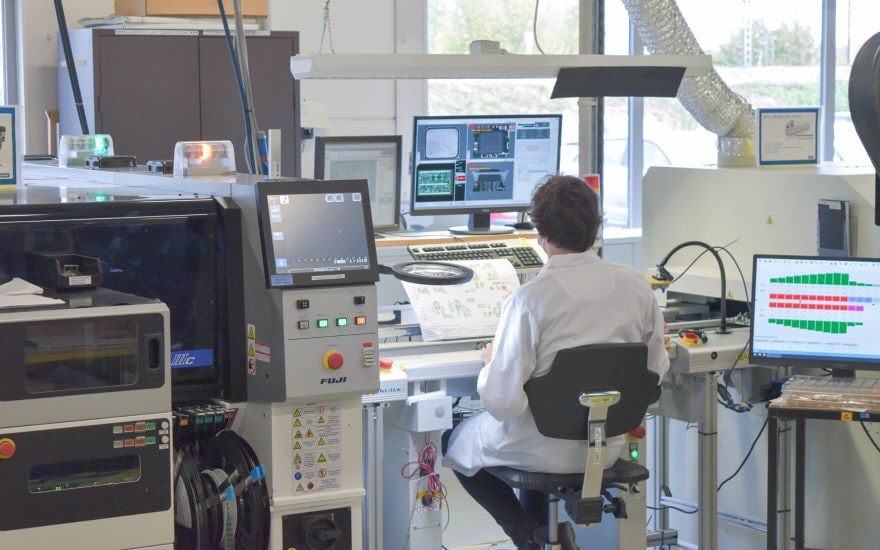 "We make all the satellite equipment that is on the ground," says Guy De Winne, VP Global Performance. The factory has been digitising since 2005. "The aim is always to increase efficiency. However, we will never automate people out of the process."
As part of a global group, ST Engineering in Erpe-Mere produces its own satellite equipment as well as products with high quality requirements for other technology companies. An activity for which human input is essential: no two products are the same and the volumes are small. The efficiency gains for ST Engineering therefore mainly lie in the business processes.
In order to stimulate the exchange of information both inside and beyond the factory walls, the company started a process of transformation towards a digital factory. "ST Engineering is a global group with widespread activities. We mainly manufacture the satcom equipment in Belgium," explains Guy De Winne.
"Previously, we did this under the name Newtec. We were one of the very first Factories of the Future in Belgium. Two years ago, we were acquired by ST Engineering." From the Erpe-Mere site, Guy De Winne is responsible for streamlining the processes of around 20 sites worldwide.
Want more insights from the leaders of the Belgian manufacturing industry? Download the e-book.
From lean to paperless
The turn of the century marked the beginning of digitisation at Newtec. Guy De Winne: "The lean philosophy first emerged in Europe some 20 years ago. We were one of the first to get on the bandwagon. Around 2005, all kinds of technologies started to accelerate. The manufacturing industry is a very competitive sector, so we realised that we had to keep innovating in order to keep our production in Flanders."
What was the ambition in 2005? To become a completely paperless factory. Guy De Winne: "That was the goal for many companies in the first wave of digitisation, to the extent that it almost became a buzzword. But for us, it was real goal that we also achieved. SAP came to be at the heart of our processes and replaced all paper documents."
"The lean mentality has always been at the forefront of all our digitisation," explains Guy De Winne. "This is also my advice to other manufacturing companies: make sure your production processes are as efficient as possible before you start digitising. Draw up a thorough analysis of where you could optimise. After all, if you have too much waste in your processes you will end up digitising that too. Without a good understanding of how your own production works and the logic behind digitisation, you will never be able to eliminate that waste afterwards."
My advice? Make sure your processes are lean before you start digitising.
Real-time planning and production
ST Engineering seizes all opportunities for new developments, using its own strength and resources. Guy De Winne: "This enables us to fully understand how new technologies work and exploit them to the full. Also for applications that we had not initially foreseen."
By carrying out implementations ourselves, we understand the fundamentals of how new technologies work.
The same thing happened with SAP: "Although the system got up and running smoothly, the planning remained a sticking point," says Guy De Winne. "In order to take into account suppliers, clients and our own capacity, we still needed to draw up our planning days or even weeks in advance. As a result, we started looking for a way to plan in real time and on a flexible basis."
Guy De Winne: "Our SAP specialist knew the production floor and our IT systems inside out. He was able to implement the revised planning system within the functionalities of SAP. So we built our own Manufacturing Execution System (MES)."
Towards a data-driven factory
The next challenge was to centralise the multitude of data and use it efficiently. "We had collected a lot of data over the past few years, from both the production and machines as well as the support services, but it was spread across various different databases. We wanted to ensure that all the information was centralised in a single data cube with different views. This would allow each employee to easily retrieve the right information for his or her position from this central database."
ST Engineering has already taken the first hurdle towards this data-driven approach. "We were bumping against the limits of our own system, so we joined forces with Siemens to build a completely new MES," says Guy De Winne. "For the very first time, we are not conducting the entire transformation ourselves. But that doesn't mean we are abandoning our philosophy."
The cooperation is a win-win situation. "The MES is a showcase project for Siemens. At the same time, we retain control of its implementation. We wanted to have a full understanding of what lies behind it. With the new system, we can now automatically filter all the centralised data and get it to the right operator at the right time. In very short feedback loops, we can therefore adjust production based on the centralised data."
In very short feedback loops, we can adjust production based on the centralised data.
People at the centre
"We don't yet know what kind of data analysis will be possible in the future," Guy De Winne points out. "As a result, it's essential for us to capture data as accurately as possible today. We need to ensure that the foundations of our data are as clean and correct as possible before we take the next step. Around 70-80% of production errors result from what I call 'corrupt processes'. These are errors that you can prevent with digitisation, provided you can identify them."
"In other words, we can analyse virtually in real time and send feedback when something goes wrong, but we cannot predict when that will happen," explains Guy De Winne. "As a result, we can't automate our production. We can only provide the operators with the right information as soon as possible. Our people will continue to occupy a central role in the production, we will never automate them out of the process."
Around 70 to 80% of production errors result from 'corrupt processes'. These are errors that we can prevent with digitisation.
Looking ahead
What's the next step for ST Engineering? To capture even more data and process it more efficiently. "My vision for the future is a fully connected factory," continues Guy De Winne. "A factory that is in real-time contact with the entire supply chain: suppliers, clients and the other branches. This will allow us to immediately adjust production in the event of the slightest design error."
"We are also gradually developing our data-driven approach," continues Guy De Winne. "In order to make the feedback loops even shorter, we need to develop an algorithm. However, our production is very specific: we make small volumes of custom products. We don't have any predictive models yet, because we simply don't have enough data for this. Machine learning and artificial intelligence for data analysis are not feasible for the time being."
The biggest barrier to a connected future is the mentality: we need to establish a culture of transparency.
"But it isn't the technology that forms the biggest barrier to a connected future, it's the mentality," says Guy De Winne. "When an error occurs today, people tend to be quick to point the finger. If we want to make the transition to a fully connected chain, we need to establish a culture of transparency."
How does Guy De Winne look back on the process from lean to data-driven? "Digitisation is not an end in itself: it is a means of working more efficiently and flexibly. The most important lesson I have learned is that you need to get your people on board. It's crucial for your employees to understand that the evolution is necessary. You can implement changes step-by-step, and with every success you build confidence to go one step further. I am very proud that our employees have supported our transformation story over the past 20 years."
Would you like to know more about digitization in manufacturing?