Three revolutionary Belgian initiatives
Published on 21/11/2017 in Inspire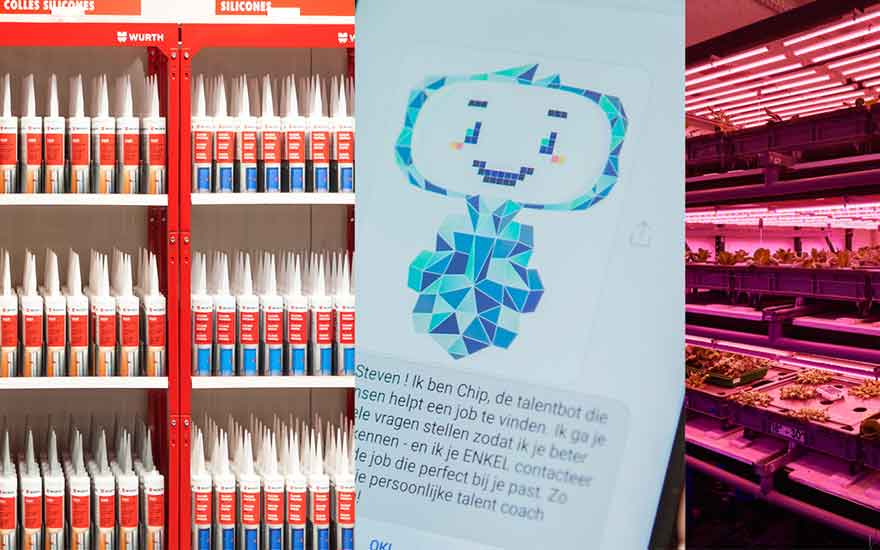 If you don't innovate today, you probably won't be able to keep up tomorrow. Here are three companies where innovation and technology go hand in hand. We went to see them and asked them how they got where they are.
Digital innovation in recruiting
Steven Pyck is no novice when it comes to innovating. Over 15 years ago, he launched and led Proxis, one of Belgium's first successful book webshops.
"At the time, everyone said: 'Yes ok, books sell well online. But shoes or televisions?," says Steven Pyck, looking back. "Now it's totally commonplace. With my new company, Sympl, it's a similar story. Just like retail back then, the recruiting sector is lagging behind today. At Sympl, we aim to put that right. We put candidates in touch with companies, but we use digital means only, and much of the process is automated. First of all, candidates come into contact with a chatbot, which asks for all the basic details and answers the candidates' first questions. After that, a link is sent to candidates for a video interview via webcam. In this way, we can screen about a thousand candidates in seven days. Our method is ideal for employers looking for large numbers of candidates, such as customer service profiles, management assistants, etc."
"When people have an idea, they often think: 'I'm not going to talk to anyone about it, because if I do, it will get pinched'. Whereas in fact you should assume that someone, somewhere is working on the same idea as you. So you have to dare to take the plunge and talk to as many people as possible about it and, at the same time, bring it to market as quickly as possible, even if your product or service is far from perfected. Because you can only improve your idea and make it workable by testing it in reality."
The first staffless shop
Lode Van de Velde, Manager Internal Sales at Würth Belux, subsidiary of the German fastenings and assembly equipment multinational Würth, readily admits that the B2B sector has long been spared digitization and innovation. "Whereas in B2C more or less everyone had a webshop, in our sector we still worked with sales reps who physically went along to see customers. Our new-generation customers have a totally different mentality. They are accustomed to placing an order where and when they want.
So in our sector too, companies are beginning to experiment with webshops so that customers can obtain goods outside opening hours, as well. Many of our customers are already on their way to a building site at five o'clock in the morning and want to be able to go and fetch the items they need that day. They can't turn to a webshop or an ordinary store for that. We wanted to offer our customers this possibility. So we launched an unmanned shop that is open 24/7."
Würth opened its first unmanned shop in Sint-Stevens-Woluwe. Once they have registered, customers receive a swiping ID-badge/(or: receive a security ID-badge) that they can use to enter the shop, day and night. There are no staff. Instead, there is a selfscan cash till monitored by cameras. The invoices are sent on later.
"It was never a question of saving on staff, but rather improving the services we provide for our customers. And we keep on doing that. Not only are we currently opening a second unmanned shop in Lokeren, but we are also launching an app with which customers can view the stocks in our unmanned shops. Our customers are always our starting-point."
Belgian agricultural technology conquers the world
The Belgian agricultural technology company Urban Crop Solutions is a worldwide pioneer in Vertical Farming. This is an innovative farming method based on hydroculture where plants are grown vertically under LED lighting, hermetically sealed from the outside world.
"The crops in our customized systems and standard container solutions grow much faster than in the open air, because we can create a higher light intensity using our LEDs," explains CEO Maarten Vandecruys, not without pride. "In addition, we recycle the water that evaporates from our plants. So we use barely 5% of the average water consumption in the traditional crop-growing sector. And because our system is so hermetic, we don't need to use pesticides."
Despite all the advantages of the hermetic Vertical Farming system, the team soon came up against one huge risk: "If a disease does get into our system, it's everywhere instantly. And one of the main risk factors that can introduce diseases are people. So cutting wage costs was certainly not the main reason for the automation." When we asked the CEO if it was easy to launch such a revolutionary idea in Belgium, at first he hesitated.
"Belgium is a very favourable country for innovation based on an existing product in an existing market. But as soon as you come up with something totally new, you do see this conservative reflex emerging. For example, when we went in search of subsidies, we were often greeted with frowns. So we had to make do with few subsidies. On the other hand, I have noticed with hindsight that Belgium has a big concentration of experienced entrepreneurs who are willing to support young ones. But you have to dare to approach them yourself. If we had realized that earlier, we would probably have grown faster."
Perspective
Magazine and online blog for business leaders, brimming with new insights for a fresh look at their company.
Other articles of Perspective