"10% remote consultation from now on"
Published on 16/07/2020 in Customer Stories 
Not only the doctors and staff at UZ Brussel, but also the patients discovered remote as a new channel. "Remote consultations can't replace everything," says CEO Marc Noppen, "although I do think that we'll continue to do about 10% of all consultations this way in the future, too."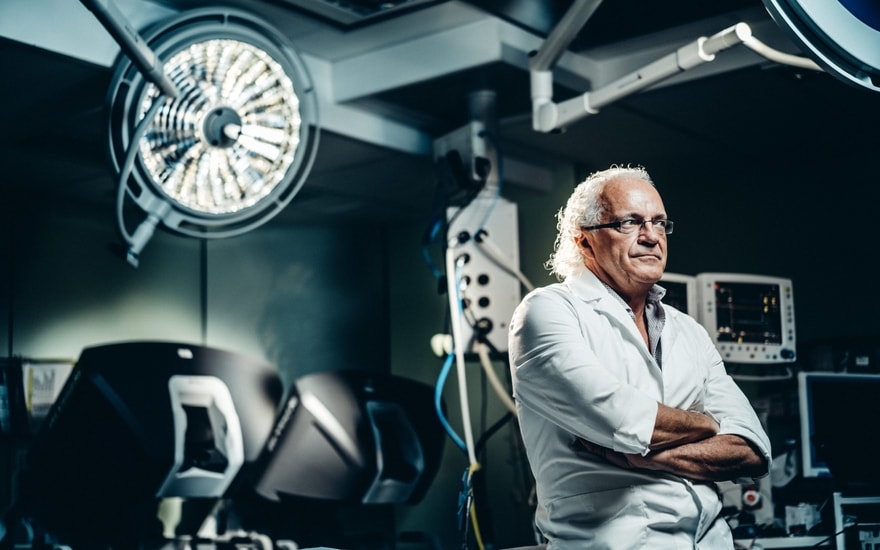 As soon as the alarming reports of the corona outbreak in northern Italy reached Belgium, it was all hands on deck in the hospitals. "We reorganized the entire hospital in record time," says Dr. Marc Noppen, CEO of UZ Brussel. "In the week before the lockdown, we split patient flows and doubled intensive care capacity in a few days."
With the classic way of working, that speed would never have been feasible. "We switched to a contingency plan, with a different governance. We worked with a crisis unit and working groups, who were given mandates, and added four experts to the executive committee. We made decisions that would be impossible under normal circumstances. For instance, there was no time to launch a public tender for the purchase of ventilators. Things had to move fast."
Together we face the challenges of digital health. Download the white paper and ebook for free and discover the collaboration tools.
Digital health
From 137 to 697 homeworkers
Before the corona crisis, exactly 137 of the 3,800 employees of UZ Brussel worked from home occasionally. From 13 March, 697 of them completely switched to working from home in one fell swoop. "In the longer term, 535 of them will continue to work from home in a structural manner," Marc Noppen explains. But they won't be doing that full-time anymore. These employees work in a flexible manner, with homeworking as one of the possibilities.
"Homeworking had a visible, direct impact on the way the hospital functions, including less need for office space and parking spaces." Yet Marc Noppen does not readily see a scenario whereby all the hospital's employees continue to work from home. Many hospital jobs do not allow it. In addition, the human aspect remains important. "There's a need for involvement, social contact, and teamwork."
Behind the scenes, UZ Brussel used Windows Remote Desktop Services and VMware Horizon VDI, among other things, to make homeworking possible. "The important thing was that it could be done securely," says Marc Noppen. "Initially, everyone started using their own devices via VPN." Now that everything has calmed down, the hospital has developed a procedure whereby every homeworker has access to the necessary hardware and software. "Among other things, this allows administrative staff to work from home as they can access the call center software remotely."
We'll continue to use remote consultations in the future, among other things, to follow up chronic patients with a known clinical picture. However, face-to-face contact in our sector is often still essential.
Dr. Marc Noppen, CEO of UZ Brussel
Monitoring patients remotely
Even before the corona crisis, doctors were able to log in remotely to the hospital's clinical workstation. "During the crisis, however, we were in a new situation where some patients were no longer allowed to visit the hospital." The use of remote consultations (either by phone or video conference) also enabled the hospital to monitor these patients remotely.
"This approach will be maintained to a certain extent," says Marc Noppen. "I estimate that about 10% of consultations in the future will continue to take place remotely." In practice, these are usually chronic patients with a known clinical picture. "For instance, a diabetic with an insulin pump doesn't necessarily have to come to the hospital for every follow-up between their main appointments. But for many other things, face-to-face contact remains essential, such as an intake, an appointment to announce bad news or the discussion of a therapeutic choice."
At the same time, because of the corona crisis, the hospital's employees used video conferencing more to communicate with each other. "For me personally, that was a real discovery," Marc Noppen laughs. "For formal communication, I think it's fine. You do miss the body language and informal contact that would otherwise be part of a meeting, but that doesn't outweigh the enormous time savings."
Nevertheless, video in the hospital certainly can't and won't replace every personal contact. "I consider it more of an interesting addition to the possibilities of contacting someone." For many conversations and consultations, the patient is still better off coming to the hospital to consult with their doctor in complete confidence.
An automatic insulin pump gives diabetics a normal life. As a patient, Chris Houtmeyers knows better than anyone how technology can change the way the disease is treated.
Read his testimony
A job well done, with room for improvement
Looking back on the lockdown and the peak of the crisis, Marc Noppen states that Belgian hospitals can be proud of the work they have done. "When we saw the footage from Italy at the end of February, we knew immediately what was coming," he says. "We did everything we could to avoid overwhelming our hospitals." Relatively speaking, Belgian hospitals scored very well with their approach. The average mortality rate of corona patients in intensive care in Belgian hospitals was 25%. At UZ Brussel it was 15%. In comparison, that figure is now approaching 50% and higher in the US.
I estimate that about 10% of future consultations will continue to be by remote consultation.
Dr. Marc Noppen, CEO of UZ Brussel
New challenges in the sector
An additional impact of the corona crisis is that it is once again highlighting the health-care challenges in our country. "The current approach to health care isn't sustainable," says Marc Noppen. "With our specific demographic evolution, we will need a higher budget every year. That's simply not possible." Marc Noppen sees a solution in an organizational approach. "We need to focus more on behavior," he says.
"Approximately 60% of morbidity (the part of the population that suffers from a disease - editor's note) is the result of behavior. So, we need to change that behavior, using technology as a lever, to control health-care costs. Between 10% and 30% of the total health-care budget goes on medical treatments that don't benefit the patient. With health care representing a total of 10.5% of Belgium's GDP, that means there is certainly room for improvement."
Dr. Marc Noppen is a lung specialist. He has been the CEO of UZ Brussel since 2006 and is an associate professor at VUB.
UZ Brussel is a university hospital with an official capacity of 721 beds. Each year the hospital handles 30,000 admissions, 30,000 day admissions and 360,000 consultations.
"Our health-care system is outdated and the ecosystem is in need of replacement." Professor Philippe Coucke of CHU de Liège has his own opinion on the much-needed transformation of our health-care system.
Read the opinion of P. Coucke
Fifty heart patients at CHU de Charleroi monitor their health with an app. "Thanks to remote monitoring, we can see signals indicating danger more quickly," says cardiologist Elke De Vuyst.
Hearth failure monitoring
One
One magazine is the Proximus B2B magazine for CIOs and IT professionals in large and medium-sized organisations.
Other articles of One