Smart apps for entrepreneurs
Published on 11/07/2017 in Innovate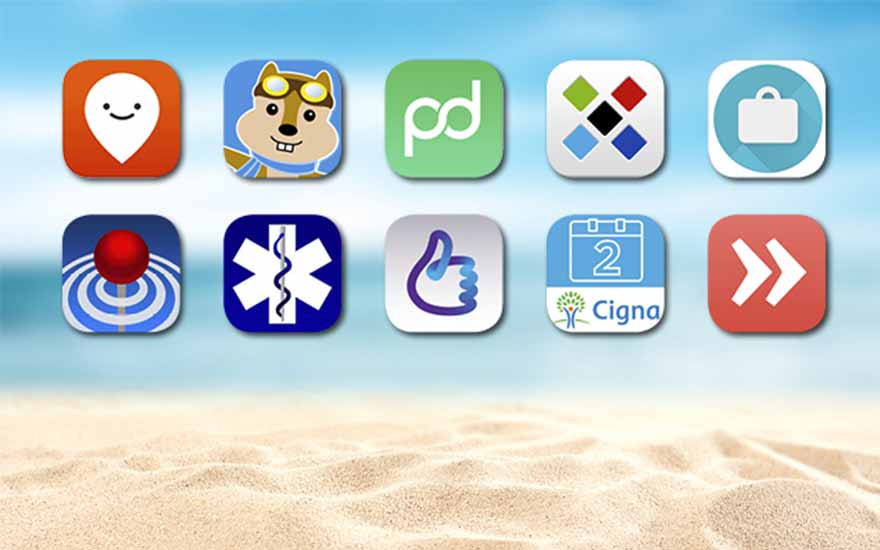 Now that you can browse on mobile devices throughout Europe at the same rate as at home, mobile travel apps are really proving their worth. So we took a look in the various app stores and came up with the most useful apps for your next business trip.
Have a good trip!
If you travel on business regularly, above all you want everything to go smoothly so that you can get to your appointment on time. You'll find these apps particularly helpful.
Moovit
Moovit refers to itself as the 'No. 1 public transport app', and with good reason: this app guides you through the public transport systems of over 1,200 cities in a flash. So you never turn up to an appointment late.
Hipmunk
Do you need to book a hotel or a flight abroad unexpectedly? Hipmunk shows you all the flights and hotels that you can still book today in an instant, often at attractive last-minute rates.
Down to work
Not all business trips are fun-filled jaunts. There's work to be done as well. Fortunately these apps boost your efficiency so that you have more time to enjoy yourself.
PandaDoc
With PandaDoc you can now sign or approve documents on the road. What is more, it works both ways: your customers can sign your documents with electronic security from any computer or mobile device.
Sticky Password
When you work on the road, it is important that your data remains protected at all times. Password managers like 'Sticky Password' help you manage and protect all your passwords easily instead of using the same password everywhere.
Not just work
Customs officials who still ask whether you are here for 'business or pleasure' clearly haven't understood anything. With these apps you can combine the two!
Google Trips
Google Trips not only stores your flight and hotel reservations, but also guides you through the sights of over 200 cities, including clear directions. And if you should find yourself without Internet access during your trip, then you can just use the app off line.
AroundMe
There's nothing worse than being hungry in a strange city. Fortunately, the AroundMe app shows you all the restaurants in the immediate vicinity. As well as ATMs, coffee bars, cinemas, pharmacies, etc. If you have an Apple Watch, you can read all the information easily on your wrist.
In an emergency
Of course we hope it never happens, but if you are involved in a disaster or an attack, it's best to have these apps at the ready.
ICE
In Case of Emergency (ICE) files contain all your vital medical and contact details for emergency responders. Apps like ICE Standard (iOS) or ICE: In Case of Emergency (Android) put your data in the lockscreen of your smartphone, so emergency responders can access them without unblocking your device.
I am OK
With the Proximus 'I am OK' app, a tap on your smartphone sends a reassuring message giving your location to Facebook and Twitter. People you have selected in advance also receive a text message.
Stay informed
Even on the road, you still like to stay up to date on what is happening at home, both professionally and privately. With these apps, it's as if you'd never been away.
Meeting services
This is not an app as such, but the perfect tool to stay in touch from a distance via audio, web and videoconferencing. Supported by many devices: smartphone, PC and Mac. In addition, the service works with a pay-as-you-use system.
Blendle
With Blendle you have access to over 120 newspapers and magazines at any time, wherever you are, including a wide range of Belgian media. You only pay for the article that you have read. Not what you expected? Then you simply ask for your money back.
Roam Like at Home
As of 15 June you can make mobile calls, send texts and browse with your national Proximus rate plan for the same price as in Belgium all over Europe (with the exception of Switzerland). So you no longer have to worry about your communication costs once you have crossed the border, but you can just keep browsing and calling with your national package.
Have you planned a trip outside Europe or to Switzerland? Be sure to activate the appropriate roaming option in time. With the Travel Passport Top option', you stay connected in Switzerland, Russia, Turkey, the US and Morocco, among others.
Find out more
Find out all about the new European Roam Like at Home' regulations on our Roaming options page.
Perspective
Magazine and online blog for business leaders, brimming with new insights for a fresh look at their company.
Other articles of Perspective