Real-time tracking and monitoring make your work easier
Published on 28/06/2019 in Inspire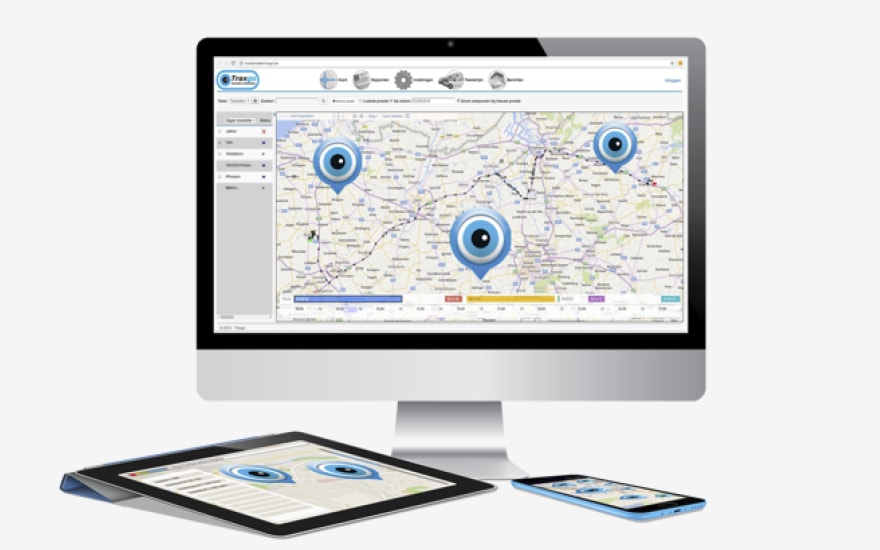 Would you like to know where your vehicles are at all times? And monitor their tire pressure, kilometers driven and other data in real time? Traxgo uses the Proximus machine-to-machine (M2M) network and the SMS API service of Proximus EnCo.
Since its establishment in 2003, Traxgo has been working with Proximus. The technology firm has installed 18,000 M2M SIM cards for its clients, and uses our M2M network to send data about your car fleet to your dispatching and other services, and vice versa. For example, via Continental's ContiCheckPressure system, your dispatching can monitor the tire pressure and temperature of all your vehicles in real time.
Traxgo has made it possible to monitor the tire pressure and temperature of all vehicles in real time.
Without M2M, no tracking or monitoring
Frederik Depuydt, Business Development Manager at Traxgo: "Whether it is a question of automobiles, vans, trucks or construction vehicles, we equip every type of vehicle with our tracking and monitoring systems. We send our data via the M2M network. If for some reason that does not work, you will be switched automatically to text messaging."
"Without the M2M network and the M2M SIM cards, we would not be able to offer our solutions. More and more companies are asking us to connect various other devices and to send additional data. That involves customized work. Thanks to M2M and the software we have developed ourselves, we can meet those requests. That way, your company no longer has to call each of your technicians individually when you need urgent service. On the map, you can see who is closest to your location."
You can also notify someone very quickly with a text message. If a tire goes flat, the company's dispatching receives a notification.
Frederik Depuydt, Business Development Manager at Traxgo
SMS API: quick integration
"We have been working from the outset with texts, partly because most companies opt for texts for alarm notifications. A text arrives much faster and is also read sooner than an e-mail." In order to improve the text service, Traxgo moved to Proximus from another provider a year and a half ago, and used Proximus EnCo SMS API to integrate with their systems. "Proximus is cheaper, the network is more reliable and the integration of SMS API into our solutions is much more smoothly. That allows us to adjust our clients' systems much faster."
"You can also notify someone very quickly with a text message. If a tire goes flat, the company's dispatching receives a notification. Should a vehicle be moved at night, arrive at a weigh station outside regular working hours or leave a restricted zone such as a construction site or parking lot, the person on duty will receive an immediate notification."
M2M makes new solutions possible
Traxgo is constantly innovating. That much is obvious. The integration of the SMS API of EnCo plays an important role in this regard. For example, with its own new software such as Trax One, that Traxgo's ERP system has linked to its track-and-trace platform. "Our clients increasingly ask us to be able to monitor their technicians and tasks. In the past, they needed two systems to do so: their own ERP software and our track-and-trace solution. Now we offer those on one platform."
"This way you can see what time a technician arrives at a client and how long he spends on site. That enables you to plan the technician's agenda in real time and notify the next client, for example, when the technician leaves. As soon as the client signs off on the task completed, you can immediately raise the invoice, since you know exactly what work was done and how long it took."
Traxgo was established in 2003. At the time, the company offered mainly 'regular' track-and-trace services. In the beginning, it did mainly via text, since data was still too expensive. Today 16 people are working there.
Frederik Depuydt studied Business Economics at the University College Ghent (HoGent) and is Business Development Manager at Traxgo. He joined Traxgo in 2004. In his free time, he enjoys sports.
Experts
Our experts keep you informed on the latest news and trends for ICT professionals.