Q+A
Published on 10/11/2015 in Inspire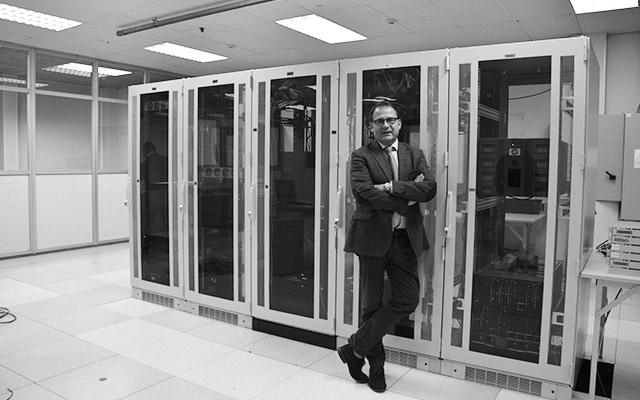 Philippe Niesten is a manager whose feet are firmly planted on the ground. He gives his staff freedom, but realizes that no two people are alike. "The manager must be able to evaluate each person's abilities," he says.
Career
After studying civil engineering at the University of Liège, Philippe Niesten earned his spurs in the copper and zinc industries of Liège, and then took charge of information technology on an interim basis at a number of companies before joining Cap Gemini in 1994. In 1999, he became CIO of the Herstal Group. From 2011 to February 2015, he was president of the Association of Francophone Information Systems Directors. He has been a member of the Board of Directors of HEC- ULg, the management school of the University of Liège, for 15 years.
Company
Thanks to its policy of intensive innovation, the ongoing development of its product range and its high standards in terms of quality, the Herstal Group, having just celebrated its 125th birthday, is a global leader in its two sectors: Defense & Security and Hunting and Shooting, thanks to its internationally renowned brands FN Herstal, Browning and Winchester Firearms (Winchester Firearms is a brand registered by Olin Corporation).
Coworkers
The Herstal Group, the head office of which is in Herstal, near Liège, employs more than 2,500 people spread across various subsidiaries in Belgium, the United States, the United Kingdom, Portugal, Japan and Finland. Philippe Niesten supervises the 50 ICT staff who draw up the strategy for the entire Group.
1. What has been your main professional achievement?
The role of IT is to improve the profitability of the company. My finest achievement is yet to come, as I plan to keep improving the added value I bring to the information system. But I am proud of having been able, 8 years ago now, to make Internet at home available to all Herstal Group employees.
2. Who would you like to sit next to on an airplane, and what would you ask that person?
I'd rather sit next to a 17-year-old student than a renowned IT expert. I would like to know the expectations of teenagers in our digital world. We have to take this into account and companies have to think about surrounding themselves with young executives in order to take those ideas on board.
3. How would you describe your job?
The CIO defines strategy, puts in place the rules of IT governance, supervises the major IT applications and ensures that added value is created for all users. Those users may become more demanding. Nowadays we often invest in applications that do not have added value. That's not being responsible.
4. What would you do if you were not in this job?
I would be doing consulting, advising companies on how to enable young creators to reduce their risks. Companies need advice and support in all areas. I could also have worked as an engineer at a construction firm.
5. What book (on IT or anything else) would you recommend?
'La transformation digitale, un guide didactique et pratique' by Pascal Delorme and Jilani Djellalil. This guide helps marketing managers take good decisions. And 'Pratiques de la conduite du changement' by David Autissier and Jean-Michel Moutot, which offers companies perspectives to help them take measures in line with their needs and to understand the transformations going on at both organizational and procedural levels.
6. What do you consider the most important innovation of the last 20 years?
The smartphone, and more specifically miniaturization, thanks to which residents of countries which just a few decades ago were still behind in the use of IT applications can now catch up with us. I should also mention IoT, which is already revolutionizing our daily lives.
7. What would you like to invent to make life easier?
A truly private box, an environment where I could do and leave whatever I want without being disturbed. Private life is disappearing, and that's unhealthy. We need to have a spot where we can withdraw in all serenity.
One
One magazine is the Proximus B2B magazine for CIOs and IT professionals in large and medium-sized organisations.
Other articles of One