Proximus Employee Solutions
Published on 26/10/2015 in Solutions & services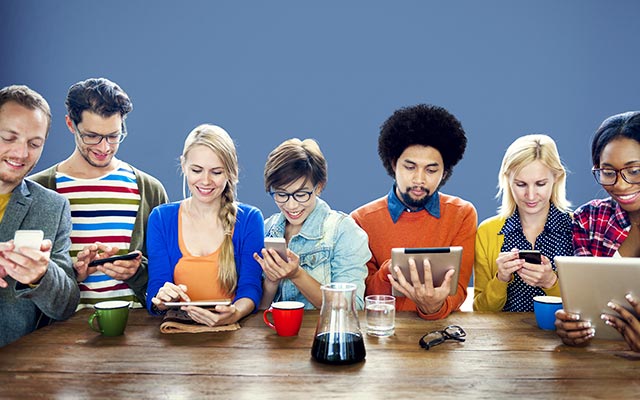 Finding the right balance between the interests of your organization and the aspirations of your staff is no easy task. Plus you know that involved workers are more productive. So the challenge is to motivate and reward their commitment with benefits that are attractive but realistic for the company. 
Human Resources managers have to appeal to talented people and gain their loyalty with the help of a salary package that is both attractive and realistic. They also have to promote a culture that valorizes involvement, flexibility and results. One feature of this culture is a better work-life balance by means of good software and devices as well as flexible working hours and places adapted to the wishes of staff. This is why Proximus has created Employee Solutions – Packs for Employees, Budget Manager, Device for Employees and the Affinity Program. Ideal for establishing a beneficial financial situation for both your organization and your workforce. A future-oriented situation that satisfies everyone, promotes the new ways of working and improves collaboration within your company.
Unbeatable internet conditions
With the Packs for Employees, you provide your staff with a fixed and mobile internet connection in their home and you pay all or part of the subscription costs. Use of this connection for private purposes is a taxable benefit in kind which is set by law at € 60 per year and which you have to indicate on their individual tax sheet. You can therefore deduct the amount that you pay for the connection in full. As for your staff, they will be able to add up to six mobile subscriptions in Packs, with substantial reductions, as well as Proximus TV and landline telephone, which they can obtain for just a few extra euros.
A single mobile subscription for private and professional purposes
With Budget Manager, your employees can use their business mobile phone for work, but also for their personal needs. You simply have to determine the amount that you are prepared to pay: your employees settle the rest or the services for which you do not contribute. And they benefit from the business rates negotiated by your company for their private calls.
The latest devices
Thanks to the Device For Employees solution, your staff can also benefit from the latest technological advances. The system could not be easier: you draw up a list of mobile devices on offer – tablets, smartphones and phablets – and you decide on the amount of your participation. Your staff member chooses and just has to pay the difference.
Reductions for all the family
As well as these benefits, we also offer an Affinity Program. As long as your staff stay with your company, they benefit from preferential rates, offered by Proximus directly on its services for private individuals: internet packs, land line, Proximus TV and mobile subscriptions for members of their family.
Benefits for the employer
Less expensive than a conventional salary rise
Attractive for hiring talent and gaining loyalty
Combinable according to your employee profiles
Easy to manage via an online tool
Key facilitator of a new, collaborative and flexible way of working.
Benefits for staff
Improved purchasing power
Satisfaction and loyalty to the company
Compatible with certain packages and special offers for private individuals
Flexibility in work-life combination
One
One magazine is the Proximus B2B magazine for CIOs and IT professionals in large and medium-sized organisations.