The new Perspective magazine is here!
Published on 11/12/2019 in Inspire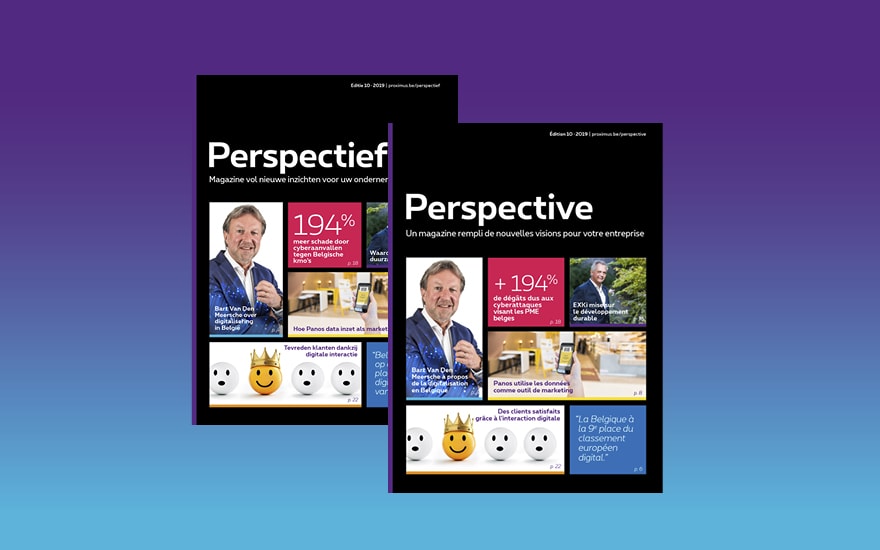 Would you, too, like to discover new perspectives to make your company better still? Be inspired by articles and the experiences of other businesspeople? Then read Perspective, our magazine for medium-sized companies.
This issue focuses on the gathering pace of digitalization. If your company can ride the digital wave too, there are heaps of opportunities just waiting to be seized. Proximus is happy to help you use innovative technology optimally.
Read the latest edition of Perspective magazine and stay informed.
In this edition of Perspective you'll find articles about:
1. 360° protection
A year and a half ago the European GDPR took effect. What's the situation with implementation in Belgian SMEs in the meantime? Not especially good, it turns out. Samra Hajji from Proximus SpearIT explains why the security of many SMEs still leaves something to be desired.
2. Retail digitizes
Today IT also plays an important role in the consumer experience, and creates extra business value. Ab Polspoel from Panos explains how and why they launched a new app and data platform.
3. Think Possible
What are the needs of Belgian companies today? How do you accelerate your digitalization? Technology opens up a world of possibilities. See who the ideal partners for your project would be.
And much more about digitalization and business.
Read the latest edition of Perspective magazine and stay informed.
Perspective
Magazine and online blog for business leaders, brimming with new insights for a fresh look at their company.
Other articles of Perspective