Connected patients become authors of their own health
Published on 22/09/2020 in Inspire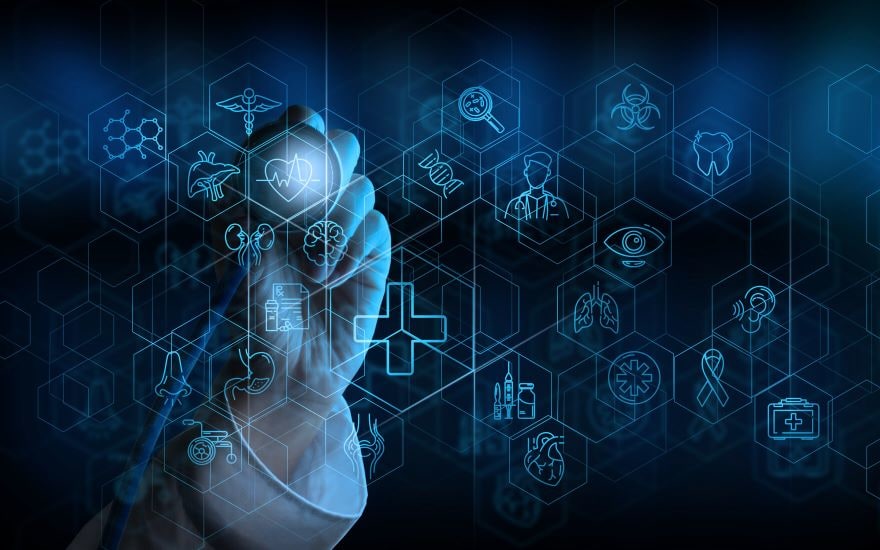 Our healthcare system is behind the times, this is the diagnosis put forward by Professor Philippe Coucke of the Liège Teaching Hospital. To modernize it, there needs to be a tighter organization, more human guidance and a focus on new technologies.
You state that the current model of the healthcare sector is behind the times and that its ecosystem must be replaced?
Professor Philippe Coucke, head of the Radiotherapy Dept. of the Liège Teaching Hospital: "Yes, we need to open our eyes for the confirmed figures of the WHO and the OECD: 50% of our medical procedures are useless, dangerous even. A situation caused by a frantic race for income, at the detriment of quality."
"As a result of that, there is a huge lack of efficiency, causing 42% of the national budget for healthcare to go straight in the bin: a deplorable administrative organization, bad interaction between all the medical bodies and the use of inadequate resources drop us in this situation. Furthermore, 1 diagnosis in every 20 is wrong. We need a more abundant and more relevant flow of data to raise the bar at all levels."
In terms of technology, do we have everything in hand to ensure that the healthcare sector develops quicker?
Professor Ph. Coucke: "Our healthcare system is in place. It isn't efficient, but we can't just pull the plug and activate a new system. We need to take into account the political, financial and human resources constraints. Nevertheless, we need to act urgently and let new technologies accompany this thorough transformation."
"The current COVID-19 crisis has taught us that we are capable of speeding up the process. There is proof that remote management is possible, necessary and even beneficial in certain cases. And that is even more the case for chronic patients: many of them could reduce their number of visits. It is completely feasible to organize remote monitoring and treatment."
Would the patient become an object connected to the internet, as would the doctors?
Professor Ph. Coucke: "Connected patients are patients who can understand their treatment, adapt their environment, and who can become the authors of their own health. Do not forget that our sector is not cost effective, and the shortage of human resources is growing. We do not have any other choice than to make the patients more aware. What we are, including our illnesses, is for 20% defined by our genes. The rest is influenced by our environment."
"And the paradox lies herein that, in a hyperconnected world like today, we need social contacts and empathy. Yes, there are too many players in the healthcare sector who look at the quantity of procedures, not the quality. Therefore, if we can automate a big chunk of these procedures, that would free up precious time and allow us to concentrate on our 'core business': human companionship. And that is a complete change compared to the current medical approach."
A 'connected' patient produces approximately 1m bits of data per hour. What does this mass of data bring you?
Professor Ph. Coucke: "The collection of data is the holy grail of all sectors. There is no reason whatsoever to believe that that is not the case for the healthcare sector. The real question is, though, to know what we are going to do with those data. It is of the utmost importance to transform these data into useful information."
"However, one challenge will remain: the lack of interaction between the different sources of data and their quantity. And the human mind is only capable of handling a limited number of variable data. That is exactly the reason why we need to automate the data processing as much as possible. I would summarize the situation in three stages: put the connections in place, create an abundant flow, and use artificial intelligence to help us transform data into useful information."
50% of medical procedures are useless or even dangerous. A situation caused by a frantic race for income.
Professor Philippe Coucke, head of the Radiotherapy Dept. of the Liège Teaching Hospital
How to manage the demand for an abundant flow of data with the confidentiality issue?
Professor Ph. Coucke: "I can only repeat we need Big Data to transform our healthcare system. This must not be confused with publishing all data for all to see. Take the Scandinavian countries, for example, where sharing medical data, properly done, is obvious for the whole of the population."
"Of course, everything starts with a certain degree of confidence in your government. Whatever the case may be, I believe that in the pain, we have obtained proof of the need, during the crisis that we are now living: a typical example is that the governments are looking to collect geolocation data to follow infected people. Moreover, and let's be clear about this, by simply using your smartphone or connecting to the internet you are already traceable."
Who is best in class in Europe?
Professor Ph. Coucke: "Estonia, without a doubt. After they became independent from the ex-Soviet Union, they have completely restructured their healthcare system. But there is also Great Britain, where the crisis has led to decisions being taken to accelerate the transformation. They also understood it is necessary to unblock substantial funds to get there. The integration of AI in imagery is very advanced and their culture of the IoT is well established, for example."
"As far as we are concerned, we will be able to restart discussions as soon as the new government is formed. What is certain, is that there will be a before and an after corona. Video consultation possibilities, for example, were nearly unheard of only a few weeks ago. This crisis must also lead us to think about how we function, the infrastructure needed to make the new ecosystem work, how to finance this new healthcare system and the general culture in terms of healthcare matters. History has taught us that health crises often trigger social transformation and reflection."
Professor Philippe Coucke, the head of the radiotherapy Dept. of the Liège Teaching Hospital, is well known for his opinions in terms of the required transformation of the healthcare system. His conferences reflect his passion for new technology and eHealth. He is also author of the book "La médecine du futur, ces technologies qui nous sauvent déjà".
One
One magazine is the Proximus B2B magazine for CIOs and IT professionals in large and medium-sized organisations.
Other articles of One