Proximus office becomes open campus
Published on 03/11/2021 in Tech, tips & tricks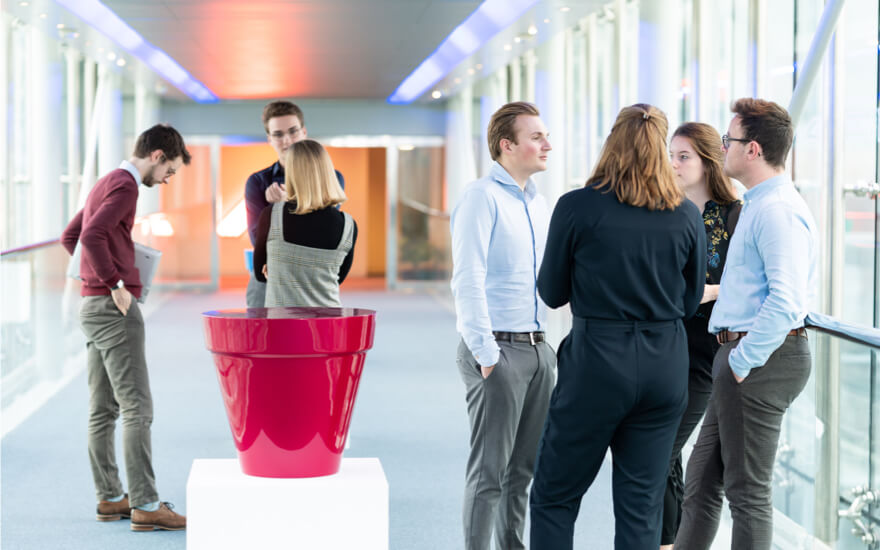 Hybrid working is the next normal. Jan Joos, Director Group Internal Services, uses five arguments to explain how this is taking shape in the Proximus towers and regional offices. These will be transformed into an open smart campus.
1. Find the right balance
"We don't believe in 100% teleworking for the long term. We favor a hybrid approach, whereby you choose where you work depending on the type of work in your schedule. Those who need peace and quiet to focus on their work are often a lot more productive at home. A brainstorming session or a meeting with an agile team is more effective when it takes place face to face."
"We may be evolving towards a balance where our employees work from home on average three days a week and come to the office for two days. A survey we organized among employees shows that most people feel this is the ideal balance."
2. Turn the office into a meeting place
"We come to the office because we want to meet people and work together. That's why we're focusing less on workplaces and more on meeting places in our buildings: conference rooms, rooms for hybrid meetings via video, for sessions in small or large groups, but also for more informal conversations. We are turning the offices into a place where employees from different teams and departments meet."
"Because we need less work space, we can limit the office space in the towers in the Brussels Noordwijk to approximately 40,000 m2. Today we occupy approx. 92,000 m2. Employees will reserve their workplace or meeting room in advance. Smart software will allocate the place that best suits the work they're coming to do in the office."
3. Make the office an open campus
"We are going for a thorough renovation of the towers, but we may also decide to move to a new location. The decision will be taken this year. Whatever the outcome, we will be turning our office into an open campus, where we collaborate with other companies and where we share our facilities with our partner employees."
"If we stay in the towers, the more than 50,000 m2 excess space will be made available for other companies, shops and apartments. Local residents are also welcome, for example in the restaurant. In this way, the towers will be repurposed, which is in line with the overall plan for the Brussels North District. The monotonous office district is making way for a multifunctional environment. Not only for work, but also for living and leisure."
We are transforming the Proximus towers in Brussels into an open campus, where employees of partners and other companies, as well as local residents, are welcome.
Jan Joos, Director - Group Internal Services
4. Break through the traditional silos
"The repurposing of our offices must, in the first instance, support a new way of working together. The idea of departments that think completely independently of each other is outdated. We are therefore providing zones for teams with members from all the different departments. They work together in 'tribes', as we call them, in which they take on various roles. This ensures more creativity and new insights, across the boundaries of the departments. We support that with technology to access buildings, digital tools to reserve meeting rooms or parking spaces, and so on."
5. Focus on change management
"It is essential that all departments support the change management policy. HR needs to play a pioneering role in this area. Managers and their teams will be coming up with a great many new agreements. Which meetings do you conduct via video? Which conversations are better conducted at the office?
If we want to spread the occupancy in the offices in the most efficient way, not everyone will be able to work from home on Mondays, Wednesdays and Fridays every week. And what about the company car? Now that they will be driving much less, employees may want to reconsider their mobility choices."
"The impetus behind this entire process is not the financial aspect but rather the quest for a new way of working that conduces to the well-being of our employees, and is also good for the company and the environment. The project reflects the corporate strategy #inspire2022, which also includes our CSR policy and the collaboration with our partners."
Flemish government employees will continue to work part-time from home.
A digital workplace is not only a physical place. It is also a full-service solution that removes all your stress.
One
One magazine is the Proximus B2B magazine for CIOs and IT professionals in large and medium-sized organisations.
Other articles of One