SNCB: the new standard as a source of opportunity
Published on 22/07/2020 in Customer Stories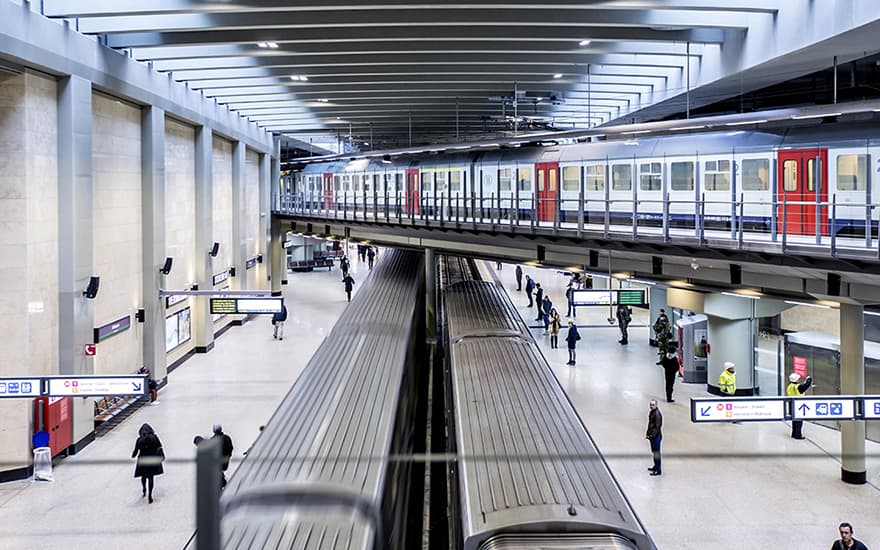 Every new situation presents its own challenges. SNCB is no exception to the rule, with new opportunities already available as a result of the health crisis: more telework, better use of digital tools and an ever more flexible range of solutions.
Act quickly in a new situation
"The main goal was to act quickly and in accordance with the directives of the National Security Council. The second challenge was to communicate clearly with our passengers and our 18,000 employees, with most of the latter being decentralized." The objective of Jihane Annane, Director of Corporate Communication & Public Affairs at SNCB, remains clear: to continuously reassure and inform her various audiences within the realm of service and security.
This pandemic has a huge impact on health care. How will this be organized in the future? Members of the board of directors at AZ Groeninge share their experience.
Read more about AZ Groeninge
An ever-evolving range of services
As an essential sector, SNCB never ceased its activities. It reviewed its approach: "We adapted our range of services to the different phases of confinement and reopening. with A few exceptions OR with minor exceptions, our services have returned to normal. But now is the time for analysis, feedback and anticipation of a possible new wave," stresses Jihane Annane.
New work organization
As with many organizations, teleworking has been the norm for eligible positions. In the case of SNCB, this does not concern most of the workforce, but nevertheless, Jihane Annane announced new work policies. "The changes have created opportunities in terms of work organization. I expect the exception to become the rule, and a first internal survey proves this: 92% of employees are in favor of remote work, compared to 70% before the coronavirus crisis!"
A flexible range of services
While SNCB has confirmed its wish to increase its fleet of trains by 4.7% by 2023, Jihane Annane explains that the future will also be shaped by the new work organization of companies in our economic fabric. "The volume and flow of passengers will be impacted and will evolve. More flexible hours are also likely to have an impact on peak hours, requiring even more flexible solutions/products."
Technology geared towards safety
Within SNCB, the initiative that is most oriented towards the new standard is the Innovation Lab: "We are examining, for example, the possibility of creating an app that would allow people to visualize the number of passengers on board our trains. This gives our passengers an idea of the occupancy rate of the train and the possibilities available to them. For instance, whether they can board the train or not. With this app we also respond to their legitimate concern about a safe distance in these times of health crisis," states Jihane Annane.
Towards (even) smarter mobility
"My greatest wish is that our organization is fully in line with the new standards and forms of mobility. Trains are and remain a public, sustainable and safe mode of transport. They were relevant before the crisis, during the crisis and will continue to remain so in the future. We must restore passengers' confidence. I am talking about a collective responsibility to ensure that rail transport remains the mainstay of mobility."
One
One magazine is the Proximus B2B magazine for CIOs and IT professionals in large and medium-sized organisations.
Other articles of One